Introduction
The financial sector keeps going down. Most of the financial stocks have plunged, and the world's economic situation still looks grim. This makes most of the bank stocks look cheap and attractive; the overall P/E of the financials has decreased drastically. But don't forget that "price" is only one of the two P/E components. As for "earnings", the next year is not going to be smooth and mellow for companies in the banking sector.
The ECB has slashed the interest rates again, this time down to -0.4%. Bank executives have stood against the development of negative rate policies at the ECB, arguing that they lower profits and put the banking sector at stake. As Erik Nielsen, chief economist at UniCredit Bank in London, said:
Negative rates are killing the banks but they may think it is worth it if they can help growth.
So, the macroeconomic background in Europe leaves much to be desired.
Today, I'll cover Deutsche Bank (NYSE: DB), a stock that hasn't gained much attention of the Seeking Alpha community, and some facts about it that you should know.
Some interesting info
In 2012, DB had a P/E of 168 (!). It turned out that the stock price of around $40 was too high. The market has corrected this mispricing; the stock price has dropped, and the bank's revenue and now P/E are negative (according to DB's 4Q2015 Financial Supplement, the bank saw net losses of €2.12B and €6.72B for 4Q 2015 and FY2015, respectively). The firm indicated poor performance within its capital markets operations in the first three months of 2016 and during FY2015.
As for the bank's CDS, it is at the highest levels (around 210 basis points). Lately, it has seen some pullback, but this is mainly because of the positive news on the bond buyback. Still, the CDS is trading at around its 2012 maximum.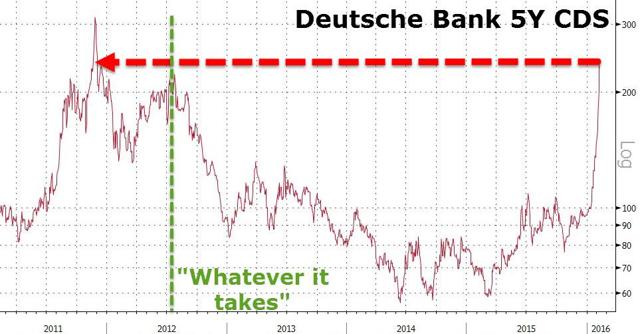 Moody's is going to review its ratings of Deutsche Bank (and the expectations are negative). The stock has played out this news (down, but its mid-term consequences are yet to come). Note that on June 9, 2015, Standard & Poor's already lowered DB's rating to BBB+ (which is lower than Lehman Brothers' rating on the day of its bankruptcy, and only 3 levels higher than "junk bonds"). If Moody's downgrades the bank's Baa1 senior debt and A2 deposit ratings, this will be a trigger for further downside move.
As you probably know, on June 6, 2015, two of DB's chairmen resigned from their posts. The very fact that this happened the day after Greece announced its inability to pay out its debt to the IMF (which has consequences for Deutsche Bank) isn't good news. Looks like Jain and Fitschen (the chairmen who resigned) abandoned the sinking ship, and things started to get even worse after the departure of these high-rank professionals.
Mr. Jain was replaced by John Cryan, who is now planning to cut jobs, bonuses and assets. He also plans to shut bank's operations in 10 countries, as well as improve DB's technology. This shift in the bank's strategy may smooth the consequences of poor capital markets operations performance. But is this a pipe dream? Will the bank manage to cope with its struggles and execute on the strategy? As Mr. Cryan puts it:
For many years now, Deutsche Bank has had a serious problem with executing the strategy.
Apart from the strategic plan to fix the issues, DB has quite good metrics compared to its averages, but they look mediocre compared to those of its peers.
Summary
Overall, high credit risk, coupled with capital markets operations problems and a possible downgrade by Moody's makes Deutsche Bank a black sheep. On the other hand, the bank is planning to reduce its cost structure and will probably get some help from the German government in case DB needs it. So, buying the stock is kind of tricky, and I wouldn't pick it.
When I did my mini-research on Credit Suisse (NYSE: CS), I thought it looked mediocre (see my previous article for details). It turns out, there's something probably worse - Deutsche Bank. As I've shown here, the bank is not "rock-solid" right now as some analysts may tell you. So, be careful if you're considering this pick, and remember that there are no "too-big-to-fail" companies in the markets now.
Disclosure: I/we have no positions in any stocks mentioned, and no plans to initiate any positions within the next 72 hours.
I wrote this article myself, and it expresses my own opinions. I am not receiving compensation for it (other than from Seeking Alpha). I have no business relationship with any company whose stock is mentioned in this article.