In an article last week, I had predicted that shares of Peabody Energy (NYSE:BTU) will lose their momentum soon and start crashing. It's been exactly a week since I wrote that article and I can see that Peabody shares are already down almost 50%. Now, in that article, I had pointed out that low natural gas prices and low coal consumption in China will lead to a decline in coal usage going forward and weaken Peabody's fundamentals further due to oversupply.
Additionally, despite Peabody's cost reductions, I had pointed out that the size of the debt will make it difficult to improve the state of its balance sheet in difficult times for the coal market. Now, this is exactly what has happened in the past week as the stock fell over 35% in a single day after it missed an interest payment. With this event, Peabody is not even closer to bankruptcy. Let's see why.
Peabody does not have enough liquidity to satisfy upcoming obligations
Peabody Energy needs to pay interest twice a year, on March 15 and September 15 until its senior debt matures in 2022. However, Peabody has started struggling to repay the interest already. In fact, the company has been forced to call upon the grace period of 30 days for a total interest payment of around $70 million that fell due last week.
This might not seem like a huge amount as the interest payments are for notes that fall due post 2020, with a total principal amount of $385 million. However, Peabody's ability to repay this interest has been severely compromised due to two reasons - a huge debt maturity this year and the rapid decline in its operating cash flow.
Now, out of its total debt of $6.3 billion, Peabody will have to meet maturities on $5.9 billion worth of its debt this year itself. This is a really huge amount if we consider that Peabody's cash flows have vanished already and there is the likelihood of more losses going forward. In fact, as shown in the chart given below, Peabody's operating cash flow is deep in the red, and this has created a negative impact on its cash position: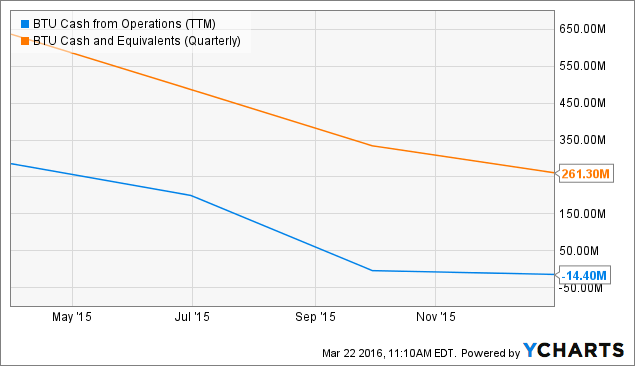 BTU Cash from Operations (NYSE:TTM) data by YCharts
Thus, as seen above, Peabody has just $261 million in cash and cash equivalents, which is nowhere near the amount it needs to satisfy its maturities this year. A current ratio of just 0.84 also indicates further short-term liquidity issues. As a result, it is not surprising to see that Peabody is now talking about seeking Chapter 11 bankruptcy protection as it does not have enough time on its hands to wait for an improvement in coal prices.
According to the company's 10-K:
"We incurred a substantial loss from operations and had negative cash flows from operating activities for the year ended December 31, 2015. Our current operating plan indicates that we will continue to incur losses from operations and generate negative cash flows from operating activities."
Additionally, Peabody also has to bear around $92 million in future cleanup costs to the state of Illinois. In fact, this could be just one of the many cleanup cost liabilities that the company has to face, as the self-bonding program that allowed Peabody to defer cleanup costs without any collateral security, a process known as self bonding, is already under review.
In fact, according to the Interior Secretary Sally Jewell, the self bonding liability of coal companies is as much as $3.6 billion. Out of this, Peabody is one of the largest self-bonded coal companies with liabilities of $1.43 billion in place. Thus, apart from the debt, Peabody has additional liabilities in the form of self-bonding that cannot be ignored.
No recovery in coal and not enough time for recovery
As already mentioned earlier in the article, Peabody itself says that it expects to incur more losses this year and continue to witness negative cash flows this year. This is not surprising if we consider the state which the coal market is in. Last month, coal production in the U.S. was down 7% as compared to the preceding month. What's more, coal production for the entire year is expected to drop 12%, the biggest drop in almost 60 years.
In addition, coal consumption is expected to drop 4% in the key electric power sector. This indicates that the coal market will continue to remain under pressure as producers are forced to scale back production due to low demand. Thus, Peabody has no grounds to negotiate with its lenders to restructure the debt and extend maturities as the situation in the end market is not supposed to improve going forward.
Conclusion
For Peabody Energy, the end is near as it has huge liabilities to contend with and it does not have the resources to satisfy them. Moreover, the coal market will continue to remain weak this year and this will create more pressure on Peabody's financials. As a result, I won't be surprised if Peabody Energy files for bankruptcy in the foreseeable future.
Disclosure: I/we have no positions in any stocks mentioned, and no plans to initiate any positions within the next 72 hours.
I wrote this article myself, and it expresses my own opinions. I am not receiving compensation for it (other than from Seeking Alpha). I have no business relationship with any company whose stock is mentioned in this article.
Editor's Note: This article covers one or more stocks trading at less than $1 per share and/or with less than a $100 million market cap. Please be aware of the risks associated with these stocks.