Since I last covered First Data, the KKR portfolio company that provides payment processing services, FDC (NYSE: FDC) shares have continued to struggle.

Most recently BTIG downgraded FDC shares on March 7 to neutral and has since given them a hold rating. While there have been multiple positive analyst recommendations, First Data has a leverage issue.
Eight years ago, KKR took First Data private and spent nearly $30B doing it. Long term debt makes up 55.1% of their capital structure. The company extended a $1.5B tranche loan from 2017 to 2022 signaling that they probably wouldn't have been able to meet those obligations next year. While First Data was able to refinance a lot of their debt to reduce costs by $1B, this company is simply too levered.
However, there are two main factors that could keep First Data in the game despite over-levering itself. First off, First Data is in a very high-growth industry. Stocks in the payments and credit industry outperformed various indices over the past year (shown below) and as new technologies are introduced, this industry has great potential to grow even further.

(Source: Bloomberg).
One such technology, Chase Pay, which will be introduced later this year, will drive the industry up and offer a better mobile payment alternative to competitor Apple Pay, which has significantly higher fees for merchants.
Additionally, person-to-person payments are expected to significantly increase by 2020, which could be a technology that Chase Pay, Apple Pay and android pay services provide. This is all good news for First Data as it yet again shows the potential for more growth in the industry.

(Source: Bloomberg)
Secondly, First Data has a strong financial outlook. The company has been able to increase its margins (detailed below) in recent quarters and has weathered a tough market environment. It is significantly beneficial that they have been able to finance their debt. Highly levered companies are not especially attractive right now in this market climate and extending the due dates for their incredibly large loans will allow the company to focus on organic growth.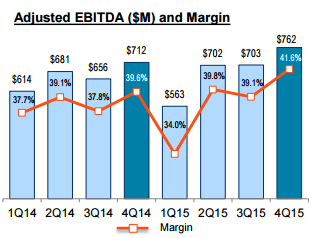 (Source: First Data)
Outlook
While FDC shares are trading well below (18%) of their IPO price in October, positive industry outlook and growth during 2016 will be reflected in share performance. The main risk an investor needs to look at is how highly levered First Data is. Lucky for First Data, they have been able to reduce their cost of debt, but those interest payments are not going away. Back in 2006 when KKR bought First Data, the climate was right for high leverage. However, 2016 is a different story.
Author's Note: All data pulled from Bloomberg.
Disclosure: I/we have no positions in any stocks mentioned, and no plans to initiate any positions within the next 72 hours.
I wrote this article myself, and it expresses my own opinions. I am not receiving compensation for it (other than from Seeking Alpha). I have no business relationship with any company whose stock is mentioned in this article.