Most private stock investors have their set criteria. Some look at the book value, others revenue growth, while others at the business model. One of the less common selection criteria is a company's patent portfolio. This is because obtaining the information is a non-trivial task even for someone versed in patents.
This is not to say investors are not aware of patents - they are. For conservative investors in big pharma, drugs coming off of patent protection are a major consideration. Biotech investors look at patents that are unique and which would warrant a buy-out. Patents are also for picking micro-caps and start-up tech firms and are oft touted at investor road shows. Much of the analysis is however ad hoc.
The idea of using patents as an investment criterion is not new. Ocean Tomo, a patent consultancy, offers the OT300, a US equity index, which purports to outperform the S&P 500 by ca. 200bps annually by choosing firms according to their patenting behavior and quality. Similarly, Kudo Patent offers a patent-based equity index for the Japanese market. Using that index, Kobayashi et al. (2014) show that an investor shorting the least effective patenting firms and going long the most productive patenting companies can expect ca. 290bps annualized alpha in the Japanese stock market.
In this article, I will explore the idea of these systematic patent-based indices on a global scale based on a dataset I have been assembling for my PhD work on the appropriability of invention. Please understand that these results are preliminary, but worth discussing in an informal context as they are of more interest to investors than academia. That said, let us take look at the rationale for using a patent-based equity strategy.
Why do patents matter for shareholders?
Why should patenting firms generate excess returns? There are several reasons:
Patents are a good proxy for research and development activity (cf. infra). By definition, firms conducting research and development typically see some opportunity or unmet need that might be profitably addressed.
Patents are often a proxy for discrete and marketable products, which generate current revenue for the firm.
By definition, a patent creates a narrow technological monopoly, and patenting firms tend to exist in oligopolistic market with higher margins. So selecting patenting firms is like a type of screen on the market competition.
On a more abstract level, patents can increase productivity by increasing margins or lowering production costs. This notion is deeply rooted in the relation between technology and economic growth whereby capital flows to its most productive use.
Intellectual property is not always well accounted for on corporate balance sheets. Patenting firms tend to trade at a higher price-to-book ratio, which might be missed in equity screens or by value investors.
Patents confer legal rights, which command the power of the state and can be used to edge out competitors and deter new entrants.
Most people have a general notion of what a patent is, but it is worth explaining some of the basic legal aspects relevant to shareholders.
What is a patent?
A patent is an exclusionary right:
1. For a novel, inventive, and technical innovation;
2. within a jurisdiction; and
3. for a limited amount of time.
These three aspects are important for investors.
Novelty and inventiveness are particularly important for getting a patent granted. But the notions are also important in that they allow one firm to attack the validity of another firm's claim - court cases and patent suits often hinge on these two notions.
The jurisdiction is also important for investors. The value of a patent depends in part on market size: a patent in Sweden is typically worth less than one in Japan. Jurisdiction is relevant in that notions of patentability differ: China tends to have laxer grant standard than does Europe; India has a narrower definition of novelty for certain pharmaceutical compounds than does Switzerland. Patents depend heavily on the legal culture of the country: treble damages for willful infringement and discovery are fearsome legal weapons that can cow opposition in the United States, but are unknown in Switzerland.
The patent term is also important, and has lengthened over time: in Switzerland, it was seven years under Napoleon and currently stands at 25.5 years for certain types of pediatric medication. TRIPs and the WTO created a windfall for patent holders as patent terms were generally lengthened to 20 years globally. The term is especially important for chemistry, pharmaceutical, and capital-intensive industries where the production life-cycle is longer than the patent term. In other industries where the life-cycle is much shorter, e.g. software and electronics, the term plays little to no role.
In short, patents have different values for shareholders depending on the invention, country, and industry. Investors need to be mindful of this when considering their relevance. Having now explained some of the caveats of patent-based investing, we take a look at the data.
Data
The basic firm and market data come from Thomson Reuters' Worldscope. These firms were matched with the patent information from PATSTAT, the European Patent Office's global patent database. In contrast to previous academic work, this dataset includes companies from all countries not just the US.
There are about 8,675 firms in the dataset, with each firm having on average about 16 years of data. In total, there are about 145,000 firm-years of observations. Special attention was paid to dead and delisted securities to avoid attrition bias by using older datasets. Each firm has a primary security, which should appear only once in the dataset.
Results
The Naïve Portfolio
In the first exercise, we replicate the portfolio of a naïve stock-picker, who builds a portfolio by simply including US stocks that have produced a patent in a given month. If the firm does not produce a patent in the next month, it is dropped. Figure 1 plots the monthly returns of that portfolio along with the S&P 500 and the Wilshire 5000.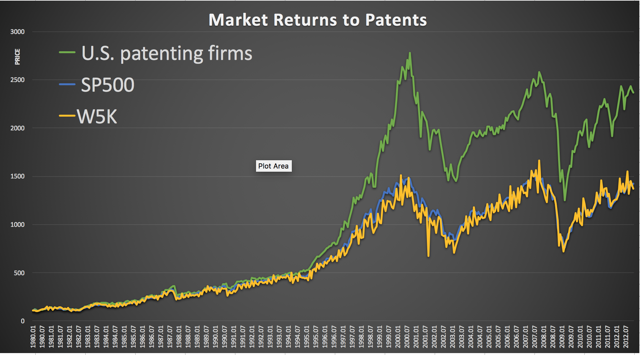 Figure 1: Returns to patenting firms
For his trouble, he might expect to get about 29-159 basis points per year of outperformance by picking companies producing six patents or more per year. Selecting firms generating ca. 43 patents a year (the 80th to the 90th percentile) might mean another 30-200 basis points of outperformance.
Different Returns by Jurisdiction
Not all patent jurisdictions are created equal. Patenting companies tend to command larger returns in the United States.
The premium in Japan is less than that of the USA at about 34bps per year. In India, where patent rights are weaker, the premium is statistically indistinguishable from zero. Swiss stocks command about 65bps/year, albeit my sample is currently too small to be reliable. The US premium likely comes from the fact that it is likely the most patent-friendly jurisdiction, and the deep capital markets and rich valuations attract the best companies from around the world. Chinese tech companies trade at double or triple the multiple they would in the Hang Seng Index.
One possibility is that patenting is a proxy for other known risk factors that lead to outperformance (i.e. value, beta, or size).
Table 1: Correlation between Patents and Equity Risk Factors
Total

Return

Beta

Volatility

Book to Market

Market

Cap

Patents

R&D

Total Return

1.00

0.00

-0.16

0.13

-0.04

0.01

0.10

Beta (TTM)

0.00

1.00

0.00

-0.00

0.01

-0.00

0.01

Volatility

-0.16

0.00

1.00

0.01

-0.29

-0.10

-0.28

Book to Market

0.13

-0.00

0.01

1.00

-0.29

-0.04

-0.06

Market cap

-0.04

0.01

-0.29

-0.29

1.00

0.34

0.54

Patents

0.01

-0.00

-0.10

-0.04

0.34

1.00

0.29

R&D

0.10

0.01

-0.28

-0.06

0.54

0.29

1.00
Table 1 reveals that the patenting factor seems to be unique in that it loads positively on firm size and negatively on value. That is to say patenting firms are bigger and tend to command a premium to their book value. Patenting firms in my sample exhibit less volatility than average, but have market beta. In short, we should expect patenting firms to underperform using the standard equity model. Investigating that aspect goes beyond this article.
Investible Conclusion
Patents do have value for shareholders. But, before you run out and buy patenting stocks hand-over-fist, there are a few caveats to the results presented above:
1. They are preliminary; and
2. they are ex post and are not back-tested.
Those last points are especially important to understand in that patent rules have changed over time - perhaps the biggest relevant rule change is that failed and pending applications were not published in the past. The typical rule now is that patents are published after 18 months. Even within the current 18-month period of non-disclosure, everyone from the lab tech to the patent examiner has had an inside chance to bet on the company - whether there is any meat left on the bone for the individual investor remains to be investigated.
In the mean time, the best way to bet on technological progress is to choose one of the low cost and liquid technological ETFs with patent-intensive industries. Figure 2 compares the price returns of some reasonable choices: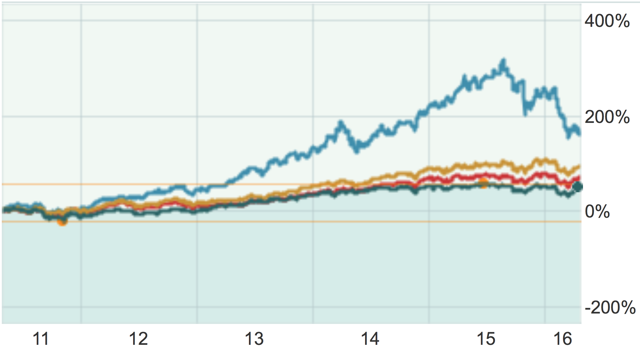 Figure 2: Ocean Tomo 300 Patent Index (green); VGT (red); IBB blue); NDX/QQQ (yellow).
Source: (MarketWatch.com)
Ocean Tomo's 300 Patent Index (green), a purely patent-based index, with a nice +50% return over five years has not kept pace with any of the plausible alternatives, such as information technology (VGT, ca. +70%), biotech (IBB, ca. +175%), or 100% return for the NASDAQ.
My personal choice for investing in the monopolization of future technology would be QQQ because it:
Contains almost exclusively patenting firms (unlike VGT)
Is not a sector bet on a handful of stocks (unlike IBB)
Is not exotic (unlike Ocean Tomo's index)
Is very liquid and has options.
I hope to follow this article up with a back-tested strategy. But in the mean time, if you are interested in looking at a particular company's patent portfolio, I can recommend Espacenet, a patent search tool from the European patent office.
This article should not be construed an investment recommendation by me or Tom Capital AG. As with all investment decisions, do your own homework.
Disclosure: I/we have no positions in any stocks mentioned, and no plans to initiate any positions within the next 72 hours.
I wrote this article myself, and it expresses my own opinions. I am not receiving compensation for it (other than from Seeking Alpha). I have no business relationship with any company whose stock is mentioned in this article.