In my first article on Workday (NYSE:WDAY), I approached the company from the financial analysis angle, in which my conclusion is clear - Workday is overvalued by my standards, pricing in too much future growth. But that doesn't mean Workday is a bad company with bad products. Just the contrary. If I should define my overall stance on Workday, I would say it is a great company with bright prospects selling at a high price. I would definitely be a buyer if the price is right.
I've covered the massive margin gap between Workday and Oracle (NYSE:ORCL), which sure is one factor helping Workday win over customers from Oracle. But let me explain why I think the price is not the only reason why Workday continues to attract Oracle's customers. It is also about Workday's "customer first" mindset.
Workday is about cutting-edge user experience - about putting the user first. The user-friendliness of the system that facilitates the necessary but boring administrative tasks for employees is becoming a key HR tool for employee satisfaction, retention and new talent attraction.
Therefore, at the right price, I would love to turn from a seller to a buyer of Workday's stock one day because I like their focus on the customer, which I believe gives Workday a competitive advantage against Oracle and SAP (NYSE:SAP) that will be harder than many believe for Oracle and SAP to close.
User-friendliness of the corporate systems is becoming very important
The boring, mundane reporting and administrative work is a major pain point of almost all large corporations. This is especially the case for managers who are expensive yet they have to spend many hours every week doing mundane reporting, approval and administrative tasks that they simply can't outsource for security or responsibility reasons. Similarly, sales people usually hate reporting. It's the antithesis of their communicative, outgoing, face-to-face nature. These clumsy systems take time, and more importantly, energy of the workforce.
Millennials are becoming a dominant force in corporate employment and decision-making
The previous point is becoming more important as the younger and even more tech-savvy Millennials are entering the workforce today and climbing the corporate ladder to the managerial positions. Technology keeps marching forward and Millennials consider a user-friendly app, working well on a tablet and a smartphone, an absolute minimum standard of what they consider an employee-friendly work environment.
The internal corporate systems need to be user friendly in order to attract and keep top HR talent, motivate people and let them be productive. Millennials have extremely low employer loyalty, are very demanding in terms of the corporate culture, the work environment and the usage of modern communication and productivity tools. They also are likely to endorse and use brands that they personally believe in, or admire, as consumers. They care more about how they feel at work, how flexible the employer is and how they can grow personally than about the paycheck.
As Millennials gain influence in corporations and become decision-makers, they will naturally choose solutions that are modern and user friendly. This is a definition of Workday, and it is also an antithesis of Oracle and SAP. Oracle is an IT company run by IT people for IT people. Workday is a company solving people's problems.
Corporate underinvestment in people and systems (replaced by buybacks) will revert to mean
I believe there is massive underinvestment in people and systems going on in the corporate world today. Corporate buybacks are the favorite flavor of the day. Some short-sighted businesses risk being obliterated by modern, fast-changing newcomers. Workday is growing rapidly even today. Once companies start investing more again in people and systems in order to remain competitive, Workday will benefit even more.
It is hard to change an existing corporate culture and brand image
This "customer first" approach is easily copied in theory but very hard to replicate in practice for Oracle and SAP due to their existing corporate mindset, products and managers. Oracle and SAP systems feel intimidating. Workday feels more friendly, accessible. There also is a massive generational gap. Workday is a company where Millennials want to work and do work, whereas Oracle and SAP are companies where their parents work and arguably don't really want to work as much as for Workday.
Suffering a sleeping disorder? Play an Oracle presentation and you will fall asleep immediately
One reason why Workday is winning Oracle's clients could be tied to the presentation materials. Consider the following randomly selected examples of communications materials (graphics and video) from Workday: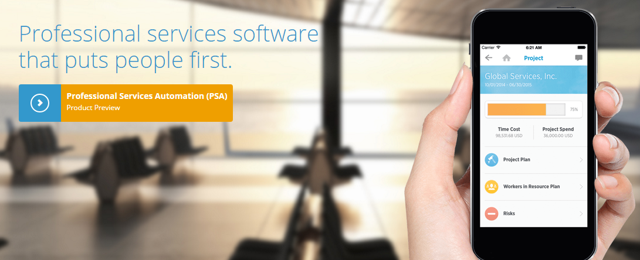 Screenshot of one of Workday's product pages:
And then have a look at a couple of Oracle's examples: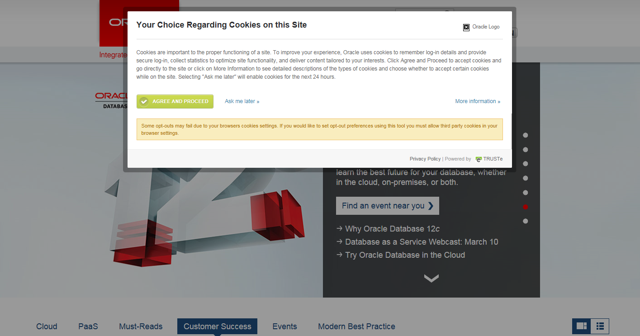 Oracle homepage cookie consent:
These randomly selected examples clearly demonstrate the marketing communication strategy of each company - Oracle describes their systems (features), whereas Workday solves people's problems. This is part of Workday's pro-customer orientation (customer first) versus Oracle's and SAP's "systems first" mindset. They are at the core of Oracle's problems with Workday. This is about a corporate mindset and the appearance of it.
It looks simple to change but the problem is deeply rooted. The problem starts with the people who manage these products at Oracle and SAP. I'm sorry to say but they need to be replaced... 25- to 30-year-old college graduates should be hired and listened to in order to redesign the products and especially their interface and presentational layer. Marketing communication needs to be significantly improved as well.
People don't care about the cloud. They care about user-friendliness
Let me make an outrageous assumption. I actually believe that most people have absolutely no idea what a "cloud" means. When they want a "cloud" solution, they are really looking for a user-friendly, flexible, scalable system that they will be able to access and use anywhere, on any device - a system that will help them effortlessly cut the administrative and analytical clutter and get the mandatory but mundane tasks done as conveniently as possible.
Systems are for people. People need to be on board
It doesn't matter whether the system is the best or the second best (if the difference is not major), whether it is on-premise or in the cloud (if it meets other requirements of course). But, what is extremely important is whether its users embrace it or not. Getting the users on board is the most important goal when implementing a new IT solution. If the users don't really believe in the system and hate to use it, then the whole IT investment is a waste of money and will only consume more time and energy of the workforce and deliver poor or negative ROI, because people will only use it as a necessary evil and will try to avoid it. I've seen it many times.
Conclusion
As Millennials become the majority of system users and decision-makers in the companies they work for, these companies will more often choose Workday over Oracle or SAP. I would like to buy Workday stock one day if it becomes cheaper.
My advice to Oracle is very simple but very hard to do in practice. Change your entire DNA. Focus on the customer (user), not on the system. Act more like Workday, more like a B2C company although you are not. There are people at both ends of the B2B relationship. It still matters to be people focused. Unfortunately, I believe Oracle's mindset and corporate culture can't be changed without replacing its key decision-makers. I'm afraid the entire product management, brand and marketing team has to be replaced and significantly rejuvenated.
Hire young, 25-year-old Millennials to take care of marketing, communication, user experience and the presentation level of the applications. While this sounds easy, I know how hard it would be for Oracle to do any such thing politically - every manager is entrenched and the corporate structure doesn't support a swift change, unless it comes directly from a strong CEO. This is exactly what gives Workday a great opportunity to continue stealing Oracle's customers.
Disclosure: I am/we are short WDAY.
I wrote this article myself, and it expresses my own opinions. I am not receiving compensation for it (other than from Seeking Alpha). I have no business relationship with any company whose stock is mentioned in this article.