Oil fell immediately after the events in Brussels Tuesday, but recovered much of its lost ground by the end of the day. However, oil prices remain threatened by terrorism concerns for two important reasons, and oil prices should decline from here. First, terrorism and the threat of terrorism are a weight on economic growth in Europe and thus energy demand. Second, as media and markets heighten concern over coming days, capital should increasingly seek safety in U.S. assets and the U.S. dollar. Oil, priced in dollar terms, is thereby threatened. Given the OPEC put has been pulled, a bottomless pit awaits.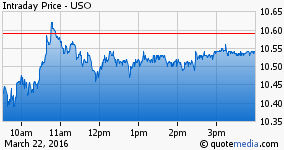 1-Day Chart of USO from Seeking Alpha
The day chart of the United States Oil (NYSE: USO) shows it opened gap-lower Tuesday on the terrorism events in Brussels. However, oil showed astounding resilience during the day, even reaching above water briefly, before easing lower. Still, this strength should not hold moving forward, for two important reasons.
The first of those two reasons is the ongoing threat of terrorism to the European Union and the euro-zone economy. Media and markets will likely heightened concern now due to the latest attacks and threats. Any threat to Europe, a key economic center, is a threat to energy demand globally. Also, the freshness of the terrorism event should raise the profile of terrorism potential more broadly. The only way terrorism serves higher oil prices if it is directed at oil facilities or at Saudi Arabia or other major producers. Otherwise, it is a burden on economic growth and thereby restrains demand for energy. The threat of terrorism raises the cost of doing business for governments and for businesses. Security expenditures increase and consumer traffic falls off.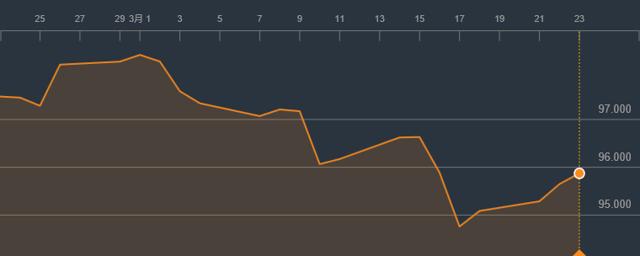 1-Month Dollar Index Chart from Bloomberg
This one-month chart of the dollar index fails to adequately illustrate just how the dollar has reacted over the last two days to the events in Brussels. As I outlined in my recent report on gold, the dollar benefits from a flight to safety when terrorism is centered overseas, and especially in Europe. Dollar strength, therefore, counter-intuitively drives gold prices down on the terrorism events in Brussels. Similarly, dollar strength, benefiting now from a flight to safety from Europe, drives down the price of oil priced in dollar terms; that means for you and me and American energy producers.
| | |
| --- | --- |
| Energy Relative Shares | 03-23-16 AM |
| SPDR S&P 500 (NYSE: SPY) | -0.4% |
| United States Oil | -2.4% |
| iPath S&P GSCI Crude Oil (NYSE: OIL) | -2.8% |
| United States Natural Gas (NYSE: UNG) | +0.6% |
| Energy Select Sector SPDR (NYSE: XLE) | -1.2% |
| SPDR S&P Oil & Gas E&P (NYSE: XOP) | -2.5% |
| Market Vectors Oil Services (NYSE: OIH) | -1.2% |
| Exxon Mobil (NYSE: XOM) | -0.2% |
| Chevron (NYSE: CVX) | -1.7% |
| B.P. (NYSE: BP) | -1.2% |
| TOTAL S.A. (NYSE: TOT) | -0.7% |
| ConocoPhillips (NYSE: COP) | -2.3% |
| Phillips 66 (NYSE: PSX) | -1.1% |
| Occidental Petroleum (NYSE: OXY) | -1.5% |
| Schlumberger (NYSE: SLB) | -0.8% |
| Baker Hughes (NYSE: BHI) | -1.3% |
| Halliburton (NYSE: HAL) | -1.7% |
While oil prices and relative stocks held up relatively well yesterday, as the flight to safety picks up steam in the days ahead, the same shares and energy prices should give way. I believe this morning's start to trading is the first sign of what is to come.
Given that the OPEC Put has been pulled away by the Saudi Oil Minister, the pit is bottomless now. There is no support to which oil can stop for as long as Saudi Arabia is unwilling to cut production. Unfortunately, I believe OPEC will learn the hard way that their freeze discussion is only effective for as long as there is the prospect of a production cut.
In conclusion, the terrorist attacks in Brussels harm oil in two ways. First, the act itself and the prospect of more are a burden to economic growth in Europe. As economic activity is impacted, demand for energy declines. Secondly, as fear heightens, media and markets will drive an intensifying flight to safety into U.S. assets and the dollar. Dollar strength weighs on oil prices valued in dollar terms. With little to stop oil from falling, it could mark new lows. I cover energy closely and publish regularly, and so invite relative investors to follow my financial column here at Seeking Alpha.
Disclosure: I/we have no positions in any stocks mentioned, and no plans to initiate any positions within the next 72 hours.
I wrote this article myself, and it expresses my own opinions. I am not receiving compensation for it (other than from Seeking Alpha). I have no business relationship with any company whose stock is mentioned in this article.