Business inventories in the US increased 0.1% in January, while the December increase of 0.1% was revised down to show no change. Business inventories include those for wholesale, retail and manufacturing companies. While manufacturing inventories fell 0.4%, both retail and wholesale inventories rose 0.3%. At the same time, business sales fell 0.4% in January after falling 0.7% in December. This combination of rising inventories with declining sales led to another increase in the inventories-to-sales ratio to 1.40. This ratio has not been this high outside of a recession since March 2001 when it was 1.44. This is a heavy burden on future rates of economic growth if sales do not pick up to work off inventories.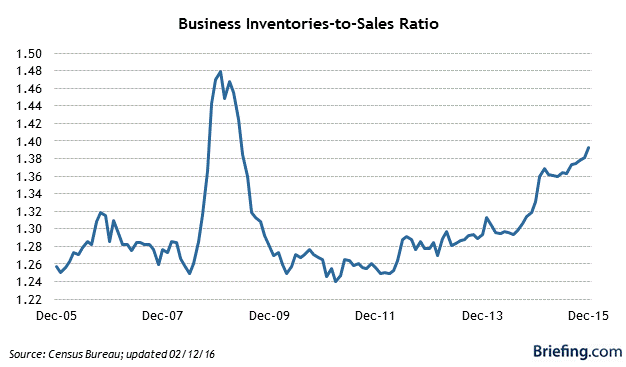 The retail sales report is one of the most valuable leading indicators of economic activity that we receive each month. Retail sales account for about one-third of overall consumer spending, which is the main driver of economic growth in the US. The Commerce Department reported that February retail sales fell 0.1%, but more importantly it reported that the January increase of 0.2% was really a 0.4% decline.
It was commented that "Tuesday's weak report from the Commerce Department bucked the trend of recent labor market data that had suggested the economy remained on solid ground despite some concerns that a recession was looming." This comment, which is consistent with the consensus, assumes that job creation leads strength in the same capacity as consumer spending. It does not. Consumer spending is a primary driver of job creation, while job creation is a secondary driver to consumer spending. So don't rely on job data for indications of where the economy might be 6-12 months from now.
This retail sales report does not bode well for an improvement of the business inventory-to-sales ratio just discussed. Still, a more informative read on the health of consumer spending is provided by looking at the year-over-year comparisons to see the underlying trend, which can be seen below. This shows that we have seen an uptick the past two months in the year-over-year numbers, but that the long-term trend remains one of gradual erosion to the growth rate in retail sales.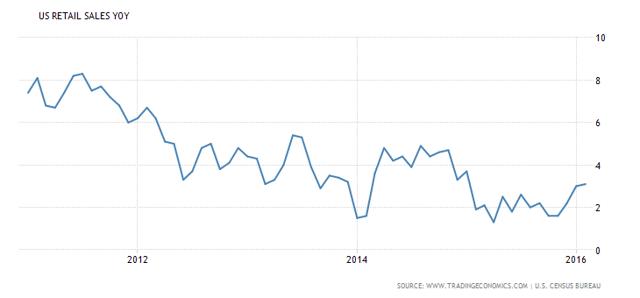 It is also notable that retail sales were negatively impacted by two segments that have led strength previously. Auto sales fell 0.2% and sales at furniture stores fell 0.5%. We saw a corresponding build last week in the wholesale inventories report for both categories.
Industrial production declined 0.5% in February, and January's increase was revised downward from 0.9% to 0.8% on a month-over-month basis. The weakness in this broad measure of everything produced by mining, manufacturing and utility companies was in mining and utilities, while manufacturing sector activity increased for a second month in a row. Manufacturing rose by 0.2% in February on a monthly basis, driven by auto production.
On a more important year-over-year basis, industrial production declined 1.0%, as can be seen below. What troubles us about the strength in this report is that auto production increased 9.1% year-over-year, and we have seen clear signs of a huge inventory build only getting worse for this segment. At the same time, sales of autos have declined over the past two months. This is something to watch.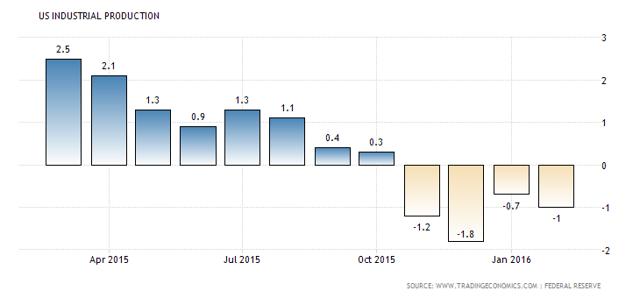 The Consumer Price Index, or CPI, is not a leading indicator, but it does give us a real-time read on consumer spending power when viewed in the context of real (inflation-adjusted) average hourly earnings.
The Department of Labor reported last week that the core rate of consumer prices, which excludes food and energy, increased 0.3%. The increase was again led by price gains in rents and healthcare expenses. This core index increased year-over-year by 2.3%, which is the strongest reading since May 2012. The overall CPI, held down by energy prices, gained 1.0 on a year-over-year basis. The year-over-year cost increases in rents (+3.3%) and healthcare expenses (+3.9%) are a major concern of ours. The average consumer spends a significant percentage of his budget on these two categories, while costs for energy and gas are trivial in comparison.
In another report from the Department of Labor, real average hourly earnings were unchanged in February after a 0.1% decline in average hourly earnings was offset by a 0.2% decline in the CPI. Real average hourly earnings increased 1.2% on a year-over-year basis. Our concern was in the shrinkage of the length of the workweek by 0.5% in February. This reduced the increase in year-over-year real weekly earnings to just 0.6%. This is an issue few are discussing, and it explains why the decline in gas prices has not resulted in an increase in consumer spending. Wall Street loves to talk about how a decline in the cost of gasoline is savings for the consumer, or disposable income, free to be spent on other goods and services. That so-called savings is nothing more than relief from the burden of an increase in rents and healthcare that more than offset the decline in energy prices.
Disclosure: I/we have no positions in any stocks mentioned, and no plans to initiate any positions within the next 72 hours.
I wrote this article myself, and it expresses my own opinions. I am not receiving compensation for it (other than from Seeking Alpha). I have no business relationship with any company whose stock is mentioned in this article.