Teekay LNG Partners (NYSE:TGP) through its fleet of LNG and LPG carriers provides transportation services under long-term, fixed-rate charter contracts. Since the partnership is engaged in midstream operations, it is relatively insulated from the volatility in oil prices. However, the falling prices has negatively affected all energy segments adversely. TGP stock has lost almost 64% of its value over the last one year. But I believe that the partnership will benefit from the strong growth of the global LNG market in the long term. Its fixed-rate charter contracts should ensure stable and growing cash flows. The partnership recently reported its Q415 results which was marked by strong cash flow growth. I think it should be a good time to buy for investors with a long term perspective, as the large stock price decline has provided a good entry point.
TGP Positives
1) Decent Q4 Results even during weaker times - TGP generated distributable cash flow of $2.89 per common unit during 2015, even during weak macro-economic conditions. Cash flow from vessel operations ("CFVO") increased 6%, to $121 million on a quarterly basis. It is further expected to increase to $293 million in 2016 and $330 million in 2017. Though the partnership reduced its quarterly cash distributions to $0.14 per unit in December'15 from $0.70 a unit previously, it reallocated the funds for capex which will increase its cash distribution in the future.
The partnership benefited from lower interest expense from termination of capital leases related to three LNG carriers (70% owned), higher cash flows from Exmar JV and revenues from the Teide Spirit Suezmax tanker.
TGP's Fleet as of February'16

2) MEGI LNG carriers set to drive growth - The deliveries of its fuel efficient MEGI LNG carriers newbuildings is on track. TGP in a JV with Samsung C&T and Gulf Investment Corporation secured a contract to develop LNG regasification terminal in Bahrain for a 20-year charter. TGP will provide the project with a floating storage unit ("FSU") by modifying one of its MEGI LNG carrier newbuilidings. This contract expected to begin in mid-2018 increased the partnership's total forward (fee-based) revenues to $12 billion with an average remaining contract duration of 12 years. It also has 5 MEGI LNG newbuildings under construction for Shell. The partnership already has 6-8 years charter contracts (with extension options) with Shell.
3) Growing and Well diversified Project portfolio - TGP's first two MEGI LNG carrier newbuildings are ready to be financed and will commence their contracts with Cheniere Energy during Q116. Its JV with Exmar LPG has also taken delivery of half of the total LPG carrier newbuildings. Teekay LNG secured a 20-year charter to provide the project with a floating storage unit. The commencement of short-term charters for Magellan Spirit and Methane Spirit LNG carriers also resulted in better cash flows during the quarter.
Annual Cash flow from vessel operations with leading Oil Companies
| | | |
| --- | --- | --- |
| | Estimated Annual CFVO (in million $) | Charter Term (in Years) |
| Cheniere Energy | 47 | 5 |
| Shell | 88 | 6-8 |
| BP Shipping | 20 | 13 |
| Yamal LNG | 114 | till 2045 |
| Exmar LPG | 25 | 2-5 |
The forward revenues for growth projects is expected to reach $6.9 billion, mostly from LNG segment.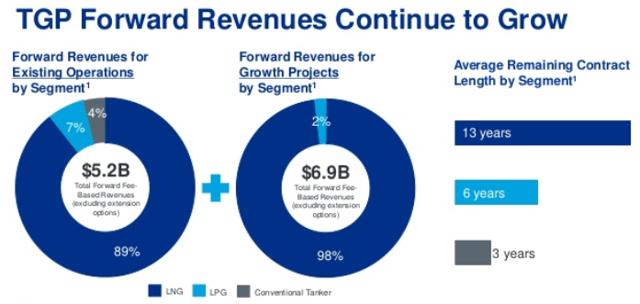 Source: TGP Q4'15 PPT
Risks
Business disturbances might cause hindrance to growth
Teekay LNG through a JV owns two LNG carriers which has contract in Yemen till 2029. However due to tense political environment in Yemen, the LNG plant was temporarily closed during 2015. As a result, TGP suffered from a deferment of charter payments related to the above carriers. The partnership also suffered from the termination of its two LNG carriers Magellan Spirit and Methane Spirit carriers in March 2015. Oil has already battered energy stocks. These political disturbances might also adversely affect business.
The overall global macro-economic conditions look bleak. Oil price declines has affected the commodity markets globally and the Chinese market weakness has slowed down major economies. LNG exporters are fearing a prolonged Chinese economic downturn. A general slowdown in economies might also affect the overall business of TGP, as gas demand reduces. Its major customers such as Cheniere Energy (NYSEMKT:LNG) are also facing a distressed situation.
Stock Performance & Valuation
The stock has lost almost 64% of its value in the last one year and its market capitalization value has almost halved, from the last time I recommended this stock. Like other energy sub sectors, a decline in oil price has adversely affected its stock performance. The stock is currently trading at more than $12. The market capitalization value is ~$975 million, with a P/E of just ~6x and a projected yield of ~4.4%. In contrast Gaslog Partners (NYSE:GLOP) and Golar LNG partners (NASDAQ:GMLP) have a projected yield of 11.3% and 15.7% respectively. The yieldcos in the solar industry similar to the MLPs have also been thrashed by the investor community. I think that the stock price has been hammered, despite the fundamentals remaining strong. The company is less dependent on fuel pricing than other oil and gas stocks. Falling oil prices are in fact good for the company over the long term, as it will increase demand amongst end users.
Conclusion
TGP should benefit from better fleet utilization with stable cash flows and a large diversified portfolio. In my view, the management showed prudence in temporarily reducing the cash distribution during December 2015 and using it to fund TGP's profitable projects. This was done because it has become difficult to access capital at reasonable prices from the external market. The partnership gave decent results, even during challenging times and showed resilience through delivery of various projects. The stock has been adversely hit by a general decline in oil prices and should rebound once the conditions improve. While investors with short term outlook may avoid this stock, I think it is a good buy for the long term.
Disclosure: I/we have no positions in any stocks mentioned, and no plans to initiate any positions within the next 72 hours.
I wrote this article myself, and it expresses my own opinions. I am not receiving compensation for it (other than from Seeking Alpha). I have no business relationship with any company whose stock is mentioned in this article.