My last article in early February on ConocoPhillips (NYSE:COP) had turned more neutral on the stock. The cuts to the dividend and capital spending placed the company closer to cash flow neutrality, while the forecast production growth was a troubling matter.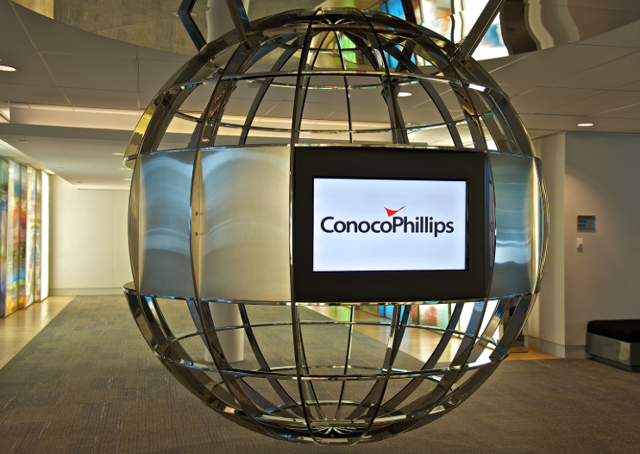 Over the last month or so, the stock initially headed lower before the eventual rally due to the jump in oil prices. The problem, though, is that ConocoPhillips needs higher prices to pay bills and some big questions exist on whether that will happen.
Lack Of Production Cuts
The biggest issues with all of the oil companies is that higher oil prices are needed to pay capital budgets and dividends. At the same time, these production companies need production growth to generate more cash to pay for these cash outflows. The end result is that the higher production places a cap on oil prices. In this regard, ConocoPhillips remains its worst enemy with production growth forecast as flat for 2016, after exceeding expectations with 3% growth last year.
Industry-wide, the issue is further magnified by OPEC proposing production caps at current levels. The recent oil surge is in part due to the expectation that an agreement will occur though Iran and Libya have already expressed plans to not go along with capping current oil production levels. The current levels are roughly 1 million barrels/day above demand, so that won't solve any problems.
The bigger concern is that oil prices around $40/bbl will encourage shale drilling to return in a big way. The latest U.S. rig count report showed a reversal of the trend for cutting oil rigs. Naturally, the rig count only grew by one rig over the prior week to 387 rigs, but the trend reversal needs to be followed.
Cash Flow Neutrality Within Reach
The best part of the new story at ConocoPhillips is that the O&G production firm doesn't need wildly higher oil prices for cash flow neutrality. The firm is now talking about Brent crude prices approaching $45/bbl to reach the crucial hurdle vs. levels at and above $60/bbl previously.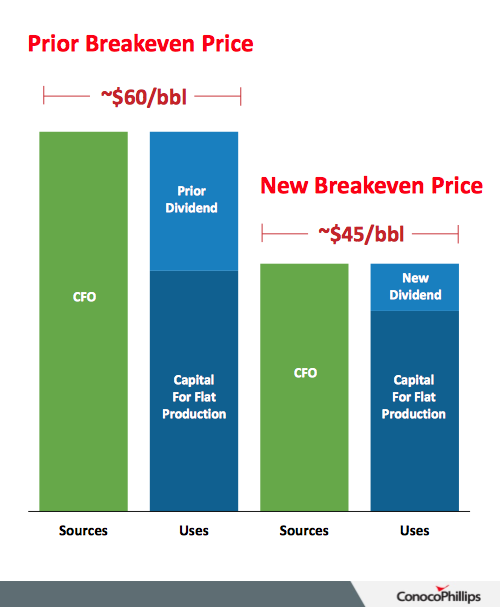 Source: ConocoPhillips investor presentation
With the lack of production cuts discussed above, $45/bbl is still a possible cap for the next year. The company forecasts that net income is impacted by $100 to $120 million per every $1/bbl change in Brent, but up to $210 million by every $1/bbl change in oil prices in total. If oil prices were to stay in the $30/bbl to $40/bbl range, ConocoPhillips would still fail to reach positive net income by at least $1 billion and up to $3 billion.
Takeaway
ConocoPhillips is in a much better position to thrive in the lower oil price situation now. The company and the industry still need to resolve the production issues before turning positive on the stock. The recent rally should be sold.
Disclosure: I/we have no positions in any stocks mentioned, and no plans to initiate any positions within the next 72 hours.
I wrote this article myself, and it expresses my own opinions. I am not receiving compensation for it (other than from Seeking Alpha). I have no business relationship with any company whose stock is mentioned in this article.
Additional disclosure: The information contained herein is for informational purposes only. Nothing in this article should be taken as a solicitation to purchase or sell securities. Before buying or selling any stock you should do your own research and reach your own conclusion or consult a financial advisor. Investing includes risks, including loss of principal.