AMD (NASDAQ:AMD) recently unveiled its VR (virtual reality)-optimized GPU Radeon Pro Duo, which it believes is the most powerful GPU available for professional VR content creators. The GPU, which will be commercially available during the second quarter of the current calendar year, is a liquid-cooled, dual-processor graphics card. The card will help content creators and game developers come up with VR games using AMD's LiquidVR SDK (software development kit).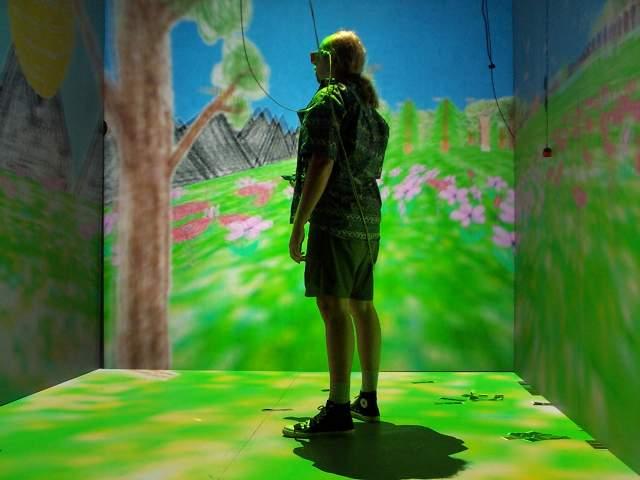 With the mass adoption of VR ready to pick up, the VR processor space is getting increasingly competitive. Qualcomm (NASDAQ:QCOM) introduced its first VR-ready SDK intended for its Snapdragon 820 mobile CPU few days ago. Both AMD and Qualcomm are targeting the developer community for winning market share. Since a true VR experience needs high quality immersive display powered by an advanced GPU, it's interesting to see how Qualcomm's VR initiative fares against that of AMD.
Qualcomm Vs. AMD: Battle for VR Market Share
The war between AMD and Qualcomm in VR isn't limited just between them. There's a third player in the war, which is Intel (NASDAQ:INTC). Sounds interesting? In a previous article I shared how Intel is teaming up with AMD to capture the portable gaming market. In case of high-end VR (which will be a significant part of the portable gaming market), video is supplied from computer/console to the headset. The computer/console needs a powerful CPU coupled with a dedicated GPU. Intel-AMD duo is targeting this area.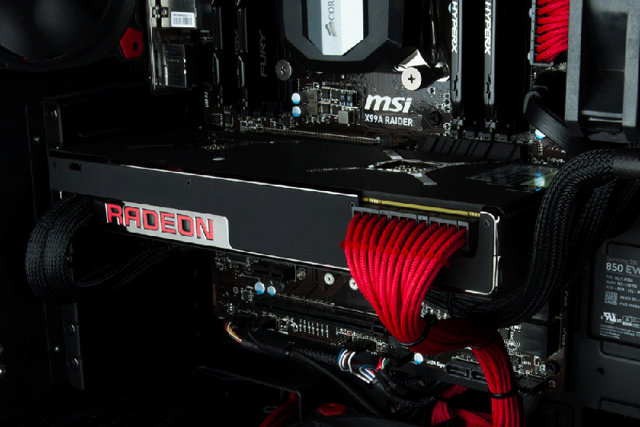 Radeon Pro Duo (Image Credit: AMD)
AMD is targeting the high-end VR market with its dedicated graphics cards. AMD's Radeon Pro Duo bundles two Radeon R9 Fury X GPUs in a single card. AMD is working closely with Facebook-owned (NASDAQ:FB) Oculus and HTC, the VR vendors whose Oculus Rift and HTC Vive headsets will officially be available within a few days. AMD said that both companies are using its LiquidVR SDK. Both Oculus Rift and HTC Vive need at least Intel's Core i5-4590 or equivalent CPUs for PCs to which they will be tethered. Clearly, Intel is very much in the high-end VR game.
What is LiquidVR? Well, LiquidVR is a VR content/game development technology. LiquidVR offers content/game developers two special features, HBM (high bandwidth memory) and OpenCL (open computing language), for creating rich and immersive games for VR headsets (including those mentioned above). OpenCL helps game developers create games for diverse platforms consisting of CPUs and GPUs. In addition, OpenCL supports hardware accelerators, such as FPGAs (field-programmable gate arrays) and DSPs (digital signal processors). It's noteworthy here that OpenCL and OpenGL (open graphics library) aren't the same despite similarities in terminology. OpenGL is an API used for hardware-accelerated rendering.
Qualcomm knows very well that without a moderate degree of graphics horsepower, competing with Intel-AMD duo would be difficult (although Intel isn't its direct competitor). Utilizing Snapdragon 820's Adreno graphics capabilities, Qualcomm is preparing itself for the war.
Qualcomm's Approach Is Different
Although VR's immersive experience depends on high-quality display, VR isn't all about graphics. A fully immersive VR experience needs advanced tracking and rendering, aside from display. Qualcomm is targeting the lower end of the VR market, such as the smartphone-based VR headset market, which could have larger market share compared to the higher end of the market due to affordability. To achieve affordability, Qualcomm is sacrificing the quality of display a bit and compensating that with high quality tracking and rendering.
While AMD's plan involves creating high-fidelity graphics with dedicated GPUs, Qualcomm is planning to create a pocket-friendly way for customers to access VR content with its Adreno-based integrated GPUs. Qualcomm's Adreno-based integrated graphics can efficiently perform stereoscopic rendering, i.e., creating an illusion of depth on a 2D surface.
In addition, Qualcomm is emphasizing on deploying a wide range of sensors inside its CPUs for providing users efficient head-tracking. High-end VR headsets use a tracker, which is a small head-tracking unit with a number of sensors, such as accelerometer, magnetometer and gyroscope. For example, Oculus Rift uses the Adjacent Reality tracker. Snapdragon 820's DSP, the Hexagon 680, can do what Adjacent Reality tracker does for Oculus Rift.
Can Qualcomm Beat AMD In Winning Market Share?
I believe it can, if the cheaper version of VR becomes successful. Sony (NYSE:SNE) is bringing its PlayStation VR for $399, while Valve is planning to lower VR system requirements in order to make its headset less expensive. In contrast, a unit of Oculus Rift costs $599. In addition, it needs a high-end gaming computer that costs at least $700. An HTC Vive headset costs $799 plus $700 or more for a gaming computer.
If affordable VR headsets eventually dominate the marketplace, which is highly probable, Qualcomm will have steady market share. However, the high-end segment also will have its place and AMD could dominate that space with its Radeon GPUs powered by Polaris microarchitecture. In a previous article I explained why I believe AMD's Polaris microarchitecture could challenge Nvidia (NASDAQ:NVDA).
Conclusion
Investors who are interested to take a plunge in VR should own both AMD and Qualcomm. I personally believe AMD is a more compelling story due to its turnaround initiative. However, it could be more risky as well compared to Qualcomm, which could be a slow but steady winner.
Disclosure: I am/we are long AMD, QCOM, INTC.
I wrote this article myself, and it expresses my own opinions. I am not receiving compensation for it (other than from Seeking Alpha). I have no business relationship with any company whose stock is mentioned in this article.