Last month, I had focused on why Exxon Mobil (NYSE:XOM) will be able to improve its financial performance going forward on the back of strength in its downstream segment. Now, driven by the recent developments in the crude oil business, it looks like Exxon will be able to improve its upstream performance as well in the future. In this article, we will take a closer look at the reasons why Exxon Mobil's upstream business is all set to get better in the future.
Upstream weakness could end soon
In the fourth quarter of 2015, Exxon Mobil's upstream business suffered a huge loss of $4.6 billion, leading to a drop of $3.8 billion in its earnings as compared to the prior-year period. The upstream segment, which consists of crude oil, natural gas, and LNG, was hit by a drop in the average realized prices of oil and gas last year. However, things are changing for the better of late.
Brent oil prices have exceeded $41 per barrel after declining to under $28 a barrel a couple of months ago. This translates into a recovery of almost 46% in oil prices in just two months, and the important part is that the recovery is looking sustainable this time due to a variety of reasons. For instance, at Cushing, Oklahoma, U.S. crude oil inventories dropped for the first time since January. Moreover, last week, U.S. oil inventories grew by 1.3 million barrels as compared to consensus estimates of 3.4 million barrels.
The situation in the U.S. oil market will improve further in the future as consumption is expected to rise and production is expected to drop. According to an EIA report, the consumption of liquid fuels in the U.S. will rise by 90,000 barrels a day in 2016 and then rise by 160,000 barrels per day next year.
Concurrently, due to a production decline in the shale areas of the lower 48 states, oil production in the U.S. is expected to come down by 700,000 barrels per day this year. Additionally, even next year, U.S. oil production is expected to drop by 500,000 barrels. In fact, in the last 10 months itself, U.S. oil production has dropped by 600,000 barrels per day, which indicates that the weakness in oil pricing has created a negative impact on the production.
In fact, out of the seven key shale plays in the U.S., production is expected to drop at five, especially the Eagle Ford and the Marcellus, which indicates that a decline in capital spending by oil producers is having the desired effect of reducing production. Going forward, this will lead to a drop in the oversupply in the oil market, which will ultimately allow prices to improve.
Similarly, even Saudi Arabia is now intent on doing its best to improve oil prices and control the level of oversupply in the industry. Next month, 15 key oil-producing countries that account for two-thirds of the global oil output will meet in order to discuss measures to control production. This will once again have a positive impact on oil prices as inventories will go down due to restrained production.
Operational improvements in the upstream business will be a tailwind
Last year, Exxon Mobil recorded robust operational improvements in the upstream business as its unit costs were down 9%. In fact, in the upstream business, XOM has one of the lowest capital employed for each barrel of proved reserves. This is shown in the chart given below:
Source: Exxon Mobil
As a result of its low reserve costs, Exxon Mobil has seen the lowest decline in its earnings per barrel when compared to rivals. In fact, its earnings per barrel of oil stood at $5 last year while the likes of Total (NYSE:TOT), Chevron (NYSE:CVX), and Royal Dutch Shell (NYSE:RDS.A) (NYSE:RDS.B) were in the red. This is shown in the chart given below: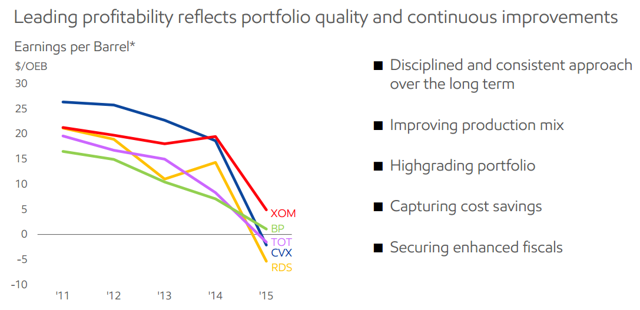 Source: Exxon Mobil
The reason behind Exxon's efficiency in the upstream business is the fact that the company has been deploying advanced technology to develop wells. For instance, by using next-generation seismic imaging, modeling reservoirs in advance, and carrying out digital surveillance, Exxon Mobil has been able to increase the recovery rates from its wells while lowering drilling and completion costs at the same time.
This goes on to show that XOM has the best-placed upstream segment among its peers, which will enable it to take stronger advantage of an improvement in oil prices.
Conclusion
From the discussion above, it is evident that Exxon Mobil's upstream business is in strong shape as compared to peers, which will allow the company to do well in light of the recent recovery in oil prices. The stock is already up almost 8% this year, which is commendable considering the volatility in the oil market, and driven by the recent rally in oil prices, I expect Exxon Mobil to get even better in the future.
Disclosure: I/we have no positions in any stocks mentioned, and no plans to initiate any positions within the next 72 hours.
I wrote this article myself, and it expresses my own opinions. I am not receiving compensation for it (other than from Seeking Alpha). I have no business relationship with any company whose stock is mentioned in this article.