One night last week our electrical service went out. Again! This time only for a few minutes. The house went dark - all except the back sun room. Why? Two months ago, I installed an experimental small solar system (cost under $50) to provide LED lighting for the room. During the power outage, it was the only room in the neighborhood with lights on.
Then it occurred to me: Why rely on those distant, expensive power plants when one can meet lighting needs with just a small, inexpensive solar system on the premises?
Yes, I know things like air conditioners, refrigerators, hair dryers, and so forth require considerably more power than lights. More on that later.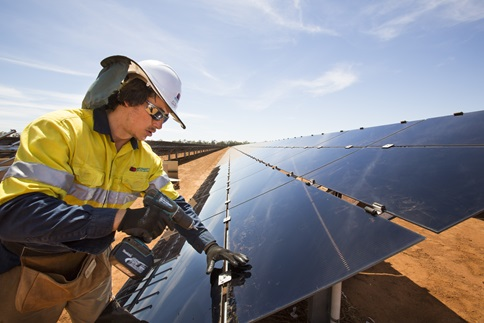 When you think of it, everyone who owns real estate gets free energy from the sun (and wind) everyday. It's energy which needs no mining, power plants, transmission lines, or expensive contractors. There are no government regulations or taxes and there is no carbon dioxide or other pollutants emitted. And oh - I almost forgot - once it's set up, there are no bills.
The problem, of course, is that up to recently, it has been difficult to capture all that solar and wind energy. But things are changing, and changing fast. Solar is now the top new U.S. energy source. It's growing even faster than natural gas. A 2015 report from Deutsche Bank details solar's fast growth and massive potential.
Many will say solar lives and dies by subsidies, and in the past that may have been the case. Now, however, with steadily declining panel costs, the recently extended tax credits are just icing on the cake. Unsubsidized rooftop solar electricity now costs between $.08 and $0.13 per kWh (the U.S. residential average is $0.12 per kWh), significantly below electricity's retail price in many global markets.
What about competition from the current (and likely temporary) low prices of oil, gas, and coal? Wouldn't that make solar less competitive? Not as much as you might think.
First, despite rock bottom prices for fossil fuel, electricity rates are actually moving up. Maybe that's not too surprising. Have you ever seen a government-regulated industry (as utilities are) in which prices go down?
Second, the major benefits of solar are not just kilowatt-hour cost savings. Rather, the biggest benefits often are things, as noted above, you don't have to do - things such as stringing electric lines, electrical permits, government regulations, handling dangerous voltages, etc.
Now back to those energy-hungry air conditioners, refrigerators, and hair dryers. The average (yes, I know no one is average, but it's the only way to get a handle on this highly variable number.) utility customer uses just under 11,000 kWh annually. In California, for example, one square foot of solar panel generates about 30 kWh per year, so simple math shows an average California residence needs about 365 square feet of panels for all its electric needs. Rechargeable battery efficiencies keep improving. Forbes notes research which shows we may eventually be able to capture up to 100% of the sun's energy. (The best existing panels capture 17-20%).
Investing In Solar: Mostly A Disaster
Yet, investing in solar stocks has (mostly) proven to be disastrous. Consider the following: Former darling SunEdison (NYSE:SUNE) was over $30 last July; now it's bouncing barely above $1. SolarCity (NASDAQ:SCTY), currently just above $23, was over $60 last May.
What About Solar ETFs?
Exchange traded Funds (ETFs) are often regarded as the simplest, safest, and most cost efficient way for investors to get broad exposure to a sector. After all, ETFs hold positions in many equities, so if 1 or 2 go bad, the others should pick up the slack, minimizing losses. No such luck with the solar ETFs.
Let's briefly look at the composition and then the performance of the top two solar ETFs: the Guggenheim Solar ETF (NYSE:TAN) and the Market Vectors Solar Energy ETF (NYSE:KWT).
Both ETFs hold global (primarily North American and Chinese) equities. TAN is somewhat more diversified as its 3 top holdings make up 20% of the total while KWT's 3 top holdings account for 25% of its total. TAN has a somewhat higher percentage utility component than KWT (25% vs. 18%).
TAN is the volume leader and has $244 million in AUM. It has 24 holdings. As of March 22, TAN's top three holdings are First Solar (NASDAQ:FSLR) at 8.5%, SunPower (NASDAQ: SPWR) at 5.8% and Trina Solar (NYSE:TSL) at 5.5%. You can see TAN's current top 10 holdings here.
TAN follows the MAC Global Solar Energy Index, has a 2.1% dividend yield, and an expense ratio of 0.70%.
Performance, however, is dismal to say the least. TAN has fallen 45% over the past year and over 90% since its 2008 IPO.
KWT is considerably smaller with $15 million in AUM and much less trading volume. It has 21 holdings. As of March 22, its top three holdings were First Solar (NASDAQ:FSLR) at 11.0%, GCL Poly Energy Holdings (OTCPK:GCPEF) at 7.0%, and SunPower Corp. (NASDAQ:SPWR) at 7.0%. You can see KWT's current top holdings here.
This ETF tracks the Ardour Solar Energy Index, has a 1.22% dividend yield, and an expense ratio of 0.65%.
Like TAN, KWT's performance is terrible. It has fallen 38% over the last year, and it too is down over 90% since its 2008 IPO.
You might say both these ETFs have given investors a severe sunburn rather than a tan.
The Warming Climate Wildcard
Last summer, headlines heralded the summer of 2015 as the hottest in 4,000 years. And now in 2016, the trend appears to be accelerating. This past February was unprecedentedly hot around the world. Rising sea levels are beginning to cause severe coastal flooding around the world; Miami Beach, Vietnam, Bangladesh and elsewhere.
If this stuff continues, it is just a matter of time till politicians pass even more solar-friendly (and fossil fuel unfriendly) legislation. We will see.
Will Solar Erode The Huge Oil and Gas Industry?
It seems inevitable. Total market cap of the leading solar companies is under $20 billion while market cap of the 10 largest fossil fuel companies alone exceeds $1.5 trillion. And that does not include the giant state-run energy companies (think Aramco) the top five of which are all larger than Exxon (NYSE:XOM). And, of course, there are hundreds of mid-size to small oil and gas companies which I'm not going to even attempt to add up the value of.
Every installed panel takes away a very small piece of that pie. Death by a hundred million panels?
Conclusion
So, we have a puzzle: Why has it been so difficult for investors to make money in this rapidly growing sector?
Is it possible we now near a bottom from which things will improve? Well, maybe. But if past performance is any guide to the future, the odds certainly don't look good. I have a small position in TAN, but since researching and writing this article, am considering selling it.
Solar energy is on the rise, and it will likely eventually be the silver bullet which weans us off fossil fuels. As to how investors can profit, however... well that remains to be seen. At this point, solar ETFs don't appear to be the answer.
Disclaimer: This article is informational only and not intended to be investment advice as to what to buy or sell. Please do your own due diligence.
Disclosure: I am/we are long TAN, FSLR.
I wrote this article myself, and it expresses my own opinions. I am not receiving compensation for it (other than from Seeking Alpha). I have no business relationship with any company whose stock is mentioned in this article.