I am long eBay (NASDAQ:EBAY). The stock has declined from the high of $29.83 in December 2015 to $24 as of today, a 19% drop. I reevaluated the company to see if it's worth adding to the position.
EBAY currently trades at 13x 2016 earnings, produces in excess of $2B in free cash flow, and has an active share repurchase program. Based on the current market cap of around $28B, the company can retire 6-8% of the stock each year.
Business Overview
EBAY went through a transformation in 2015, spinning off PayPal (NASDAQ:PYPL) and selling the enterprise business. The company as it stands today is basically three distinct businesses; slower-growing marketplace business combined with faster-growing StubHub! and Classifieds businesses. Approximately two-thirds of revenue comes from the international business. In 2015, despite healthy growth in revenue on a constant-currency basis, EBAY's reported revenue was negatively affected by currency headwinds.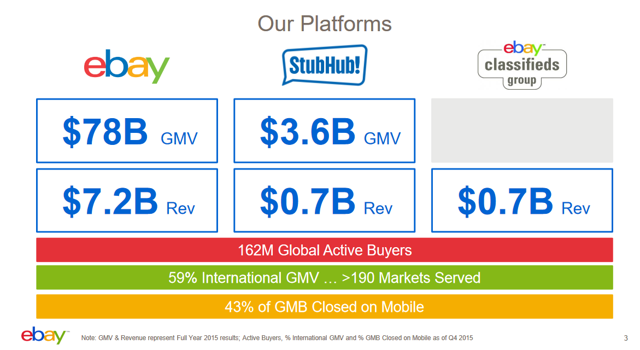 Source: EBAY investor presentation
Key Value drivers
Marketplace Revenues
Since last year, Marketplace has been undergoing a transformation. eBay Marketplace is where buyers and sellers get together to sell their own inventory. It so happens that multiple sellers may be listing a similar product. Recognizing that this creates a lot of duplicated content and makes product search harder, EBAY decided to clean it up and optimize the data. So far, 38% of relevant listings have standardized product information along with images and reviews. In my view, this product optimization dramatically improves the user experience and should result in increased adoption among new sellers.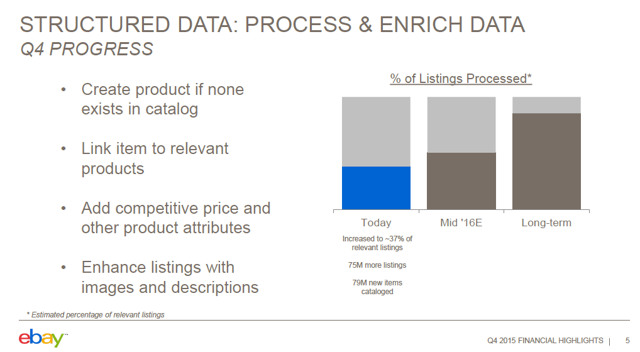 Source: EBAY investor presentation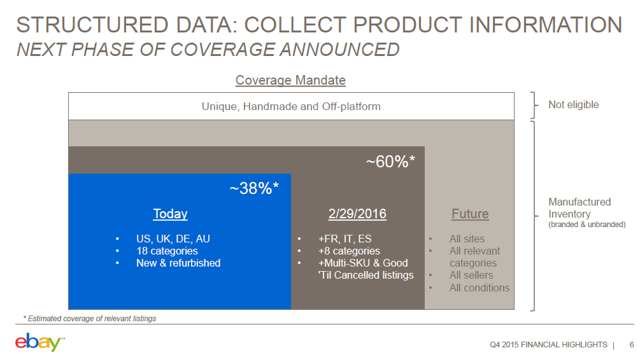 Source: EBAY investor presentation
Logistic Partnerships
EBAY has entered into a partnership with Shyp to make it easy for sellers to ship the items sold. In a recent press release, the company announced the expansion of its partnership with Shyp into Los Angeles. Initial pilots were held in New York, Chicago and San Francisco. Here is how it works. "Once an item is sold, Shyp can pick up from the seller within 20 min, professionally pack the item, and ship it on behalf of the seller." I believe this kind of partnership addresses one of the important pain points of online selling and can increase adoption rate among sellers. The press release shared some interesting insights (see below) to that extent. "Nearly half of eBay sellers who used Shyp had never sold on eBay previously."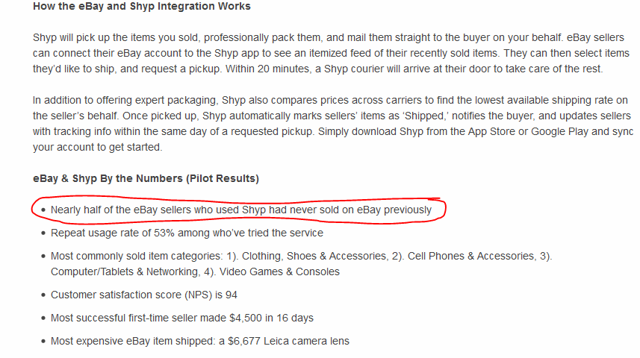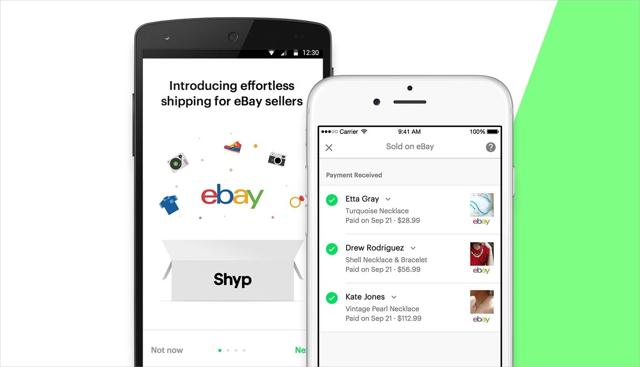 Source: EBAY and SHYP press release
Currency Movements
EBAY's revenues are heavily influenced by currency movements as 60 percent of its revenues come from international businesses. The biggest drawback for reported revenue growth in 2015 was USD appreciation (see below). Currency movements are hard to predict, and I'm not making any attempt to do so. Instead, in my valuation models, I used different scenarios of currency impact. EBAY received most of its international revenues in GBP, AUD or EUR. If any of these currencies were to appreciate, that could be a tailwind for eBay's reported revenues.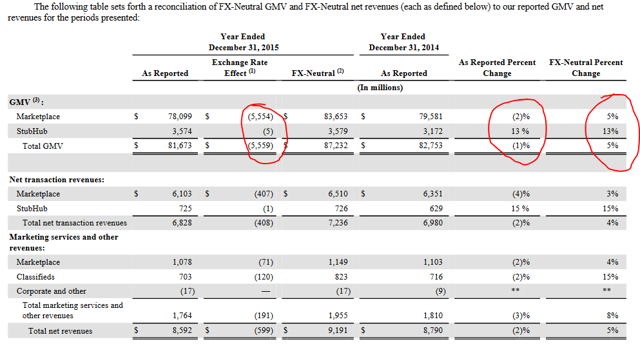 Source: 2015 10-K
Share Buybacks
I believe share buybacks are going to be one of the big drivers of EPS growth going forward. Based on management's guidance, EBAY is expected to generate FCF in the range of $2.2-2.4B in 2016. which it intends to use for buybacks. Since much of EBAY's cash is outside US, the company recently raised $2.25B of debt through public markets. Given the recent weakness in the stock, this would be the best time for EBAY to accelerate its share repurchases.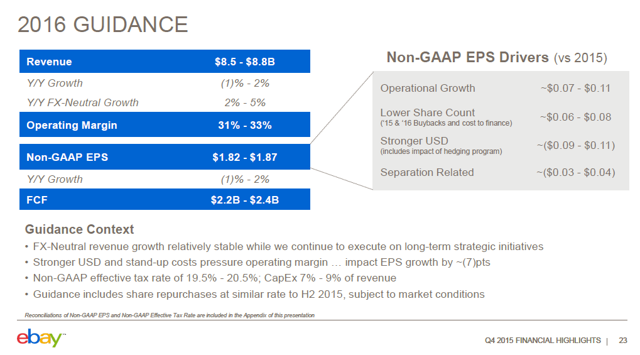 source: Investor presentation
Valuation
At 13x forward P/E, EBAY trades at a significant discount to its peers and S&P 500. My price target is at $30 (around 16x P/E) within 12-18 months. I also have calculated the intrinsic value using a DCF model. Looking at various scenarios, I arrived at a range of $29-34, i.e. 20-40% higher than the current market price. I will continue to reevaluate after each quarter throughout the year.
Conclusion
Based on my research, I remain long, and may further add to my position.
Disclaimer: This article is for educational and informational purposes only. Nothing contained here should be construed by anyone as an invitation or solicitation to buy or sell any security. This article does not contain personalized legal, tax, investment, or financial advice. Readers of this article should consult with a qualified adviser to obtain advice suited to their personal circumstances.
Supporting Documents
Disclosure: I am/we are long EBAY, PYPL.
I wrote this article myself, and it expresses my own opinions. I am not receiving compensation for it (other than from Seeking Alpha). I have no business relationship with any company whose stock is mentioned in this article.