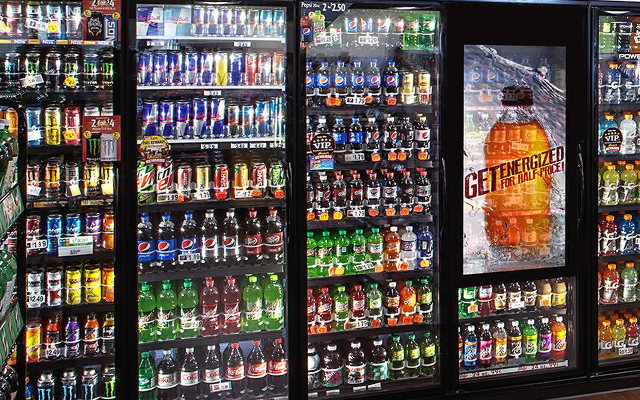 The "FCF 5" series made a welcome return recently with my article on Lockheed Martin (NYSE:LMT). Alongside a recent comparison of Honeywell (NYSE:HON) and United Technologies (NYSE:UTX), and an earlier look at Roper Technologies (NYSE:ROP), my eye has turned once again to an industrial conglomerate. Which one this time? Well, Dover Corporation (NYSE:DOV).
Dover Corporation has had an excellent share price run recently. Since mid-January it has jumped over 25%: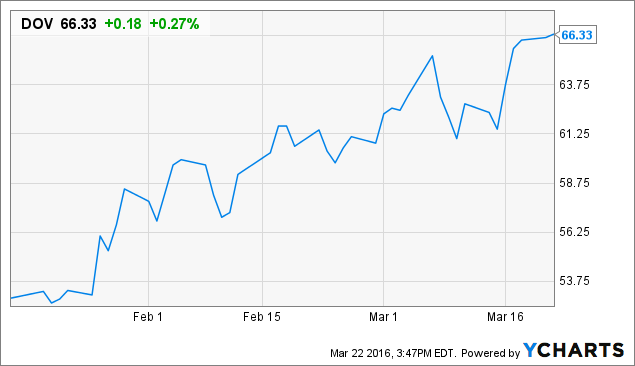 DOV data by YCharts
This was despite of the fact that it announced on March 14 that Q1 results would likely be well below previous expectations due to continued weakness in the oil markets.
This caught my interest, it must be said. What has kept driving Dover Corporation's share price higher? Here I would like to see if I can figure that out.
Dover Corporation is going to pass through my five free cash flow (that is, FCF) tests.* These tests form the first steps in my analysis of a company. Although far from exhaustive, it gives me a good indication of its competitive advantages, its FCF health and efficiency as well as the debt and dividend position. Fair value based on FCF alone is also calculated.
These tests merely mark the first step in what may develop into a more thorough analysis of the business in the future. So let's get started.
A Little About Dover Corporation
First, let's open by getting to know the business a little more. Dover Corporation is certainly an industrial conglomerate of some scope, with revenue fairly nicely split between its four main segments: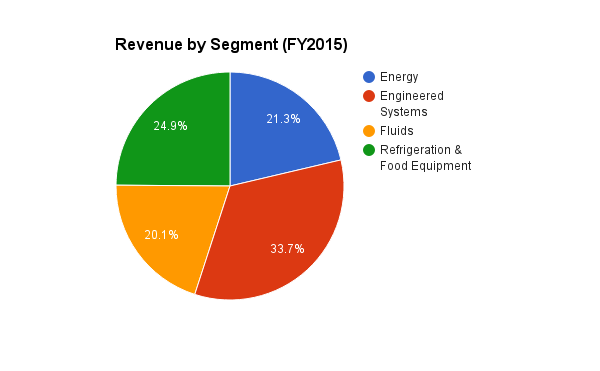 Dover Corporation is, you may have noticed, quite extensively exposed to the energy business. Yet this goes deeper than just its "energy" segment. Dover Corporation's "fluids" segment also derives a hefty slice of its revenue from the oil and gas market.
With oil prices still depressed, the result is predictable. Dover Corporation has struggled for revenue growth in 2015, especially in its energy segment: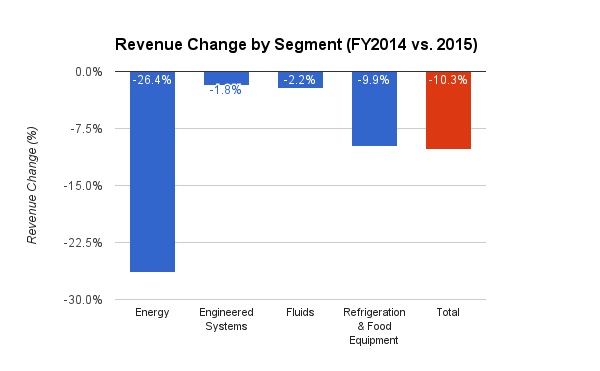 Energy, of course, is clearly not the only victim of revenue declines leaving the business nursing an overall 10% decline. Dover Corporation is, however, a business which operates in a cyclical industry. Its history reveals that it has proven adept at navigating these cyclical challenges over prolonged time periods. Perhaps most indicative of this is its dividend history.
Dover Corporation is easily a dividend aristocrat. For over 60 years, it has managed to consistently grow its dividend. Quite staggering. Looking at the last two of this six decade history, it is clear that this has not been particularly sluggish growth either: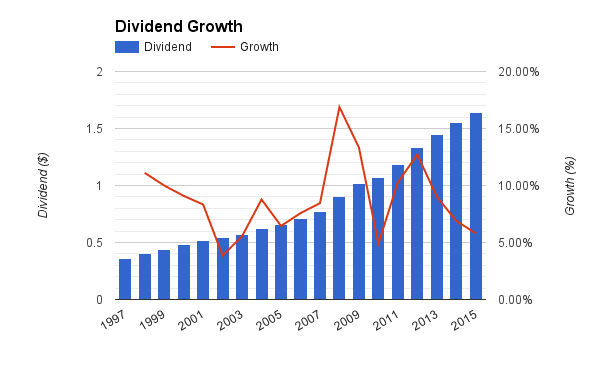 Sure, growth has been variable according to the cycles of the industries it serves. Yet it is clear this a business that is adept at managing itself through good times and bad.
So far, so good. Yet let's get down to the tests themselves. How does Dover Corporation do?
1: Positive FCF
First is a straightforward test. All I want to start off with is evidence that Dover Corporation can consistently generate positive cash flow. My test here only demands that for the last five years it has produced positive FCF.
Here Dover Corporation gets off to a solid start. Due to its exposure to the energy sector, it is unsurprising to find that from 2014, OCF (operating cash flow) and therefore FCF has shrunk somewhat:

Dover Corporation remains highly cash-generative, however. FCF has almost halved since 2012. Yet it remains comfortably in the black.
Nor is this expected to change soon. Dover Corporation predicts that it will convert 11% of 2016 revenue into FCF. Revenue is expected to remain fairly flat in 2016. This would suggest that FCF could come in around the $760 million mark.
First test has, therefore, been nicely PASSED by Dover Corporation.
2: CROIC: Cash Return on Invested Capital
Next test asks more of Dover Corporation's cash performance. Sure, it can generate FCF. Yet how efficiently is this cash produced and thus how effectively would it be able to produce further FCF from its invested capital?
Here we turn to the CROIC (cash return on invested capital). The CROIC is calculated by dividing the FCF by the capital invested in the business (that is, the sum of its total debt and shareholders' equity).
What I look for is a CROIC of 10% or more. Such a CROIC would mean that for every $100 of capital invested, it generated $10 in FCF. An impressive return.
So how does Dover Corporation do here? Pretty well, in fact. Dover Corporation has averaged a CROIC of 12.19% over the last five years: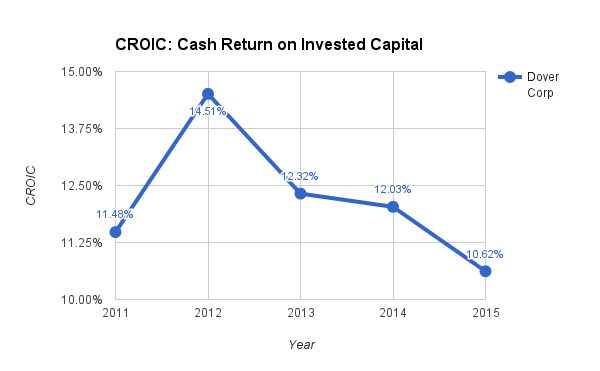 With cash flow being battered during the last few years courtesy of the declining oil price (amongst other things), it is unsurprising to see CROIC has declined about 4% since 2012. Yet it is impressive that even after such declines Dover Corporation still has a CROIC of over 10%. This is a company that clearly has an efficient business with strong competitive advantages.
All in all, it is another PASS here for Dover Corporation.
3: FCF to Debt Ratio
Next we turn to the debt situation. Debt is, as already mentioned, considered in the CROIC figure above. Yet it is of such importance that it certainly deserves separate consideration. Debt levels have remained pretty flat at Dover Corporation since they grew by a quarter in 2012: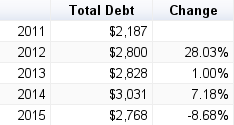 Relative to shareholders' equity, the debt levels at Dover Corporation have also remained at fairly usual levels. Set alongside two other industrial conglomerates I have reviewed recently - Honeywell and United Technologies - Dover Corporation sits just a little above them in this regard: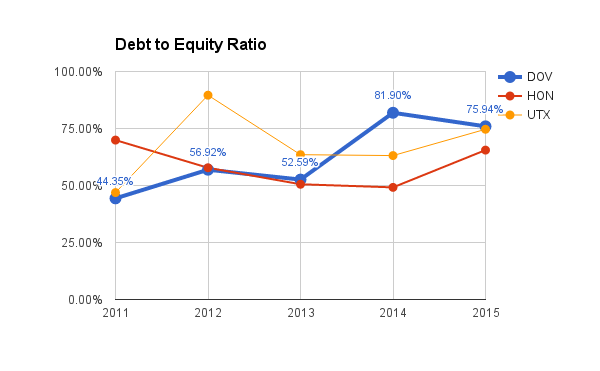 Yet what really concerns me here is the FCF/Debt ratio. That is, how well covered by FCF is Dover Corporation's debt? I am looking for a FCF/Debt ratio of 25% or more. Such a ratio would mean that the company could (theoretically) repay its entire debt in just four years.
So how does Dover Corporation do? Not too badly: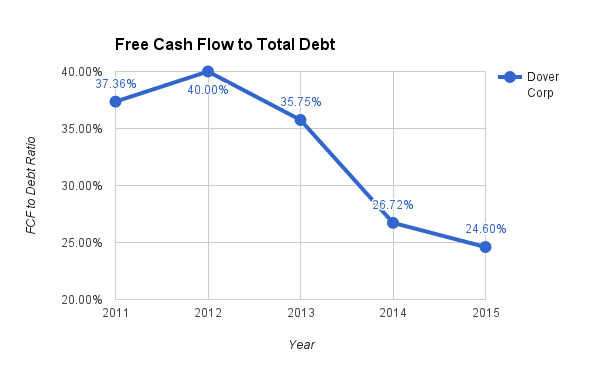 Debt coverage has declined in recent years as FCF has struggled to hold its ground. In 2015, it dipped below my 25% target by 0.4%. Seeing as its recent performance has been well in excess of this figure, I am disinclined to fail Dover Corporation for its 0.4% shortfall from my target.
Clearly, this is something to keep an eye on. Nonetheless, I doubt we would see any worrying deterioration here anytime soon. Only a modest FCF growth or debt decline would see it nicely above my (admittedly) high test level.
I therefore give Dover Corporation another PASS.
4: FCF Yield
Next is the all-important dividend. Here I want to see a healthy current yield and rosy-looking dividend future. As such, I want to see a FCF yield of 3.5% or more. Yet I always want a FCF payout ratio below 75%. Dover Corporation again passes here but with less room to spare than I would have thought: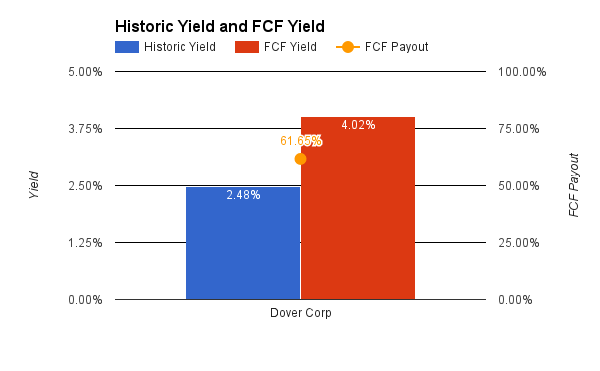 With a FCF yield of over 4%, it passes my 3.5% target nicely. Similarly, with a payout ratio of less than 62%, it sits nicely under my 75% threshold.
Ideally, I would have liked to see a larger margin of safety. Yet for such a well-managed business with as robust a dividend history as it has, I am not at all worried about the health of its dividend. As a cyclical business currently facing a down-cycle, such a robust dividend position is excellent to see. Dover Corporation, therefore, picks up another PASS here.
5: FCF Valuation
Finally, we come to the valuation test. Here I first predict the FCF at Dover Corporation for the next two year. Taking the consensus revenue predictions for the next two years, I multiply this by my predicted FCF/Revenue ratios for each year. In the case of Dover Corporation, its 11% FCF/Revenue ratio seems a fair estimate.
Doing so provides us with predicted FCF figures of $761 and $783 million this year and next. These FCF predictions are then averaged and multiplied by the average enterprise value to FCF multiple Dover Corporation has attracted over the last five years: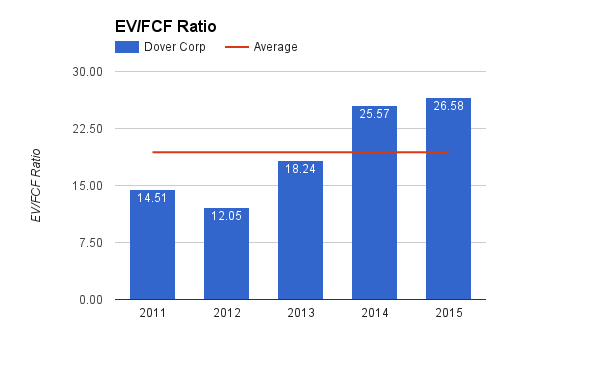 Dover Corporation has averaged an EV/FCF of 19.3 over the last five years. Using this provides me with a FCF fair value of around $58.50. Dover Corporation is currently trading at $66, suggesting it is about 13% above fair value at the moment.
On this basis, Dover Corporation has to be said to have FAILED this final test.
Conclusion
Dover Corporation is clearly a very attractive industrial conglomerate. It passed all but my valuation test showing that it remains, despite headwinds, a compellingly cash-generative business.
Short term, it will continue to face hefty headwinds to its revenue and FCF performance. Although generously diversified, both its energy and fluid segments derive a lot of their revenue from the oil market. The strong USD denting foreign revenue compounds the issue.
The reality is, however, that despite what are significant uphill battles it is facing, the company presents incredible FCF figures. Dover Corporation is a business which operates in a number of niche, high-margin industrial segments. Within these segments, Dover Corporation has developed long-standing, highly-respected market positions. Dover Corporation has, therefore, built up a wide and deep economic moat which underpins the incredible 60-year dividend growth history.
That being said, at $66 I do think the share price is carrying a somewhat exaggerated premium for the business. At current prices, I would rank it a hold. Yet should it drop below $58, I would rank it as a highly-attractive long-term buy. Whatever its valuation, however, Dover Corporation has earned a place on my main long-term watchlist.
Notes
* In this article, I use free cash flow as calculated by subtracting capital expenditure from operating cash flow.
Unless otherwise stated, all graphs and tables and the calculations contained within them were created by the author. Image reproduced from Anthony International (a Dover Corporation brand).
Disclosure: I/we have no positions in any stocks mentioned, and no plans to initiate any positions within the next 72 hours.
I wrote this article myself, and it expresses my own opinions. I am not receiving compensation for it (other than from Seeking Alpha). I have no business relationship with any company whose stock is mentioned in this article.