Oil (USO, OIL) inventories would've drawn substantially if it wasn't for record imports for this week's DOE inventory report.
Gasoline demand remains strong and refineries are still in maintenance mode, with utilization rates dropping a bit week over week.
Highlight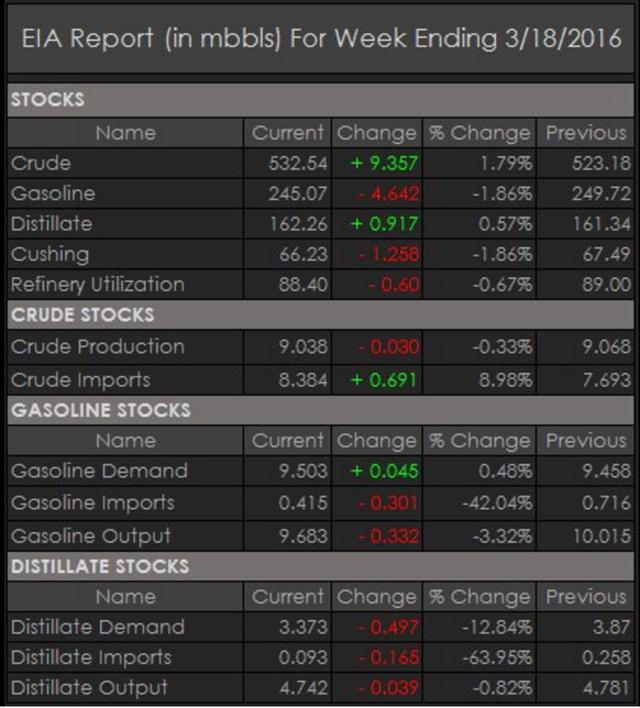 Crude build saw a massive build of 9.357 million last week. In my last week's weekly oil report, I wrote:
"Hearing insights from traders, they are saying that imports dropped this week because most of the oil that was supposed to be delivered were delayed. The figures could show up in next week's inventory numbers."
For people that read my weekly oil inventory reports, one should have expected numbers to be much higher than normal. This shouldn't be a surprise.
The noticeable exception in this report is the continued deterioration in U.S. production numbers. Productions dropped another 30k b/d week over week and signifies that the trend remains downward and the oil markets moving towards a balance.
Imports
As highlighted in last week's report, imports were likely delayed from two weeks ago causing import numbers to be drastically higher than expected.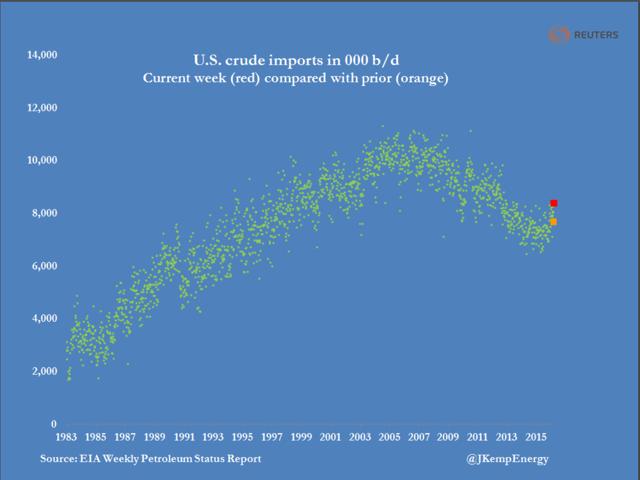 Imports were 691k b/d higher than the previous week, and imports remain above the trend line. I continue to believe that the day import figures normalize, that's the day when you will see drastic falls in the stockpile.
The main reason for the significant build is that import of heavy crude remains substantially cheaper than onshore supplies. As long as this imbalance continues, import numbers will likely remain elevated. However, if U.S. onshore production falls by another 200k b/d by the end of the year, current import figures will no longer be able to cause the drastic build in stockpile we've seen over the last year.
Refineries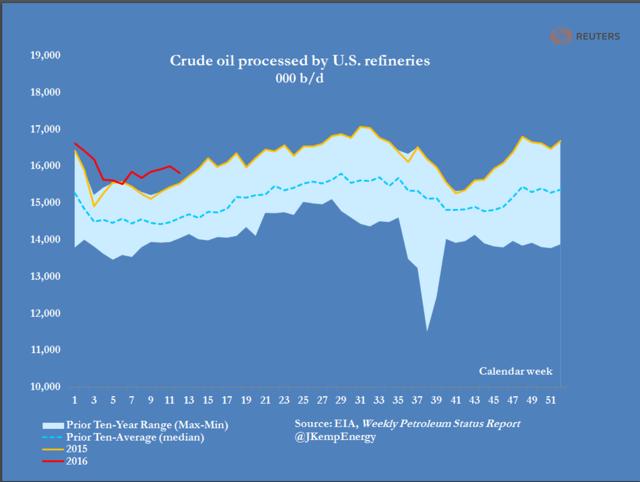 Refineries continue to go all out. Utilization was down slightly week over week, but given that maintenance turnaround season is almost over, I expect crude processed by refineries to pick back up and hit all-time highs this summer.
The main reason why refineries continue to operate at record highs is due to very strong gasoline demand.

Bears would point out that commercial gasoline stock remains above the ten-year average, but taking a look at the stock versus current consumption, the inventory figure doesn't look so bad anymore.
Concluding Thoughts
Inventory figures were once again propped up by record import figures. The delay in the previous week likely caused the spike in inventory last week. Demand for gasoline remains strong, and U.S. production continues to trend in the right direction. Overall, this was a net bullish report and there are very clear signs that the supply/demand is getting tighter.
Lastly, for investors interested in E&P investing, please consider subscribing to Hedge Fund Insights Premium Research as we set out to help investors navigate through the carnage and to avoid some of the common pitfalls made by investors. We have also written how-to articles to help investors look at E&P companies. We hope you can join the community!
Disclosure: I/we have no positions in any stocks mentioned, and no plans to initiate any positions within the next 72 hours.
I wrote this article myself, and it expresses my own opinions. I am not receiving compensation for it (other than from Seeking Alpha). I have no business relationship with any company whose stock is mentioned in this article.