Randgold (NASDAQ:GOLD) is a gold mining corporation located in Africa. It is a constituent of the FTSE 100 and the NASDAQ 100. When the Fed raised interest rates in the early part of 2015, this company's stock price took a major hit. However, in January of 2016, the price rallied and rose from approximately $60 to $90 in about a month. The stock is currently trading between the low $90s and the high $80s on the NASDAQ exchange.
Although the stock has been locked in this channel for a little over a month, there are several factors that could trigger a decline in price. First, the Fed has lowered expectations about future rate hikes, and this could negatively affect the price of gold and gold mining stocks.
Second, the P/E ratio of the stock is high, which suggests that many investors are expecting a substantial amount of growth. Finally, the most recent price rally occurred in less than a month and increased the price of the stock by approximately 50 percent, providing many investors with an opportunity to exit and lock-in profits.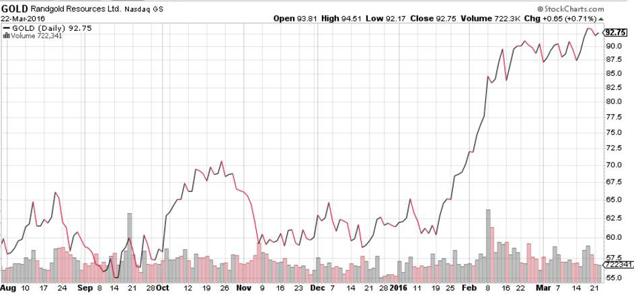 (Source: Yahoo Finance)
Too Much Too Soon
Sudden surges in share price are often seen as opportunities for short sellers and profit takers. The latest rally with this stock is a perfect example of this. Even when there are solid fundamental reasons why a stock could continue to perform well, dramatic increases like this are often followed by sharp corrections. This is a basic market reality, and in situations like this, the price often comes crashing down to earth - especially if the prospects for growth begin to look less promising.
Such is the case with Randgold. The future for gold looks bleak. At best, it appears as though gold will trade flat for the next several years. Under normal circumstances, this price stabilization of the yellow metal would not be a major threat to this corporation's stock price. However, this stock is expensive and needs to present growth potential to investors in order for them to hold onto their shares instead of taking profits and searching for more fertile grounds where they can invest with greater expectations of finding another jackpot.
The Federal Reserve Appears to be on Hold
In the last few months, the Federal Reserve has slashed its forecasts about future rate hikes, and it is beginning to look like it may reduce expectations for such increases even more in the coming months. Their predictions for economic improvement are not as optimistic now as they were at the beginning of 2015 when they raised interest rates for the first time in several years. With there being a greater chance that the Fed will keep rates low, the price of gold now has less of a chance of increasing for the next few years. This does not bode well for gold mining stocks.
Gold performs magnificently when there are threats of inflation. However, if the Fed does not raise the interest rates any further, then there is a much better chance that inflation will remain in check. Even if the Fed does decide to raise rates by a smaller amount than it had originally said it would, the impact will not be as great. Normally, this would not have a lot of effect on a gold mining stock that is reasonably priced, but unfortunately, Randgold is an expensive equity trading at a high P/E ratio.
P/E Ratio is High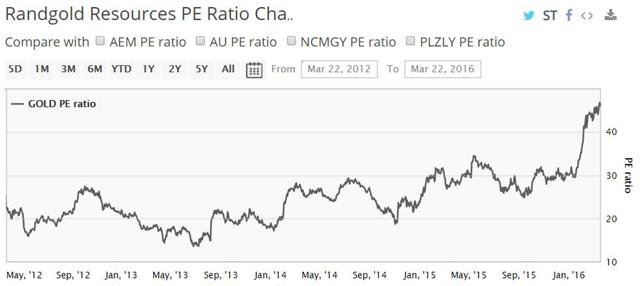 (Source: Yahoo Finance)
The P/E ratio of Randgold Resources is right around 46. This elevated number suggests that there are many stockholders who are expecting a substantial amount of growth in the next several quarters. The hopes for such growth were slashed at the same moment when the Fed announced that they would not be as aggressive with interest rate hikes. This provides more of an incentive for many to go ahead and sell. Those who bought shares when the stock's price was much lower will be those who are facing the most temptation to take profit before the share price drops.
One must also consider that there will be opportunistic short sellers who would view this situation as an opportunity to place bets to the downside. The main reason for this logic would be that the latest increase in price happened too quickly. Healthy increases in the price of an equity are usually interspersed with brief corrections where various entities take profits. This latest run-up, however, has not had any such corrections and appears to have created a plateau at a high level that might be unsustainable in future economic climates.
Conclusion
When one examines the situation and carefully evaluates all of these factors, it becomes apparent that there will probably be some form of correction in the next few months. What is not certain is the degree of this correction. If there is at least one rate hike in 2016, then there will probably be a greater chance that the stock will experience only a moderate correction. However, if the Fed leaves rates unchanged, then there will be a much greater chance that the correction will be far more severe.
One thing is certain: the conditions that will allow this stock to increase in value are less likely to happen. If these conditions do not change, then the price will probably fall. If these conditions continue to deteriorate, the amount of the price drop will be far more dramatic. Randgold is definitely in bubble territory, and it is up to the Fed to determine whether or not this bubble will continue to expand.
However, if Randgold's bubble does expand, this increases the risk of there being a correction at a higher level. Any corrections from a higher price point will probably be more severe than any drops from the current levels. Therefore, it would seem prudent to consider taking at least a little profit at this point in order to lock-in gains because there will probably be a lot of great entry points after the P/E returns to more reasonable levels.
Disclosure: I/we have no positions in any stocks mentioned, and no plans to initiate any positions within the next 72 hours.
Business relationship disclosure: This article was written by one of our analysts, and expresses the opinions of the individual analyst.