TJX Companies, Inc. (NYSE:TJX) is the parent company of T.J. Maxx, Marshalls and HomeGoods. It claims to be the largest international apparel and home fashion off-price department store chain in the United States.
To kick off 2016, top retailers announced their annual store closings. Companies on this list of mega retailers closing stores included Wal-Mart (NYSE:WMT), Kmart/Sears (NASDAQ:SHLD), and many other household names. TJX has been able to perform better than the overall retail industry. The current year is off to a strong start, with sales rising 6% in the last quarter and its stock price reaching a record high. TJX beat growth expectations and earnings rose 2.8% over the holiday quarter as the company benefited from strong customer traffic and improved margins.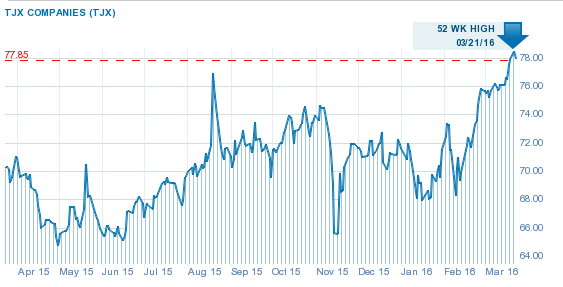 TJX plans to continue to drive sales and customer traffic as consumers remain cost conscious. The company buys some of its goods through closeouts and is able to sell them to customers at discounted prices. Off-price retailers appeal to consumers in all income classes, and TJX is leading the way with its loyal customer base in its subsidiaries. Getting a good deal will always appeal to lower income households looking to save money and middle or upper income households seeking value.
Why is this stock a good idea for investors? TJX plans to increase its quarterly dividend by 24% to 26 cents from 21 cents. TJX's board also approved the repurchase of as much as an additional $2 billion of the company's shares.
Why can you trust TJX in this industry against all of its competitors? The sheer size of TJX makes its economies of scale difficult to replicate. At the end of the last fiscal quarter, TJX operated nearly 2,700 U.S. stores between T.J. Maxx and Marshalls. Macy's (NYSE:M), which announced it would close 40 stores in 2016, had fewer than 900 stores. Being a cost leader in the retail/department store industry has not only enabled T.J. Maxx to grow in sales but to improve margins as the cost to run physical retail locations increases.
TJX knows it has the formula for success. The company's specialized buyers are trained to find the best overflow of merchandise. Wholesale brands are attracted to sell to TJX because they can get rid of any excess merchandise quickly. TJX buys inventory at a large discount when other retailers see closeouts, cancellations or other events that leave them with an excess of product. Because there's a strong demand for such heavily discounted clothes, the inventory is typically very fast-moving.
TJX knows current trends and fashion have very little impact on its stores. TJX was one of only two major apparel or department store retailers that has grown earnings every single year for the past decade. That includes 2008 and 2009, when the U.S. economy was in a recession. So no matter what direction you see the economy going in the next few years, TJX looks to be a safe buy.
Other department stores have struggled to get into the off-price retail space. TJX has gained a competitive strategy over its rivals, with the company's scale, global reach and buying organization that is not easily replicated. TJX has committed even further to being the world's leader in off-price apparel and home fashion. In 2011, TJX announced 91 A.J. Wright stores would be converted to T.J. Maxx, Marshalls, and HomeGoods banners. This action would improve the overall profitability of the company and allowed TJX to focus its managerial and financial resources on its larger, more profitable businesses.

Conclusion
TJX has proven to be one of the best managed retailers of any kind and still has major growth potential. Investors can look forward to growing market share and sales of TJX brands, the already record high stock price continuing to increase, an increase in its quarterly dividend, and a repurchase of an additional $2 billion of the company's shares.
Disclosure: I/we have no positions in any stocks mentioned, and no plans to initiate any positions within the next 72 hours.
I wrote this article myself, and it expresses my own opinions. I am not receiving compensation for it (other than from Seeking Alpha). I have no business relationship with any company whose stock is mentioned in this article.