Dover Corporation (NYSE:DOV) has been experiencing several risks due to its dependence on the energy sector. It operates in four key segments: Engineered Systems, Energy, Fluids, and Refrigeration & Food Equipment.
The company's business model is directly dependent on these key industries. With the depression in economy and low oil prices, the company posted a decline of almost 14% for its fourth quarter revenue. The company's earnings also declined sharply by 21% to $171.8 million. For fiscal 2015, Dover's revenue dipped 10% mostly due to depressed energy segment while earnings declined above 20% to $595.9 million.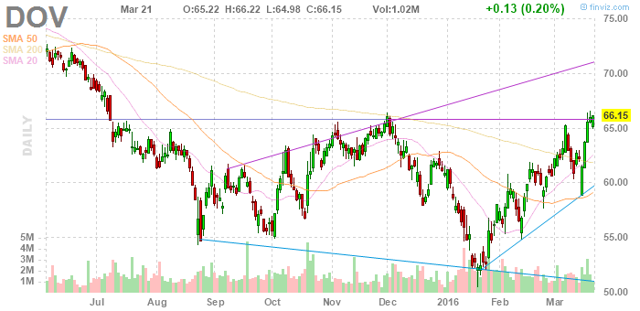 After experiencing a huge fall in the last year, the company's stock price is spiking over the last two months. The latest rally is the result of significant growth in oil prices. Both Brent and WTI soared almost above 50% in less than last two months. Though the company's business model is directly dependent on oil prices and drilling activities, this time the surge in oil prices will not physically result in high order backlogs.
The company's performance is likely to remain depressed in following quarters amid low orders and less drilling and production activities. At the moment, oil prices are soaring on the expectation of production cuts. Rig count increased only by one in the last week, after posting 12 weeks of successive declines to historically low levels.
In addition, the globe's fifteen largest producers are willing to freeze their production, which could further bang the activities. Most of the U.S. producers are slashing their capital investments by over 50% combined with suspending their existing activities. Energy, which is its largest business accounts for nearly 30% of the company's total revenue.
Due to its extensive dependence on the energy sector, the company recently announced that its first quarter results could decline from its prior expectations amid weak oil & gas related end markets. On the other hand, the company's other end markets including Fluids, Engineered Systems and Refrigeration & Food Equipment are also depressed amid macroeconomic environment.
However, the company's dividends are still safe as the company is operating in a less intensive capital industry. In the last year, its free cash flows came in around $795 million when dividend payments account for only $258 million. Its recent acquisitions are also offsetting the negative impact of lower sales from the energy segment. In addition, the company has been cutting its overall cost structure along with the aggressive focus on restructuring its energy segment.
In Conclusion
Dover's share price gained a lot of momentum in last few days but the existing rally is likely to stall amid weak future fundamentals for the company. Its energy segment could fall more on falling rig activities and declining investments. The company has already lowered its expectations for the first quarter results and a similar performance in following quarters should follow. However, its dividends are still safe with its strategy of lowering investments along with operating in a less capital intensive industry. Still, it looks like a better opportunity will exist in the future to get in on DOV and raise the yield on a DOV investment as a result.
Disclosure: I/we have no positions in any stocks mentioned, and no plans to initiate any positions within the next 72 hours.
I wrote this article myself, and it expresses my own opinions. I am not receiving compensation for it (other than from Seeking Alpha). I have no business relationship with any company whose stock is mentioned in this article.