In this article, I discuss why OPEC previously did not cut production but will cooperate to rebalance supply, the impact on oil prices going forward, and my investment choices based upon my price forecast.
OPEC Strategy
First, I believe there are misconceptions on why OPEC decided not to cut production. These include reasons such as crushing US shale, geopolitical battles with Iran and Russia, and that OPEC is simply never going to work together. I am a proponent of Occam's razor, and believe the simplest explanation is that not cutting was just the correct choice economically for all, thanks to a prisoner's dilemma scenario. This is where rational actors are forced to choose an option that begets a worse outcome for all, because non-compliant actors cause an even more devastating result for compliant actors.
The choice to cut or not to cut has the following outcomes for all parties presented in the below table. Except that at the end of 2014, the coordinated cut option was not available. Attempts at cooperation proved futile as notable producers were either skeptical of cutting (Russia) or politically fragmented (US shale).
| OPEC/Rest of World | Cut | No Cut |
| --- | --- | --- |
| Cut | Oil price determined by marginal cost per barrel, $90 per barrel at 95M bpd demand. | Some US shale producers unable to service debt, as stronger firms grow production. |
| No Cut | OPEC sees diminishing market share while US shale continues its growth until prices collapse anyway. Possible dragging out like 1980s with supply overcapacity. | Prices collapse, but the downturn is short, unlike the 1980s. Close supply/demand imbalance, leading to global cooperation and price recovery. |
Saudi Oil Minister al-Naimi learned not to cut alone in 1985, when Saudi Arabia cut production to 3M bpd, 1/3 of its previous production levels. It was to no avail, as other producers simply filled the gap, and the downturn was prolonged.
Thus, the Saudis and OPEC were presented the second best option of allowing prices to collapse, as no party can afford cutting while another does not. Collapsing prices would then have the effect of forcing all parties to cooperate, leading to an era of responsible production growth.
With the April 17th OPEC meeting set, the prisoner's dilemma game has now changed to where cooperation of all parties is possible, maximizing individual gain.
Russia has now seen enough pain to go along with a cut. US shale has been forced to cut through a collapse in financing. Iran has not been able to ramp up quickly due to the lack of investment in this price environment.
Now that economic rationality has been discussed, let me briefly address the other explanations.
Myth 1: The Saudis are trying to eliminate shale oil.
This is a fallacy for many reasons. The most obvious one is that bankruptcy does not eliminate the technology, and the production of shale oil would continue as new owners will emerge with lower costs. Secondly, shale oil is only 5M out of 96M bpd of supply while being a lower-cost source as compared to offshore and oil sands. From the below chart, one can see that around 30% of world supply needs to be eliminated for shale to be permanently gone as well, which is simply not possible with the supply/demand imbalance only being 1-2% of the total.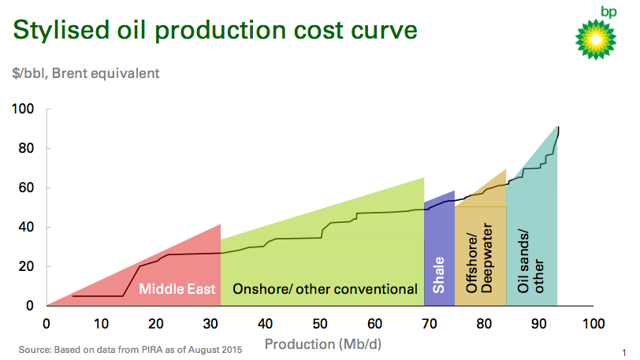 At CERAWeek in Houston, Saudi Oil Minister al-Naimi flatly stated:
"We are not declared war on shale oil; Contrary to whatever rumors you might see."
Myth 2: The Saudis are fighting a geopolitical battle with Iran and Russia.
This topic is a lot broader and nuanced for this article, but it can be simply summarized as a war the Saudis won't win. First, Saudi oil production is over 3x that of Iran, with an economy dependent on oil. Iran has 3x the population of the Saudis and a far more diversified economy. Low prices hurt the Saudis far more.
Low prices do hurt Russia equally, as it produces nearly the same amount and is also dependent on oil. But the Americans now have less dependence on Saudi oil, have less appetite for an overseas war, and are moving towards peace with Iran. The Saudis cannot risk provoking Russia alone, whereas the Russians cannot afford an escalated war.
Thus, is it a coincidence that the April 17 OPEC/non-OPEC meeting was set the day after Russia surprisingly announced a pull-out from Syria? Again, the simplest explanation was that a deal was made behind the scenes.
Myth 3: OPEC is dead, powerless, and never going to work together.
I'm not really sure where this argument arose, but it's really easy to find counterexamples. 1999 and 2009 saw OPEC cooperation, and furious rallies in oil prices followed. This can be seen in the oil price history chart below (log-scale and inflation adjusted to see the effect more easily):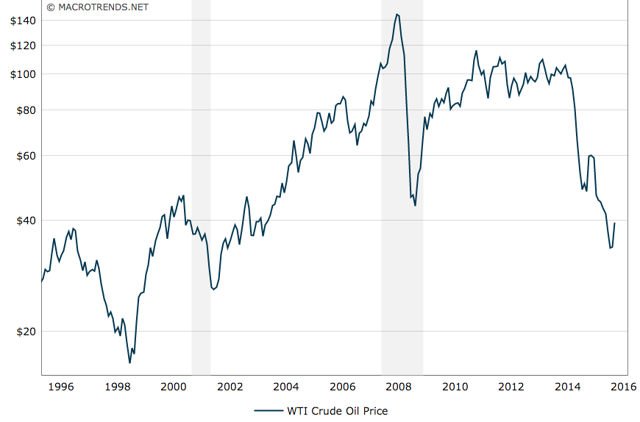 Price Forecast
I believe oil prices can reach $60 in 2016, and above that afterwards. Producer cooperation is a trump card beyond all other factors, as supply balance means that prices are then determined by the marginal cost of oil. A line in the sand has been drawn, where there is an impending date supply rebalances due to demand growth. There is little time for oil shorts to cover since we won't have a 1980s' situation as supply is only 1-2% over demand. Whereas the 1980s had up to 20% overcapacity, along with an easy doubling of fuel efficiencies, thanks to improvements like fuel injection engines (these mpg gains today happen only with higher costs to the consumer). A 1-2% imbalance can be solved overnight through producer cooperation.
What OPEC should do now is to speed the rebalance process. With cooperation of all players now set, there is no longer any reason to let prices remain at these levels. Even at $60 oil, deepwater and oil sands will have to decline, and shale will still no longer have expansionary financing. There is good reason even to cut at the April 17th meeting since 2016 capital budgets have been set in production companies, and bank determinations will have mostly run their course. No point in waiting until June and lose the additional income.
While in the long run, oil prices should settle at the marginal cost of oil (~$90 per barrel according to the BP (NYSE:BP) chart above), in the short run, $60 looks like a probable pit-stop. US shale was a forced participant in the cooperation strategy due to low cash flow. At $60, this dynamic unravels as it reaches shale cost levels. Furthermore, $60 removes a lot of incentives for OPEC and Russia to not cheat on their quotas.
The summer of 2015 was an example of a plateau at $60, which ultimately collapsed, thanks to shale ramp up, China's demand concerns, and Iranian supply fears. I expect 2016 to have a repeat test of this plateau, except with diminished capex and greater producer cooperation.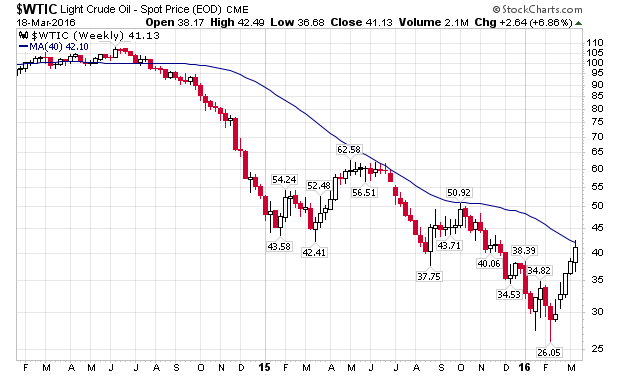 My view is that the summer 2015 plateau would have eventually played out the Saudi plan for rebalancing through demand growth. However, two major corrections in the market coincided with two major drops in oil.
Those looking for a third drop in oil may be left behind, as so far March inventories have not been as negative as feared. Despite March being the peak refiner maintenance month, crude stock builds have slowed, with some weeks even showing a decline. Recent weeks also show an overall draw when gasoline and distillate inventory is included. With peak summer driving season around the corner, the bear case for a storage crisis is quickly abating. Since the storage fear is a considerable component of today's uneconomical oil price, removal of this risk portends higher prices.
Longer term, continued supply destruction by high-cost players and demand growth should allow oil to rise past the $60 limit. Not even shale can grow fast enough to cover the difference at those price levels. Indeed, during a Q&A session with Daniel Yergin at CERAWeek, al-Naimi remarked that he expects business to be booming in later years, and that shale will be an essential source of supply. In fact, he said the Saudis have even investigated shale in their own territories.
Investment Ideas
My investment choices are based on the view that oil prices will rise in 2016, but plateau at $60 for a while. The plateau may be even sooner, at $50, thanks to lowered costs, DUCs, and inventory. But lower costs can be fleeting as service demand rises, and DUCs along with inventory eventually will get worked off.
Thus, I believe a strategy to gain outsized returns is to find beaten-down securities of low-cost or well-hedged producers that stand a great chance to survive this downturn. A margin of safety is important in case the plateau lasts longer than expected.
The following potential survivors that were sold off as a group with distressed shale operators. I have invested in the units of Mid-Con Energy Partners (NASDAQ:MCEP), preferred shares of Legacy Reserves LP (NASDAQ:LGCY) (preferred - LGCYO), and bonds of Atlas Resource Partners (NYSE:ARP). This downturn has reduced MCEP to nearly 1/30th of its 2014 peak, peak to trough, decimated LGCY units to 1/43th of its former glory, and knocked ARP units to 1/27th of its previous lofty heights.
MCEP has a breakeven cost (including capex) of realized $34.34 per barrel. Its net asset value at $60 per barrel oil would equate to nearly $13 per unit, which is nearly an 8x return from Friday's close. These figures are from its investor presentation.
LGCY is another low-cost producer which will have serious cash flow at $60 oil. Unlike MCEP, which only has bank debt, LGCY has preferred shares and bonds to invest in. I have chosen its preferred shares (LGCYO) due to my oil price viewpoints, as it offers 2x the potential return of the bonds at recent prices. At $60, LGCYO should also have reinstated distributions, whereas the common units may not. The company has also repurchased bonds, which means the correct maximizing play is with LGCYO, as survival is likely. LGCYO preferred also avoids tax issues with debt cancellation. At recent prices, the preferred has potentially 10x gain to par and over 80% yield on cost.
ARP is a well-hedged producer that is able to pay distributions to its units currently, but unfortunately has higher production costs. As such, I have purchased its distressed bonds, as payments are relatively assured with its hedges. I will have recouped through interest more than double my cost basis by the time the hedges run out. ARP's units may not recover well until oil is substantially above $60. Still, it does pay a distribution, which is essentially an option on oil prices that can pay you around 20% yield at recent prices. ARP has covenant waivers until 2017.
I have chosen to purchase bonds, preferred shares, and units that are able to pay a distribution at $60 oil. Rather than suffer contango and decay through The United States Oil ETF, LP (NYSEARCA:USO) and other instruments, why not get paid to wait for the recovery?
Conclusion
The main goal of the OPEC strategy was to curb supply growth (as opposed to permanent destruction). This was ushered by explosive shale growth, but that is now impaired for the foreseeable future. However, in the bigger picture, supply curtailment throughout the whole world was more important as shale is only 5M out of the 96M bpd in supply.
The second goal was to force producers to work together, with emphasis on Russia. The collapse in oil prices also causes de facto US cooperation, as capex budgets were slashed across the board.
These two objectives have now been met, and thus a new era of close supply management is about to begin. This will enable price recovery to $60 and beyond, as demand growth continues.
Asymmetric gains can be found in securities of potential survivors that are trading at bankruptcy prices.
Disclosure: I am/we are long MCEP, LGCYO, ARP 9.25% BONDS.
I wrote this article myself, and it expresses my own opinions. I am not receiving compensation for it (other than from Seeking Alpha). I have no business relationship with any company whose stock is mentioned in this article.
Editor's Note: This article covers one or more stocks trading at less than $1 per share and/or with less than a $100 million market cap. Please be aware of the risks associated with these stocks.