Rapidly Growing Online Retail Market
There are multiple dimensions through which the Chinese online retail market is growing such as growing Internet users and expanding middle class. Unlike developed countries with largest online retail markets such as the UK, the US, and Germany, the penetration of online retail is fairly low at a meager 12.9% (2015) of the country's overall retail sector. Despite that, China is the largest e-commerce market in the world, which is also growing rapidly. Chinese consumers spent 33.3% more on online shopping last year. And the expanding middle class is making the market lucrative for e-commerce players in the B2C segment, which was an unprofitable prospect a few years ago due to unscalability. This is where the two fiercest competitors JD (NASDAQ:JD) and Alibaba's (NYSE:BABA) Tmall are fighting to capture a larger chunk of the growing pie.
JD.com or Jingdong is the second-largest e-commerce player in China, only behind Alibaba. BABA provides marketplaces for businesses (Alibaba.com), consumers (Taobao), and brands (Tmall), along with technological support and services; it generates revenues primarily through advertising and commissions. On the other hand, JD is more of an online retail pure-play with a lion's share of revenues generated from direct sales; however, it also hosts third-party sellers. JD operates in the B2C segment and directly competes with BABA's Tmall.
Why Invest In JD.com?
Largest logistics infrastructure
This is the key differentiator between the two. JD operates its own logistics network while BABA provides these services to its merchants through a group of logistics service providers called Cainiao. JD has been aggressively investing to expand the largest fulfilment network operated by an e-commerce company in China. Its last mile delivery distinguishes it even from Amazon (NASDAQ:AMZN), resulting in the fastest and reliable delivery as evident from the nearly 80% orders fulfilled on the same day. While BABA has stepped up its efforts in building several large-scale logistics centre, it would still rely on third-party delivery personnel. Even though the strategy is better in terms of its less labour-intensive nature, it lacks control on the quality of service.
Rising revenues in non-core areas
One of the reasons JD started building its logistics network in 2007 was to attract third-party sellers. Its strategy has been successful as evident from the y-o-y jump of 101% in revenues from marketplace fees, ads, and logistics services. Third-party sellers find JD more attractive as the company doesn't ask for exclusivity, unlike Tmall. Additionally, the company has seen strong growth in the apparels and shoes segment. JD was a consumer electronics and home appliances focused retailer, but the segment's 66% growth was outpaced by the 92% y-o-y growth in general merchandise/other segment during Q4 2015.
Increasing market share
JD's revenue growth of 57.6% (in US dollars) during 2015 was well above the industry's growth rate (33.3%). It indicates that the company increased its market share which accounted for the incremental growth. During early 2015, analysts at William Blair highlighted that during Q4 2014, JD gained 5% market share in GMV compared to a 2% decline experienced by Tmall. During the first three quarters of 2015, JD's market share increased to 23.2% from 18.6% at the start of the year compared to Tmall's contraction to 54% from 61.4%.
Improving gross margin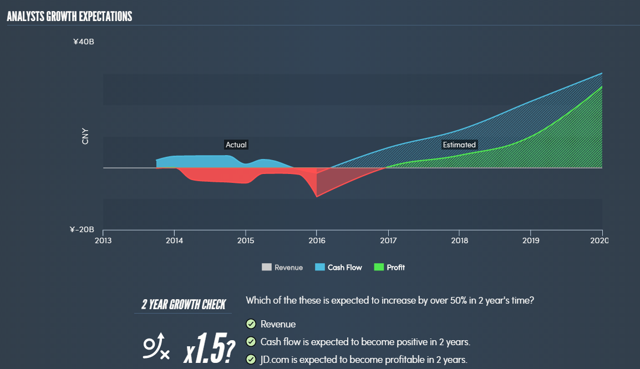 JD was unprofitable last year. More than 85% of the loss was related to impairment charges (Paipai platform) and acquisitions; however, the company is expected to deliver positive earnings in 2016 and sizable earnings growth thereafter. JD's improved utilization of infrastructure - growth in marketplace, ads, logistic services revenues - and increase in higher-margin product mix - general merchandise/other segment - will start reflecting in improved gross margin. Its loss doesn't come as a surprise, as the management clearly stated in early 2015 that it is in investment mode, and this year's target was to grow its market share and expand infrastructure.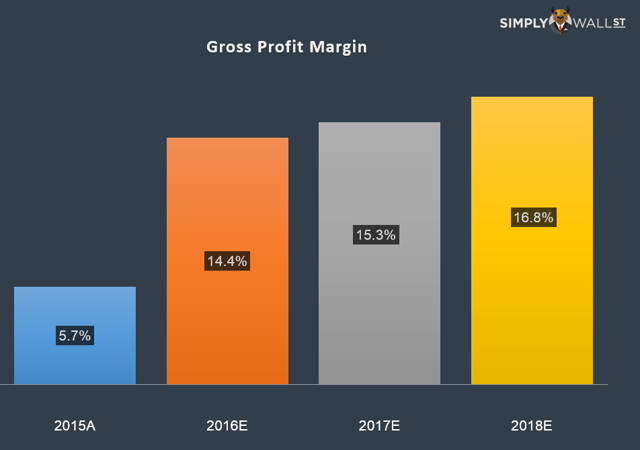 Source: Simply Wall St
Smart money and the strategic partnership
As per Bloomberg, the hedge fund holdings in the company increased from less than 4% at the start of 2015 to over 18% at the end of Q2. Q3 saw a decline, but the smart money increased its stake by nearly 7% during Q4. One of the key reasons behind hedge funds' interest was JD's strategic partnership with Tencent (OTCPK:TCEHY), the operator of China's largest messaging service: WeChat. This has allowed JD to tap into the fastest-growing customer network as evident from the 61.4% sales coming from mobile devices during 2015 compared to nearly 36% in Q4 2014.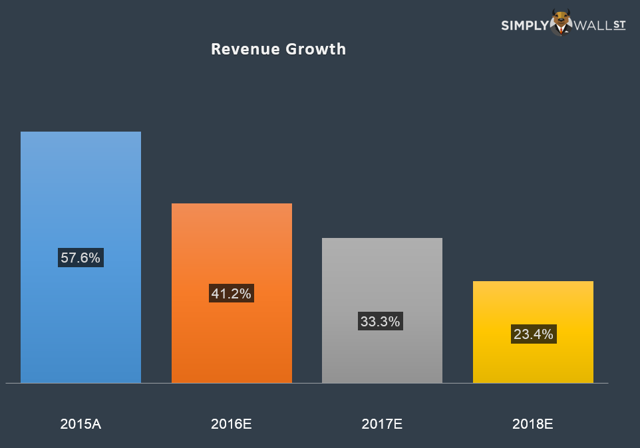 Conclusion
While I believe BABA is a great long-term investment based on high margins and growth outlook, JD offers a direct exposure to the fast-growing Chinese online retail market. The company is focused on customer experience and avoiding counterfeit goods at any cost as evident from its decision to close Paipai. Its logistics network is a tough competitive barrier for most of the small retailers in China if not BABA. Finally, its growth is expected to remain above the industry's growth over the next two years, which indicates the company will continue to gain market share from other players.
Source: SEC 13-F filings, National Bureau of Statistics China, company fillings, S&P Capital IQ, WSJ.com, Simply Wall St
Disclosure: I/we have no positions in any stocks mentioned, and no plans to initiate any positions within the next 72 hours.
I wrote this article myself, and it expresses my own opinions. I am not receiving compensation for it. I have no business relationship with any company whose stock is mentioned in this article.