Diversification is an important part of dividend investing. As many studies have shown, if you have your eggs in many different baskets, "non-systemic" risk can be significantly reduced. One industry that dividend investors often overlook is the travel industry. Contrary to what some may believe, I think travel is quite close to a necessity, and the hotel industry has many brands that offer steady returns. Hotels can also offer something of a counterweight to energy: When gasoline prices are low, traveling is easier for people. For some, that counterweight is valuable.
Of all the hotel companies, Wyndham Worldwide (NYSE:WYN) is one of my favorites. Let me explain why: As the American middle class gets squeezed, they will look hard for value on the road. Wyndham has the following hotel brands: Knight's Inn, Travelodge, Super 8, Baymont Inn, Days Inn and Ramada, among many others. These names are some of the leading brands in economical lodging. Wyndham Worldwide has a value proposition that would be very difficult to replicate as far as economy hotel brand names.
In fact, Wyndham has a broad array of travel businesses, including higher-end hotels, a vacation rental management business and a timeshare business, so it's not only about value hotels. This company is, for sure, a young dividend payer with lots of room for dividend growth in years ahead. This article examines Wyndham's latest results, its cash flow and its balance sheet, and the prospects for future dividend growth.
The world's biggest hotel business
Wyndham has three core businesses: Hotels, vacation property management, and timeshare properties. The hotel group includes the economy brands I mentioned, plus "mid-level" business hotels such as Ramada, Microtel and high-end hotels and resorts such as Dolce, Wyndham Grand, Tryp and Wingate.
Altogether, hotels account for about 22% of Wyndham's revenue. The Wyndham Destination Network includes 8 different vacation rental brands and accounts for about 29% of revenue. Finally, Wyndham Vacation ownership includes 7 timeshare brands around the world, and accounts for around 49% of revenue.
Wyndham's exposure to travel markets is global, and its income level exposure is equally broad. Travel in the US remains fairly strong, especially at the economy level. More on that later. Around the world, Wyndham benefits from the growing middle class in many places. In 2015, that really showed; revenue increased 6% on the year and adjusted EBITDA increased 8%. This year Wyndham expects 7%-9% constant currency EBITDA growth, even with revenue per available room, or RevPAR, being flat to up 2% this year.
Wyndham will achieve this growth by lending more openly to timeshare applicants, continuing to build hotels in China, and by continuing to benefit from healthy RevPAR in US hotels.
To qualify the third leg of that growth stool, RevPAR in US non-oil producing areas increased 7.5%, which is really quite good. RevPAR in the oil producing regions dropped by 27.9%, but overall RevPAR increased 4.4%; still good.
A good problem to have
Wyndham is an acquirer. Acquisition is "part of Wyndham's DNA." When acquisitions are not feasible, Wyndham has a "problem" of excess cash flow on its hands. Let me use the last twelve months to illustrate. Operating cash flow was $991 million minus $222 million in capital expenditure, which leaves $769 million in free cash flow. Last year's dividend was only $202 million, or just 26% of free cash flow. There's a lot of room to grow there.
Wyndham has already said it would use extra cash to acquire, but if no suitable target can be found, then Wyndham will either buy back shares or increase its dividend. It's no coincidence that Wyndham increased its dividend by 19% earlier this year, from 42 cents per quarter to 50 cents. Barring acquisitions, I expect Wyndham to continue to increase its dividend, which started at just 4 cents per quarter in 2007.
Valuation and conclusion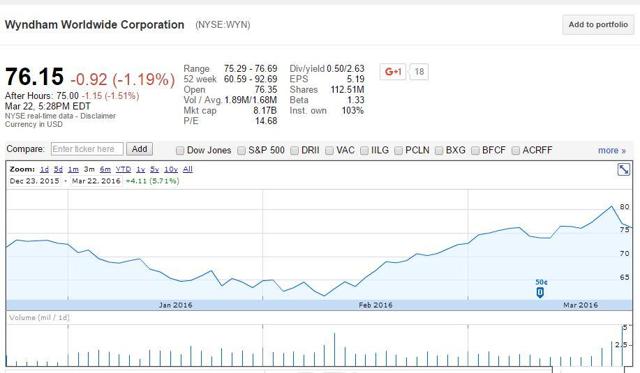 Courtesy of Google Finance.
Shares of Wyndham jumped 23% since their February lows. I wish I had recommended the stock back then, but shares have been down a bit over the last couple of days, as you can see above. Even better, Wyndham trades slightly below its 10-year average price-to-earnings ratio. According to data from FAST Graphs, Wyndham has averaged 15.1 times trailing earnings. Right now, Wyndham trades at 14.8 times trailing earnings. This isn't the value it was last month, but it's still reasonable.
If a dividend grower is what you're looking for, Wyndham Worldwide is an excellent choice and is still trading at a reasonable value.
Disclosure: I am/we are long WYN.
I wrote this article myself, and it expresses my own opinions. I am not receiving compensation for it (other than from Seeking Alpha). I have no business relationship with any company whose stock is mentioned in this article.