ProAssurance Corp. (NYSE: PRA) is a $2.7b market cap, Birmingham, Alabama-based professional liability insurer with a solid streak of success and stability. I like the company as a smaller play on the managed healthcare market. Based on the presentation available on the company's website, and seeing the company speak this week at the New York Society of Security Analysts (NYSSA) Insurance Conference, I expect the company to be very open to deploying capital on M&A, while also staying open to returning capital to shareholders.
The company operates among twenty U.S. specialty insurers offering health care professional liability (HCPL). The leaders of this group, each of which writes HCPL in nearly all (or the majority of) U.S. states, include: The Doctors Company, MedPro Group (a Berkshire Hathaway company), and Coverys.
PRA has outperformed the S&P 500 and the SPDR Insurance Index over the past year.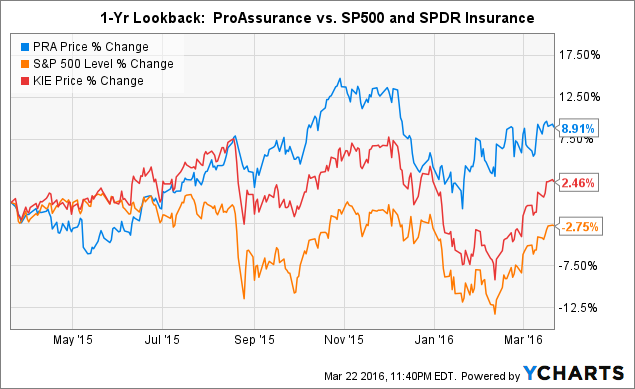 PRA data by YCharts
And PRA is trading in line with the largest U.S. managed companies: UnitedHealthcare (NYSE: UNH), Cigna (NYSE: CI), and Aetna (NYSE: AET) - all have beaten the S&P 500 over the past year.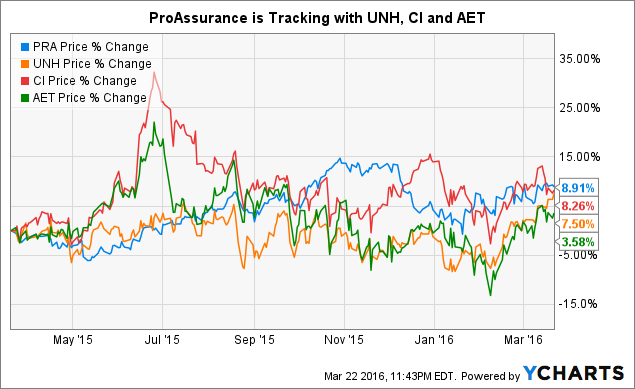 PRA data by YCharts
What's driving the performance? PRA rightly described insurance companies as awash in capital, which is creating a rising potential for M&A as the companies with an excess surplus are pressured to increase scale.
I'm new to following PRA, but I liked that the company's CEO, W. Stancil Starnes, drove home the value of integrity in his firm's business model about a dozen times as he spoke at the NYSSA conference. The NYSSA conference was filled with mid, small and micro-cap insurers that often told stories of how their models worked where "the big boys' models do not." There are an amazingly large number of P&C insurers in the U.S., most operating knowing what Warren Buffett knows well - insurance has the potential to be a very profitable business if pricing discipline is maintained.
I could highlight any number of firms at the conference, but ProAssurance stood out for its emphasis on values, and for a few of its thoughtful observations on the U.S. healthcare industry.
Below is a list of what's to like, with a few points to watch carefully:
Point 1: The company is eye-catching for its impressive average combined ratio of just 70% between 2009-2015. Looking closer, the combined ratio trend over the past three years has moved notably higher.
As the company moves more into workers' comp coverage, execution on pricing will be essential.
Additionally, the healthcare professional liability market is challenging as physicians continue joining hospitals or larger group practices, which means that they are no longer purchasing insurance in the standard market. Healthcare is being pushed down to lowest cost providers, which raises some questions about whether this could be contributing to the company's rising loss ratios. This point is my single biggest concern in my otherwise generally favorable view of the company.
Point 2: Stability of share prices - 36-month beta of .5 and 60-month beta of .38. These betas are generally in line with the leading managed healthcare insurers. I'll happily take managed healthcare's lower volatility given the prior year share price increases and my expectations that the current valuations hold.
Point 3: PRA's valuation in terms of P/E (24.1x) and price to book (1.4x) generally are in line with those of the larger managed insurers - UNH: 21.1x/3.6x; CI: 16.9x/3.0x; AET: 16.4x/2.4x. These aren't cheap companies, but absent big catalysts to the managed care space in this election year, my feeling is that these valuations hold at least through 2016.
Point 4: PRA acquired no companies in 2015 after acquiring workers' comp insurer Eastern in 2014 and medical technology liability and legal liability insurer Medmarc in 2013. Given this past, PRA has proven its willingness to be focused on growing through diversifying acquisitions, and when that's not possible, return of capital.
Point 5: Unlike the larger managed care companies, PRA is not constrained by the 85% medical loss ratios minimum.
In summary, PRA is a good play on the rising tides affecting the managed care sector and quite likely has more headroom for growth than 'the big boys'.
Disclosure: I/we have no positions in any stocks mentioned, and no plans to initiate any positions within the next 72 hours.
I wrote this article myself, and it expresses my own opinions. I am not receiving compensation for it (other than from Seeking Alpha). I have no business relationship with any company whose stock is mentioned in this article.