I started investing at the age of 22 in 2003. Over the past 13 years of investing, I've had my share of successes and failures. I had the opportunity to learn rapidly that investing is not like going to the casino; you can't simply bet on the first number you have in mind and expect to win big. In fact, if there is one investing rule to consider above all, it is probably that successful investing comes from following a strong set of investing rules. Methodically following this process year after year will help you build what we all want - a strong retirement portfolio. Methodical investing is rarely sexy, but it is definitely effective.
Throughout my reading of financial articles and financial research, I've developed my own investing model focused on dividend paying stocks. After reading several articles on Seeking Alpha, I've noticed that not all dividend investors think the same. To my surprise, there are some important differences between most of us in the manner in which companies are selected. For example, I'm definitely not a yield seeker. In fact, if there is one thing I don't consider during my investment selecting process, it is the dividend yield! I recently wrote about this topic in another Seeking Alpha article about Dividend Income Vs. Yield Vs. Growth. In the previous article, I mentioned that I use 7 investing principles to buy, sell and manage the stocks in my portfolios. These principles are the foundation of my investing strategy, based on years of experience and serious financial research. Here I'm offering 7 companies that are examples of each of these investing principles:
Principle #1: High Dividend Yield Doesn't Equal High Returns
As I mentioned in my introduction, I consider myself as a dividend growth investor, but the dividend yield is never a point of consideration while planning my next purchase. The reason is quite simple; as an investor, the first reason why I invest is to make money. Obviously! I know that we are all investing for the same reason. However, some tend to forget that by selecting high-paying yield, they might lose more money than they earn from the dividend payments. I've proven in a previous article that a high dividend yield is paid by riskier businesses with limited growth potential. There is usually a pretty obvious reason why a company yield is over 5%. The stock could have gone down significantly because of a weak economy or repetitive poor performances by the company itself. In fact, it is very rare to find a company raising its dividend year after year and showing a dividend yield over 5% (probably only AT&T (NYSE:T) is in this position). Retirees make a big mistake when focusing on the dividend yield for the following reasons,
A high dividend yield is paid by a company that is not doing so well,
It may be the first step before suffering a dividend cut (KMI for example),
Chances are the payment won't be increased, therefore, you are exposing yourself to inflation risk.
As you can see, there is very little reason why one should give much importance to the current dividend yield. In the end, I believe the yield on cost (YOC) matters most. For example, consider Canadian National Railway (NYSE:CNI). The company currently pays a yield under 2% (1.85%) and this is after a stock price drop of 10% in the past 12 months. This is usually the type of company that flies under the radar of many dividend investors. Now, let's take a look at the dividend payment curve: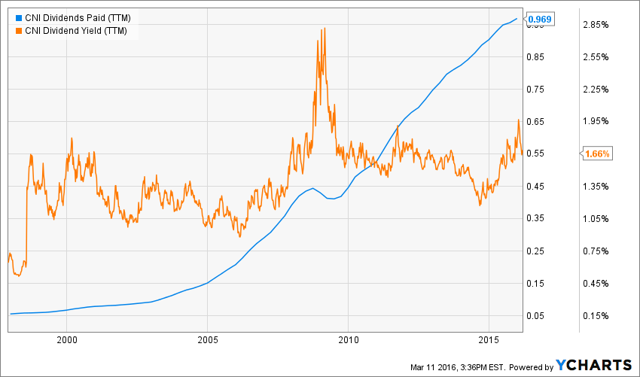 Source ycharts.
Rarely has the company yield been over 2% since 1997. However, the company has grown its dividend payment by 13.13% CAGR over the past 10 years. In other words, the company is doubling its dividend payment every five and a half years. In other words, if you bought CNI 10 years ago at an average price of $23, you are currently showing a 6.5% dividend yield based on your cost of purchase. That's better than looking at any current high yield company, right?
Principle#2: Focus on Dividend Growth
My second principle is the pillar of my strategy. The ultimate metric in my opinion is dividend growth. Only companies with strong fundamentals can afford to keep hiking their dividend over time. As an investor who seeks to increase his portfolio value, this rings a bell. In order to maintain dividend growth year after year, a company must show the following fundamentals:
Solid business model
A protected economic moat
Increasing cash flow
Increasing revenues
Increasing earnings
One of my favorite examples in terms of dividend growth is Johnson & Johnson (NYSE:JNJ). Throughout time, the company has proven its ability to renew itself many times and had built multiple billionaire brands. Look at how higher revenues have led to higher earnings, lead to… higher dividend payments: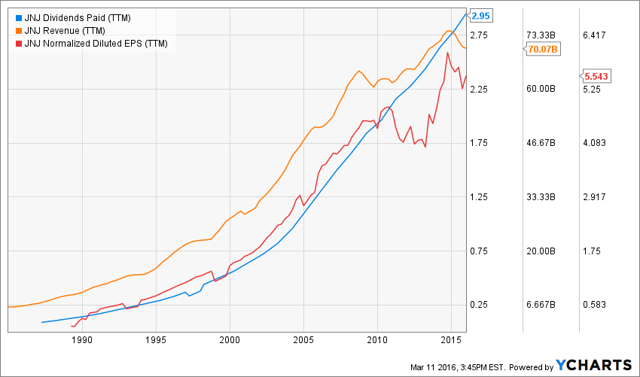 Source: Ycharts.
Johnson & Johnson has been raising its dividend for the past 52 years and will continue in 2016 for its 53rd consecutive raise.
Principle #3: Find Sustainable Dividend Growth Stocks
It's one thing to look at the past, but it doesn't mean history will repeat itself in the future. Looking at past dividend growth will tell you how management intended to reward its shareholders. It will also tell you if the company was able to maintain sustainable growth of both revenues and earnings. A good sign to predict the future is to look at how the company's payout ratio and cash payout ratio evolved over the past 10 years. This will tell you if the company has been overly generous and is unable to sustain such strong dividend growth or if management has been cautious and protects its dividend growth sustainability.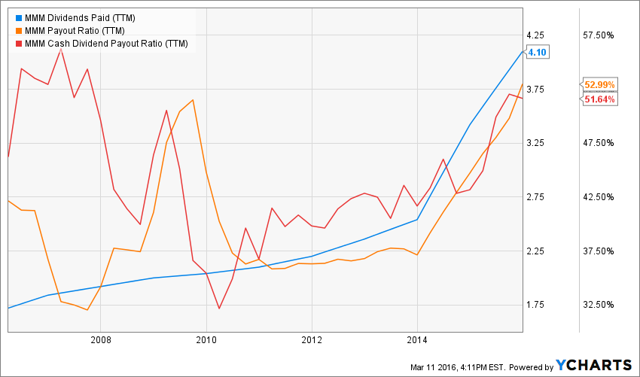 Source: Ycharts
I think 3M Co. (NYSE:MMM) is a very good example of sustainable dividend growth. The company has successfully increased its dividend without putting its cash flow in jeopardy. Please note the steep increase in 2015-2016 when the company reached payout levels similar to those before 2008. In 2013, the company paid a quarterly dividend of $0.64/share and the payout increased to $1.11/share only 3 years later. As you can see, the future dividend growth is not at risk since both the company's payout and cash payout ratios are around the healthy level of 50%. However, don't expect strong growth as you have seen over the past 3 years. The management team will continue to grow the dividend payment, but at a more realistic level.
Principle #4: The Business Model Ensures Future Growth
Another way to validate if a company will be able to maintain its dividend growth rate is to analyze its business model. I often tend to look at companies that have a strong economic moat or that show hard-to-replicate competitive advantages. A good example in this category is definitely Lockheed Martin (NYSE:LMT).
Lockheed Martin is the world's largest defense contractor earning roughly 80% from US government agencies and 20% from international clients. Strong regulations around military defense projects, ridiculously high entry costs to penetrate this field and continuous R&D budget requirements ensure Lockheed Martin's business model is well protected from the arrival of any new competitors.
Lockheed Martin shows a strong economic moat that will protect its business model. This situation makes it very hard for new businesses to compete with LMT in regards to military aircraft contracts. This is not a guarantee the company will continue to increase its dividend payout forever, but it is a very good start. For example, LMT is highly dependent on the US Government's military budget.
Other companies mentioned in this article so far (CNI, JNJ, MMM) all have strong business models and protected economic moats as well.
Principle #5: Buy When You Have Money in Hand - At The Right Valuation
My 5th investing principle is more in regards to portfolio management in general. I've seen many investors waiting on the sidelines for years. I think market fluctuations become even more a concern when you are about to retire. The last thing you want to see as a retiree is your portfolio going down after 2 months of retirement. On the other side, thinking of losing money prior to investing will make you suffer from paralysis which is even worse than not investing. This is why the first part of this investing principle is to make your purchase when you have money in hand. Nobody can't time the market, you might as well benefit from an increasing dividend payment even if you invest in a bad timing.
Buying when you have liquidity doesn't imply buying anything you see on the market the minute you have a few bucks in your cash account. This is why I added the second part to this investing rule; buy at the right valuation. I use two methods to determine if a company stock is undervalued. The first method is to look at the pat 10 years' history of the company's P/E ratio. It gives me an idea of how the market values the company throughout the year. It is also a good way to see how company's important moment translated in valuation during this period. Let's take Union Pacific (NYSE:UNP) for example: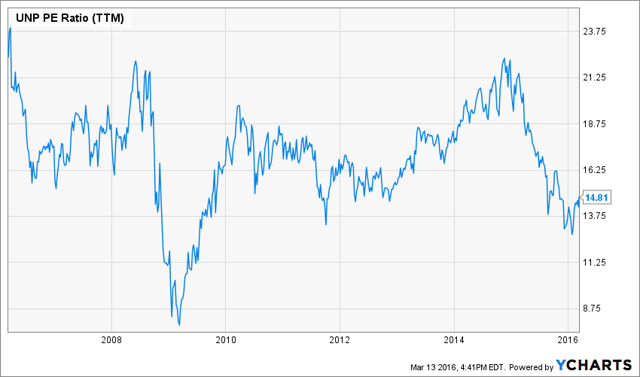 Source: Ycharts
As you can see, the company valuation tends to be highly cyclical. This is not a surprise since railroad companies are cyclical. This graph also tells me that UNP seems to be in a down cycle, creating a buying opportunity.
Unfortunately, using this graph is a bit simplistic and doesn't tell me much about the future valuation of a company. This is why I use a double stage dividend discount model (DDM) to find the company's intrinsic value. The DDM gives a value for the company's future dividend payment considering its growth. The double stage calculation enables me to use a first dividend growth rate for the first 10 years (which is closer to the current company situation) and another one afterward (which will reflect the company's long-term perspective). I establish my discount rate between 9% and 12% depending on the stability and risk involved with my investment. For UNP, I've used the following numbers:
| | |
| --- | --- |
| Input Descriptions for 15-Cell Matrix | INPUTS |
| Enter Recent Annual Dividend Payment: | $2.20 |
| Enter Expected Dividend Growth Rate Years 1-10: | 6.00% |
| Enter Expected Terminal Dividend Growth Rate: | 7.00% |
| Enter Discount Rate: | 9.00% |
This gave me the following calculation:
Calculated Intrinsic Value OUTPUT 15-Cell Matrix

Discount Rate (Horizontal)

Margin of Safety

8.00%

9.00%

10.00%

20% Premium

$258.17

$129.56

$86.67

10% Premium

$236.66

$118.76

$79.45

Intrinsic Value

$215.15

$107.97

$72.22

10% Discount

$193.63

$97.17

$65.00

20% Discount

$172.12

$86.37

$57.78
Source:Dividend Monk Toolkit Excel Calculation Spreadsheet
By combining both methods, I can arrive at a consensus and determine if the company I'm looking for is trading at an interesting value. Keep in mind that stock valuation is half science and half art. Your calculation will always be as good as your assumptions.
Principle #6: The Rationale Used to Buy is Also Used to Sell
Another important struggle most investors live is to answer this eternal question: when to buy and when to sell. Then again, many investors wait on the sideline thinking they can buy a specific company shares at a lower price (who tells you that it will happen?) or worse; they wait with a bad company in their portfolio and can't get their head around selling their stocks. I've decided to close this debate by a very simple but highly effective rule:
I buy shares of a company when my investment thesis is strong and I sell them when my investment thesis doesn't fit anymore.
Investment thesis
The idea of defining my investment thesis prior to entering a position in a company is highly effective. I define clearly the reasons why I'm buying company X instead of buying Company Y or Z. If my reasons are proven to be right overtime, I simply keep the company and benefit from the true power of dividend growth investing: dividend growth rate compounding year after year.
If, by any means, my investment thesis is not valid at one point in time, there are no reasons for me to keep this company in my portfolio. This is why I sell my shares and move on. I don't need a psychological bar of profit or loss to pull the trigger. I simply review my holdings on a quarterly basis and trade accordingly.
When I bought shares of Apple (NASDAQ:AAPL) for the first time, it was for the dividend payment (believe it or not!). The company had recently opened its wallet for the very first time as many growth investors were leaving the boat thinking the iPhone maker was history. This was before the split, when stocks bottomed under $400 for a few months. The reasons I purchased AAPL (my investment thesis) were based on the following premises:
The company presents the most efficient product ecosystem ever created for a client
This leads to more sales per client and more loyal customers
The company sits on a pile of cash and they just start paying dividend
At worst, the stock will become another "Microsoft (NASDAQ:MSFT)," a techno company rewarding investors with juicy dividend payments
Growth investors were leaving the boat, it was the perfect timing for a value investor to kick in
Now that the company is worth almost double what I paid back in 2013, I have all the reason to sell my shares, take the money and run. Instead, I follow a very simple but highly effective rule: is Apple still fit with my investment thesis?
The answer is yes. Therefore, I will keep the shares as long as my investment thesis remains good. And for those who will tell me AAPL doesn't even pay a 2% dividend yield, I can tell you I already receive 3.78% yield on my cost of purchase and I bought the stock just 3 years ago.
Principle #7: Think Core, Think Growth
My final, but not the least, investing principle has been created to help me separate my portfolio into two segments. The first segment is more like any other dividend growth investor "classic" portfolio. I call it my core holdings. These are companies I intend to hold forever or just about. This is exactly the way you can earn the true benefit of compounding return. Year after year, the dividend payments of these companies increase and create a huge snowball of quarterly income. This part of my portfolio is the most important in size and in dividend payments received. A company like Coca-Cola (NYSE:KO) fits perfectly within these guidelines. KO has a reputation of doubling its dividend payment every 7 years. If I hold the stock for the next 35 years, my dividend payments will be 5 times what they are now. This is the idea of having a core portfolio; this is the segment that will go through everything without breaking.
Because I like following the market so much and used to trade on a weekly basis I guess, I have created a second segment within my portfolio. This is what I call my "growth portfolio". In this category, I select dividend paying stocks that represent a higher risk, but also greater opportunity. This is a smaller portion of my portfolio where I allow myself to ignore one or two of my principles in order to grab a truly undervalued stock. To be honest, it is pretty rare you will be able to pick up a company like KO or JNJ at a real bargain price. However, I was able to successfully buy and sell companies like Seagate Technology (NASDAQ:STX) after their flood in Thailand in 2011. My most recent purchase in this segment is SNC Lavalin (SNC.TO) a Canadian engineering firm that had problems with corruption not so long ago. While they are still in trial for those legal issues, the company has cleaned up its management team and won the contract to participate in the new Champlain bridge in Montreal, a $5 billion project. The company also owns an important stake in a private highway near Toronto. You have to be bold to make such moves, but they usually pay well. My growth portfolio segment has a smaller investment horizon. I usually hold these companies for around 24 months. This is the time it takes to validate my investment thesis.
Do The 7 Investment Principles Work in the Real Life?
If you have made it to here, it's because you somewhat wonder if my investment principles work in the real life. I've read many investment articles about theories, but without clear facts on whether they work or not. I'm a fairly transparent blogger and investor so I don't mind sharing my results. I recently share my dividend growth income on Seeking Alpha (read the article here) and also post my portfolio results here. You will see that the theory works very well in real life.
But to be honest, I don't think I am the owner of some kind of magic recipe. I just follow sound investing principles based on years of financial research. I hope this will have helped you find your own process through this article.
Disclaimer: I own shares of CNI, JNJ, MMM, LMT, UNP, AAPL, KO, SNC.TO
Disclaimer: The opinions and the strategies of the author are not intended to ever be a recommendation to buy or sell a security. The strategy the author uses has worked for him and it is for you to decide if it could benefit your financial future. Please remember to do your own research and know your risk tolerance.
Disclosure: I am/we are long KO, SNCAF, LMT, UNP, AAPL, CNI, MMM, JNJ.
I wrote this article myself, and it expresses my own opinions. I am not receiving compensation for it (other than from Seeking Alpha). I have no business relationship with any company whose stock is mentioned in this article.