The International Home & Housewares Show in early March this year proved to be an absolute flop for SodaStream (NASDAQ:SODA) when compared to previous years. I characterize the company's participation at the show in this manner due to the following:
SodaStream exhibit was half the size of each previous year's exhibit space. Fewer market managers were present at the event versus previous years. Demonstrations were limited to the Power Source, same as last year. Demonstrations didn't highlight the new Spirit or Mix machine units. Fewer flavors were offered in demonstrations. Overall, traffic at SodaStream's exhibition space was lacking. No key executives made themselves available to the media and analyst community. Spirit machine is realized to be a slightly modified Source machine that didn't appeal to many retail buyers.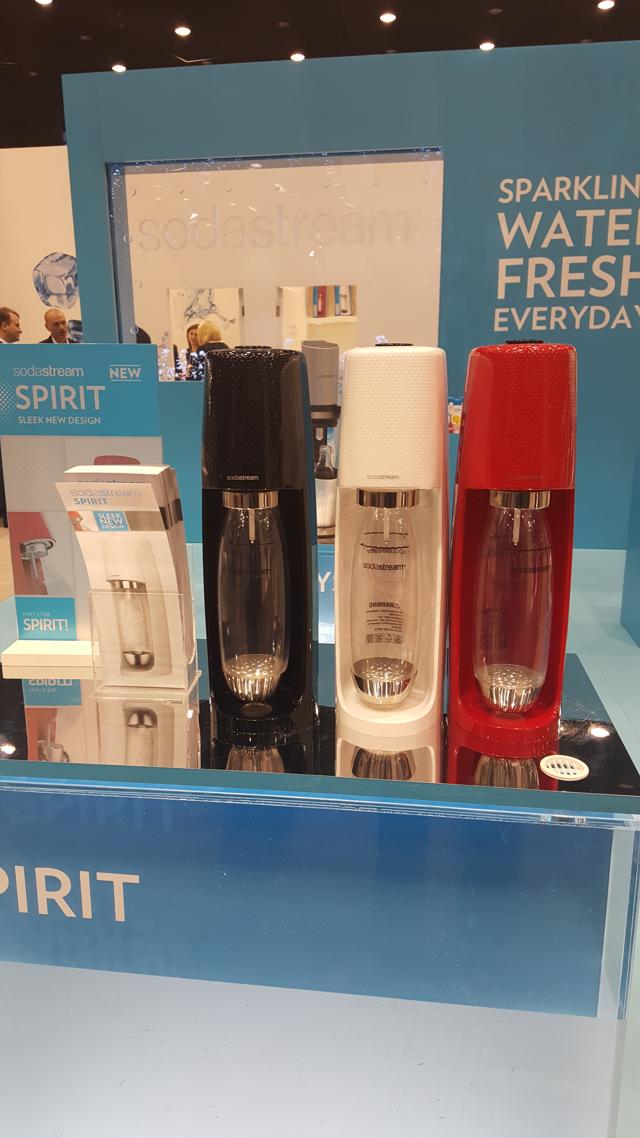 Prior to the International Home & Housewares Show, SodaStream had released its Q4 2015 results that were pretty much in line with my expectations. Let's revisit the results and my expectation from a previous publication below:
SodaStream didn't disappoint investors or myself who had modeled for a continued decline in both earnings and revenues YOY and with gross margins following suit during the 4th quarter of 2015. Fortunately, even while showing declines across the board, the company managed to beat very low expectations in delivering $.24 a share in earnings that beat estimates by $.07 a share. In kind, the company reported revenues that declined by 10.7% YOY to $112.94mm and against analysts' estimates of roughly $110mm. It is very important for investors to understand that the $110mm in revenue expectation was the result of significantly lowered expectations that was offered by SodaStream on the last earnings call. Prior to SodaStream issuing this forecast, analysts had modeled for the company to exhibit a low-single digit to flat revenue quarter to end the year. Essentially, SodaStream managed to lower the bar just enough to jump over it.
SodaStream's recently appointed USA President/General Manager was on the last quarterly conference call, seemingly upbeat when discussing the prospects for the business going forward. Only a few weeks post the quarterly conference call, however, John Sheppard resigned from his position from SodaStream and after holding the position for barely 4 months. There are generally only two reasons a key executive will leave a job in such a brief period of time: 1. Recognition of fraudulent activity at the company or 2. A complete understanding of the impossibility of the assigned objectives to be achieved. I can certainly consider and conjure up a multitude of other reasons a key executive will abandon his/her post so quickly, but these two tend to be the most common reasons. If I am to offer my analysis of why Mr. Sheppard abandoned his position I would say he realized the objectives assigned were unachievable and the supporting staff was inept. For many months I have stated very clearly that Mr. Sheppard was not the right person for this position and now here SodaStream and the highly embarrassed CEO rest with a revolving door of SodaStream USA Presidents. As a publicly traded company, one of the most embarrassing situations a CEO contends with is handpicking a key executive only to witness the executive fail and/or leave the position in short order. It's an assault on the CEO to say the least, but in considering SodaStream's results over the last 10 quarters, expectations should not have been favorable for the CEO's ability to hire an appropriate executive.
SodaStream also announced a recent new hire for its marketing team in Emma Froelich-Shea, a world-class marketing executive who joins US from Hain Celestial. Unfortunately, this new hire will have little ability to affect SodaStream's results, as she has absolutely no experience with branding or marketing of sparkling beverage home systems and no discernible expertise in hardware marketing either. Being hopeful is one thing, exhibiting negligent human resource activity and hiring practices is another and SodaStream has proven to be negligent on most accounts.
This subject matter of executives at SodaStream is just the expert analysis of Seth Golden so why don't we see what another expert had to say recently about SodaStream's key executive departure. On March 7th, Detwiller Fenton's Jim Sanderson commented on the departure of John Sheppard in his notes.
Despite management's positive outlook last quarter, we believe that many of the initiatives targeted to turn-around SODA US are not yielding results.

Sheppard's commentary during the Q4 conference call implied a sharp recovery in sales among top retail accounts. This level of growth could not be validated. Further, our checks suggest that end-of-quarter shipments into retail channels may have resulted in inflated sell-in last Q which was much stronger than sell-through rates at retail. SodaStream was at risk of "pulling" shipments forward, which would exert pressure on shipment rates in the current quarter, and beyond.
Other Observations from Jim Sanderson
Fizz Concierge is expensive and "appears to be the reason why consumer engagement has not been strong," Sanderson said. He added that consumers are unlikely to embrace the new program at current prices. An acceptable price or brand position has not been found for SodaStream's new Spirit soda maker. Consumer reviews of new flavors remain consistently negative.
It's obviously not a favorable picture being painted by Jim Sanderson with regards to management and the SodaStream USA business. Shares of SODA have reflected issues or concerns with management's ability to drive sales and earnings growth. Furthermore, SodaStream's quick response to Mr. Sheppard's departure by repositioning the unseasoned and inexperienced Canadian General Manager to run the USA business segment has also raised eyebrows. I happened upon one of SodaStream's former USA executives at the IHA Show who offered the inability to understand how SodaStream's CEO Daniel Birnbaum still has a job with the firm. The top down effect at SodaStream is ever-present and as such it seems quite remarkable that changes in the C-suite haven't occurred. But then again, it is an Israeli company in the home soda-maker business exhibiting 2 years of declining sales and earnings: Who wants to run that business? Any Board worth its salt and concerned about shareholders would have rendered SodaStream's CEO performance over the last 12 months unacceptable, but for 2 years the situation has been dreadful and yet the Board has done nothing to address shareholder value. Inexplicable except once again, this is what you get from SodaStream and its Board.
SodaStream has a lot to contend with this early in the fiscal year. Hopefully the company can generate consumer interest beyond its previous 2-year results. Maybe the company can also generate enough cash to take the company private over the next two years. Funny how things change when a company is taken private. A perfect example is the acquisition of Keurig Green Mountain, which was completed only recently and resulted in the departure of Brian Kelley, the company's former CEO for which I was highly critical for years. SodaStream's CEO is receiving an equal amount of scrutiny presently from investors and analysts alike. As usual, SodaStream is little more than a work in progress and progress has been slow to come.
Disclosure: I/we have no positions in any stocks mentioned, and no plans to initiate any positions within the next 72 hours.
I wrote this article myself, and it expresses my own opinions. I am not receiving compensation for it (other than from Seeking Alpha). I have no business relationship with any company whose stock is mentioned in this article.