MakeMyTrip (NASDAQ:MMYT) saw a surprising investment by Ctrip International (NASDAQ:CTRP) in January of this year. CTRP paid $180 million for convertible bonds which could provide it with an equity stake of up to 26.6% in MMYT. CTRP itself has formed partnerships with almost all important players in the Chinese market. CTRP also has major investments by Priceline Group (PCLN) which reduces the possibility of any future move by PCLN to get a foothold in Indian market.
MMYT has started offering heavy discounts to increase its market share. In the current round of marketing dubbed as "The Great Indian Getaway 2016," it is focusing primarily on its mobile platform. These discounts are app-only and should help the firm gain good market share among smartphone users in the country. The last quarter saw an increase of 20% in its cumulative downloads of the app over previous quarter. However, MMYT's cumulative app downloads of 15 million pale in comparison to CTRP's app download of over 1 billion and has a huge potential for growth.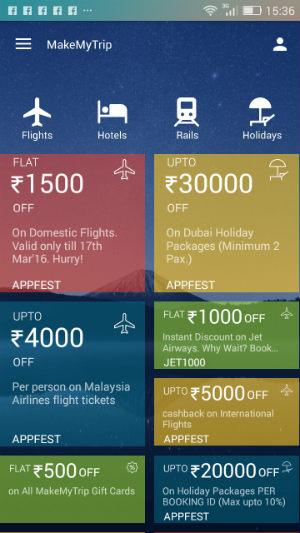 Fig: MMYT is undertaking massive marketing for this app-only discount, in line with the rapid growth in smartphone and 4G user base in India.
According to International Data Corporation (IDC) Mobile phone tracker data, India saw total purchase of 103.6 million smartphones in 2015 which was an increase of 28.8% over the previous year. More than half of the smartphones sold in the latest quarter were 4G enabled, which should allow future 4G providers in having good user base. A higher share of smartphones should help MMYT in increasing its mobile platform at a rapid pace. We should see in this market a growth rate similar to what CTRP showed in 2013-15 in China. Currently, MMYT makes 30% of its total domestic flight bookings and 50% of domestic hotel reservations on its mobile platform.
It made a major mistake in 2015 by not recognizing the threat posed by hotel aggregators like OYO Rooms. OYO Rooms provides branded accommodation in economy segment. It started adding independent hotels under its brand providing the necessary marketing and branding for these hotels. It was present in only 3 cities in early 2015, and as of now, it has expanded to over 250 cities with over 100,000 rooms under its brand.
Finally, in November 2015, MMYT removed OYO branded hotels from its platform. However, by then, the OYO mobile app had gained good traction and the revenue loss due to this move was minimal. By partnering with OYO through early stage investments, MMYT could have maintained long-term relationship with OYO without losing a big chunk of business. In the future, it would need to be much more agile in dealing with new players and also try and consolidate the market by forming partnerships.
The next quarter should see the commercial roll-out of Reliance Jio plans, which is a 4G provider with spectrum in all areas within India. Reliance Jio is part of Reliance Group which has a market cap of over $50 billion. The firm has already invested $17 billion in initial investments and purchase of spectrum. The firm is looking to make a massive impact in the telecommunications market within India and hopes to gain sizable market share at the expense of current telecom players.
This has led to massive investments from incumbents like Airtel, Vodafone and Idea in their 4G offerings. The entire industry is getting ready for a price war which can see the cost of 1GB 4G data dropping to as low as $1 (INR 66). Any prediction of future market base would be futile in the current highly fluid environment. But, if the total smartphone shipments keep their growth pattern, we should be seeing at least half a billion smartphone devices in use by the end of 2017 in India.
This would be a sizable market for MMYT, and it should be able to use its leadership position and cash surplus to consolidate its position in the market. Currently, only 25% of total hotel bookings in India are made online. Out of this, 18% is made through OTAs and the remaining through brand owned websites. According to global research agency Millward Brown, walk-ins constitute 28% of hotel bookings, whereas remaining is advanced booking.
Current Valuation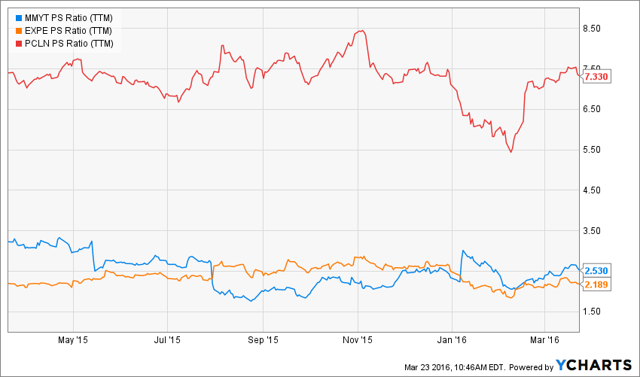 Fig: PS ratio of MMYT in comparison to other two major OTAs, EXPE and PCLN
One of the main reasons for the low PS ratio is the profit margin which has consistently been quite low for MMYT. However, the partnership with Ctrip along with higher investment in its mobile platform, massive growth of smartphone and 4G user base in India, and higher domestic travel spend should provide the requisite momentum for this stock to show good returns in the next few quarters.
Conclusion
MakeMyTrip holds a primary position in a market which is poised to expand at an exponential pace in the next 2-3 years. As the Indian economy sees higher smartphone acceptance, cheaper 3G/4G rates and increasing middle class, the online travel market should see bright days ahead. MMYT needs to overcome a number of obstacles namely consolidating the market, increase app usage and increasing the profit margin. It is currently selling at a low PS ratio of 2.5 with substantial cash to invest in its platform, marketing and consolidation. This is a good entry point for this stock for long-term investors who want to bank on the growth story in emerging markets like India.
Disclosure: I/we have no positions in any stocks mentioned, and no plans to initiate any positions within the next 72 hours.
I wrote this article myself, and it expresses my own opinions. I am not receiving compensation for it (other than from Seeking Alpha). I have no business relationship with any company whose stock is mentioned in this article.