Introduction
I have written several articles regarding the discrepancy between the valuation of public and private real estate in the past. In this paper, I will lay out a robust quantification of this discrepancy in a way that I believe is superior to other methods and run these calculations for REITs that own properties in high barrier to entry markets as I believe the discrepancy is the most acute for these REITs. I will then suggest a way that REITs' management can reduce this discrepancy which has been employed by Hudson Pacific Properties (NYSE:HPP) and has served to reduce the discrepancy for them.
Public vs. Private Background
This article published in the Wall Street Journal contained the following excerpt:
On Feb. 1, shares of REITs that specialize in shopping malls were trading at a 21.4% discount to the value of the property owned by those REITs, according to Green Street. That discount had declined to 19.1% as of March 15. For office property REITs, the discount declined to 21.4% from 24.5% during the same time frame.
How Green Street calculates this NAV is based on their own proprietary research and is not transparent. Furthermore, it is not clear if the discount is for the valuation of all of the REITs' assets or the discount of the average REITs' stock price.
NCREIF Data
The largest database that tracks privately owned real estate in the US is the NCREIF Property Index (NPI) which tracks institutionally owned properties. As of 4Q15, the database tracked $174B of office properties. In order to facilitate a more robust and transparent calculation of an office REITs' discount to its NAV, I propose comparing the implied cap rate of each office REIT to the cap rate of a synthetic portfolio of NPI tracked properties with the same market concentration as the REIT.
The following are the advantages of using this technique:
The NCREIF Property Index tracks $174B of office properties so the data represents a very large sample size of office properties.
As opposed to sale comps, which are generally sold at peak stabilization and occupancy, NPI tracked properties are at average stabilization and occupancy because of the large sample size. Similarly, REIT properties are also generally at average stabilization and occupancy due to the numerous properties they own.
The NCREIF database allows stratification of properties by market, which enables the creation of a synthetic portfolio with market concentration similar to that of each REIT
The income return generated by NCREIF properties is based on GAAP accounting which is identical to the accounting used by REITs as opposed to sales comps which are generally cash based thereby facilitating an "apples to apples" comparison.
Disadvantages:
The NPI is appraisal based and therefore backwards looking whereas REIT valuations are instantaneous and therefore forward-looking. In times of price volatility, this can cause a large discrepancy but when prices are relatively stable as they are presently, this becomes much less of an issue.
REIT Implied Cap Rate
The way I calculate the implied cap rate of each REIT for this analysis is taking each REIT's share of GAAP NOI generated in 4Q15, annualizing it and dividing it by the current market implied value of the properties generating income. Therefore, land and properties under development are valued at cost and cash is backed out of the market implied value of all of the REIT's assets to get at what the market believes is the value of all income generating properties. Each REIT's G&A expense is excluded from this calculation as NPI properties do not have an asset management cost included which is equivalent to the G&A expense for a REIT.
NCREIF Data
The table below shows the value of NPI tracked properties by market, the income return generated by the NPI tracked properties in these markets in 4Q15, and the annualization of 4Q15 income return for all of the markets to get a GAAP cap rate for NPI properties in each market.

REIT Market Concentration
In order to facilitate a comparison between a REIT and NCREIF tracked properties, an estimate has to be made for each REIT's market concentration. The most straightforward way to do this is to use NOI concentration by market as a proxy for market concentration as the majority of REITs break out NOI by market. If this is not available, other metrics such as revenue by market may be used. This estimate of market concentration may require judgment but if you look at the difference in cap rates among high barrier to entry markets, you will see that there is usually only a slight difference in cap rates so small errors in market concentration estimates will not have a material impact on the cap rate of the synthetic NPI portfolio.

Discount to NAV
Shown below is a table which includes the income return of the synthetic NPI portfolio, each REITs' implied income return using annualized 4Q15 GAAP NOI, the current price of each REIT's stock, the stock price required to have the REIT's implied income return be at parity with the synthetic NPI portfolio, the stock price discount to parity, and the change in stock price required to move to parity.

As shown, the average discount to NAV parity is 39.2% and the average change in stock price to move towards parity is 66.3%. These numbers are much larger than the ones quoted by Green Street in the aforementioned article. Furthermore, they represent a much more transparent methodology that uses the largest data set that tracks privately owned real estate. Therefore, I believe this calculation better represents the economic discrepancy in valuation between publicly and privately owned real estate.
Catalyst
One of the questions this analysis brings up is what will possibly be a catalyst that will move public and private office real estate valuations towards parity. My opinion is that it is the identification of this large discrepancy by the management and boards of directors of each of these REITs and them understanding that the buyback of their own shares is economically equivalent to purchasing the portfolio of properties which is owned by the REIT at a cap rate implied by the price at which they repurchase shares. When they come to understand this, all boards of directors should authorize a buyback of shares and prioritize this over property acquisitions until this pricing disparity is reduced.
Not Understanding Stock Repurchase Economics
To give an example of the poor capital budgeting that can happen when management and boards of directors do not understand the real option to buy back shares, I present this acquisition of a JV interest in one of Paramount Group's (NYSE:PGRE) own buildings. Per PGRE's press release, the acquisition was for their JV partner's 35.8% interest in 31 West 52nd Street. When you work through the math, you see that the price reflects an implied cap rate of 3.44%.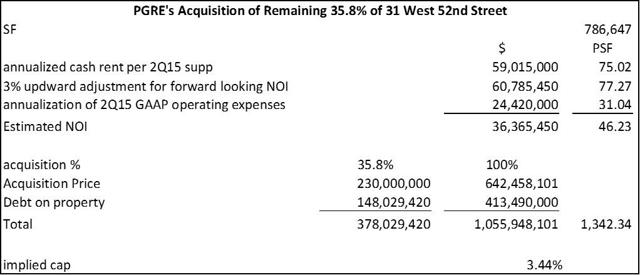 PGRE's stock closed at October 2, 2015 at $16.74, which I calculate as implying a 5.67% cap rate. So instead of spending the $230M to acquire the JV interest in this property for a 3.44% cap rate, PGRE could have done the economic equivalent of buying their high quality portfolio of properties, including their majority interest in 31 West 52nd Street, for a 5.67% cap rate by repurchasing their stock. Said another way, PGRE paid a 65% premium to purchase income return that they could have gotten at a 39% discount by buying back their stock.
I understand that their 100% ownership of the asset gave them flexibility that they did not have when they were not 100% owners and I do not dispute that there was value created. What I do question is if the value created comes anywhere close to the premium that they paid in comparison to buying their stock back, which I strongly doubt.
Stock Buyback Announcements
The only REIT in this list that has announced that their board of directors has authorized stock repurchases is HPP. During HPP's 4Q15 earnings call on February 25, 2016, CEO Victor Coleman announced the following:
Lastly, we've got a lot of questions about the possibility of us buying back stock and given the significant disconnects between our stock price and the company's NAV in January, our Board approved an initial $100 million share repurchase program
This is the first I had heard about any of these REITs implementing a stock repurchase program so it is worth seeing how the market responded to this news. The chart below shows the total return of all of the REITs included in this analysis since this announcement. What it shows is that HPP's stock has handily outperformed all other REITs since their announcement of a stock repurchase.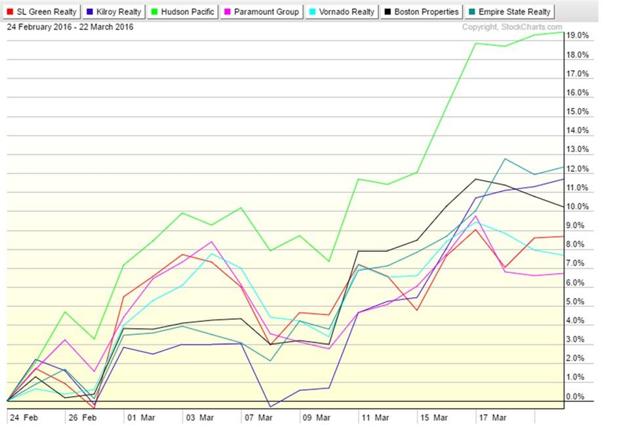 While it is not possible to run a controlled experiment to hold all other variables constant, the performance of HPP's stock subsequent to their announcement of a stock buyback strongly suggests that the announcement of a stock buyback by REITs is what could potentially be the catalyst that moves public real estate valuations to parity with their private real estate counterparts.
Disclosure: I am/we are long SLG, HPP, KRC, PGRE, ESRT, BXP, VNO.
I wrote this article myself, and it expresses my own opinions. I am not receiving compensation for it (other than from Seeking Alpha). I have no business relationship with any company whose stock is mentioned in this article.
Additional disclosure: All of these tickers should be referenced :slg, hpp, krc, pgre, esrt, bxp, VNO,