Airbnb Inc. (Private:AIRB) has had an amazing growth rate in the past eight years. It is currently boasting a valuation of $25.5 billion which ranks it ahead of any other traditional hotel chain. It has over 2 million listings and booked 23.8 million room nights in the third quarter of 2015 (Expedia booked 61 million during the same time). It also made gross bookings of $2.2 billion in the same quarter and earned revenue of $340 million. One can book the most exotic lodgings, from castles, igloos, tree house to floating homes through Airbnb. Without doubt it is at the forefront of the new "sharing economy" where customers opt for sharing services at relatively lower costs than those offered by present incumbents.
We look at the business model of the hosts. In the next few articles we look more deeply at the financial and valuation impact it is having on other lodging and travel industry participants like hotel REITs, traditional hotel chains like Hilton, online travel agencies (OTAs) and more.
A look at the current Airbnb data for Manhattan
Airbnb is present in 190 countries and has a huge variety of listings. However we can look at a specific area, Manhattan, which was one of the earliest acceptors of Airbnb and has seen a rising number of obstacles in the evolution of this platform. Data sourced from airdna.co

Fig: Percentage breakup of the accommodation type and the number of reviews obtained by listings.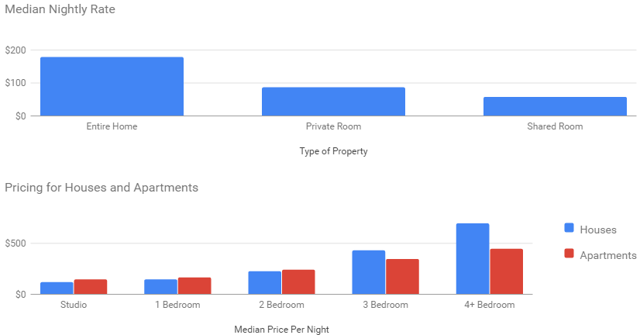 Fig: Median nightly rate for accommodation types. It varies from $180 for entire home to as low as $59 for a shared room.

Fig: Monthly revenue by accommodation type. The 50th percentile earning per month for entire place is $1,988, $912 for private room and $548 for shared room.

Fig: Facilities included in the properties listed. The highest is WiFi which is almost ubiquitous at 96% and Air conditioner at 86%.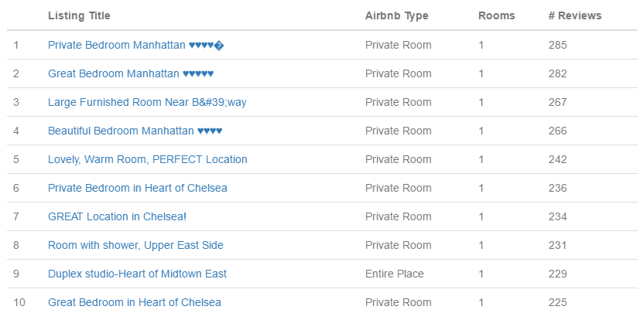 Fig: Most popular listings in Manhattan by number of reviews. Of the top 10 only 1 is entire place which shows that private rooms get a higher proportion of customers. The main reason should be the lower price point at which private rooms are available in expensive Manhattan, in comparison to other lodging options in the market.
Manhattan does not represent the trend seen elsewhere but has a very high proportion of acceptance of Airbnb among home owners which makes it a good example to understand the nuances of the business model.
Business model
Most of the hosts end up looking at Airbnb earnings as extra income and an additional revenue stream. However this can be erroneous because many other expenses and additional points are not taken into consideration.
A more realistic formula to calculate earnings would require following deductions:
1. Utility expenses (Cable/electricity/gas)
2. Taxes
3. Consumables
4. Additional labor (Cleaning/ housekeeping)
5. Furnishing expense
If the same property can be used to earn alternative long term rental, this would also need to be factored in. From a host point of view, they would be losing this income source (provided they do not differentiate between Airbnb guests and long term renters)
Once these deductions are made, one should also consider the personal time required in this endeavor. Airbnb has a hands-on approach with bookings which requires close attention by hosts. This includes replying to any queries, filtering guests, adjusting rates according to season, looking after any specific customer demand, etc. One should deduct the number of hours put in this platform multiplied by the earning potential of the host. For example: If monthly 4 hours are involved in query replying and administration and the earning potential of the host is $15/hour, than $60 should be deducted from the gross revenue to get net earnings. Although in the early stages of being a host, the entire work would not be tiring but over a 3-5 year horizon this monitoring and housekeeping hours should be factored in as actual work.
Hence additional deductions to calculate the earnings are:
6. Alternative long term rental potential missed. (If this opportunity is available, as it is in most of cities and urban locations)
7. Potential earnings which can be made by host through alternative employment putting same hours of work.
All the 7 points will vary widely in the 190 countries where Airbnb has the listings. At some places the housekeeping labor might be expensive like in US and Europe and would form a sizable part of deductions. In other areas the consumables and utility expenses might be higher. However, individual hosts would need to take all these points to get a correct amount of net earnings over a long term.
A final point is about the actual earnings made on Airbnb. All the data on Airbnb is easily accessible and is closely scrutinized by the tax officials of respective countries. For example, in USA Form 1099-K needs to be filled by hosts earning more than $20,000 and having more than 200 reservations in a year. In some countries the rental income is not taxable or it is not easily available to tax officials.
However, Airbnb income is publicly available with the name and address of the individuals on their platform. This will be used by the tax officials to apply the personal tax rates wherever applicable. Hence, the final earnings will be reduced by the personal tax charged for their lodging operations. This might reduce the incentive to move to Airbnb platform in several countries.
Consequently, investors in Airbnb and other lodging industry participants would also need to look at these points to find correct long term growth potential of Airbnb.
We can look at the following table showing the expected profits made by listing two bedroom homes on Airbnb in different cities.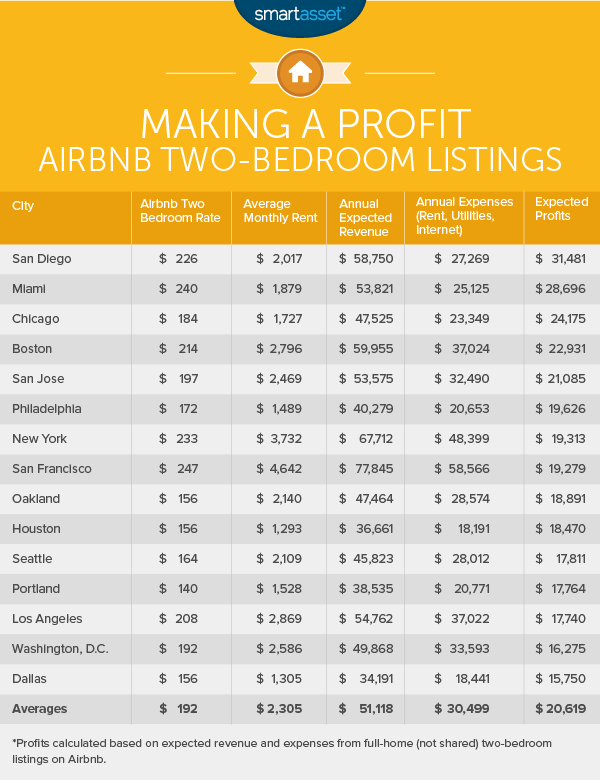 Fig: The expected profits does not take into consideration the above 7 points, other than point 6 (long term rentals). Remaining deductions would need to be included to get an accurate earnings picture. Source: Smartasset. Date: 6/10/2015
A look at a personal example gives a deeper look into the earnings potential of the Airbnb listings. Source: affordanthing.com, written by Paula Pant. Earnings made over three months in Atlanta.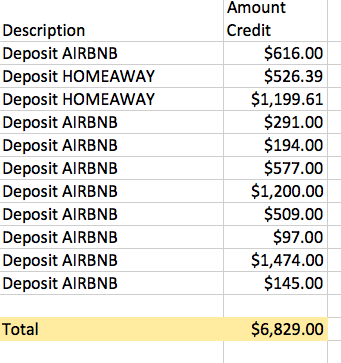 Fig: Guest stayed over three months bringing in revenue of $6,829.00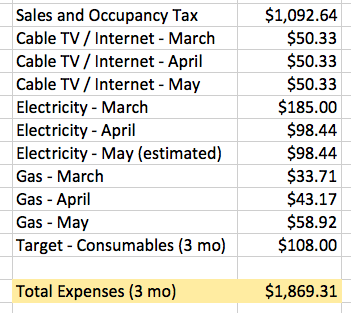 Fig: Total expenses during 3 months.
The property had a long term rental potential of $1,100/month. This was deducted by the landlord.

Fig: Monthly additional earning on Airbnb platform comes to $553.23 for this property
Suppose there are 10 house cleaning requirements per month which would require additional labor hours. If 2 hours are factored in for every visit for cleaning, getting consumables, etc. and hiring a worker for $10/hour, the total comes to 10*2*10=$200/month
The landlord would further spend 4 hours in interacting with guest, replying, handing over keys or other chores. For a working potential of $20/hour, the landlord should deduct $80 of alternative employment missed.
Subtracting these two, we get a final extra earnings tally of: $273.23/month
The landlord would need to further make deductions on furnishing and general repairs required in the property.
Taking the earlier figure of $273.23, the landlord has made a net extra income of $819.69 for the 3 months. This translates to 12.00% of the gross revenue ($6,829.00).
Hence, we can see that if mere gross revenue is considered the earnings on Airbnb are quite high but hosts should make all the necessary deductions to get a correct extra earnings figure on this platform.
Pros and Cons for Airbnb hosts
Some of the main pros of being an Airbnb host are:
1. Additional income: Airbnb provides a platform where hosts can make additional income without any major investment. If the property has long term rental alternative possibility this additional income is a bit low but if the property is situated in a vacation spot where long term rent is not possible than Airbnb is a major boost for the property owner.
2. Supports you during low times: A much bigger positive of using Airbnb is that it can be used intermittently when there is a cash crunch. This buffer revenue stream provides additional security and can be used during employment break or low income periods.
3. Meet culturally diverse crowd: This alternative helps hosts to meet people from around the globe and can be quite enriching as noted by many hosts.
Cons of being an Airbnb hosts:
1. Low extra income possibility: As shown above the extra earnings on the platform are significantly low when there is a long term rental possibility for the property.
2. Higher management: Minor things like stocking up the consumables, making sure that housekeeping has been done, check-in check-out punctuality etc., can end up taking a lot of time. Lodging industry has a number of job profiles including: front desk, finance, marketing, food & beverage, housekeeping, laundry, security and more. A host ends up doing these things which can be quite overwhelming.
3. This is not a commodity business: This is a service oriented industry and cannot be treated as simple investment properties like rental properties. If guests need additional blankets they will ask for it.
4. Taxes take their cut: In the earlier growth phase of Airbnb, the biggest advantage it had over traditional lodging was that there was no tax burden. In the past few quarters all the governments have started adding equal tax rates for Airbnb properties as they do for other lodging options.
5. Competitive pressure: This is a constantly evolving industry. One can also equate it to the gold rush. In the earlier phase, hosts were able to charge a higher amount and see good occupancies. As more and more rooms come online there will be greater competitive pressure which would push the prices down. Already many cities are seeing Airbnb rates higher than in traditional lodging properties, something unheard of before.
Conclusion
Airbnb has seen a massive growth curve in the past few years. It has already made all the past incumbents like Hilton (NYSE:HLT), Marriott (NYSE:MAR) and IHG (NYSE:IHG) nervous. It is one of the contributing factors to the current consolidation phase in the lodging industry. However, there are both pros and cons of its business model for the hosts and they will increasingly see their properties competing with the likes of Hilton with similar taxes and safety requirements. In the next article we will look in what ways this platform affects REITs, OTAs and hotel chains who have seen their stock plummet in 2015.
Disclosure: I/we have no positions in any stocks mentioned, and no plans to initiate any positions within the next 72 hours.
I wrote this article myself, and it expresses my own opinions. I am not receiving compensation for it (other than from Seeking Alpha). I have no business relationship with any company whose stock is mentioned in this article.