My portfolio has 74 stocks, including 11 equity REITs. They are outlined in this article about all 74. I also wrote this article written about just the 11 eREITs I own.
I did not just "roll the dice"; I did some thinking about my decisions to buy Chatham Lodging and sell Care Capital (NYSE:CCP). I want to share my thoughts.
Ventas is a Healthcare eREIT that spun off some of its holdings last year as Care Capital (CCP).
Here is the company summary from Yahoo Finance:
Care Capital Properties, Inc. focuses on owning, acquiring, and leasing skilled nursing facilities and other healthcare assets operated by private regional and local care providers in the United States. The company was incorporated in 2015 and is based in Chicago, Illinois. Care Capital Properties, Inc. operates independently of Ventas, Inc. as of August 18, 2015.
When this happened, it was at first billed with a higher credit rating, which was suggested would be BBB and given positive reviews. It came to be rated BB+, not as pleasing, at least to me, and thus a disappointment. I have been patient, giving it some slack for being new and the debt-to-cap of a low — not too bad. As I had no choice is getting this holding from VTR, (4:1 spin off), I did not get a tremendous amount of shares. I have been adding to the position on and off as it went under $30 in price and most recently under $26. So I decided to take a long and hard look at it.
Care Capital
In doing some reading, I also got the impression the holdings received from VTR were somewhat "lesser holdings" and they are working to improve them. I can not document that statement, and it could have even been from another commenter, so please do not take that as gospel.
As you can see below, the FG (FAST Graph) is limited as the company is new, and that includes the dividend. FG is projecting the same dividend I am receiving now, $2.28, for next year — no growth. But the yield is high at 8.9%, with still a very nice dividend.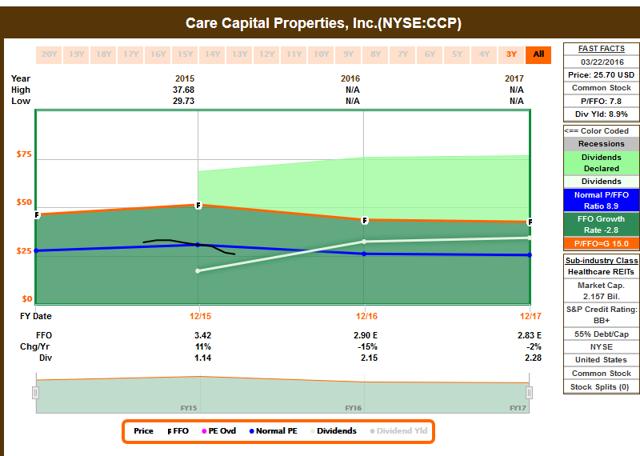 The Funds From Operations (FFO) growth is projected as -2.8%. That is just sad. However, it does show all is covered by cash flow or FFO. As CCP is a new company, there are no real past statistics to rely on to show what may or may not be normal. I keep saying "be patient."
Now, let's look at Chatham Lodging.
Chatham Lodging
From Yahoo Finance:
Chatham Lodging Trust is an equity real estate investment trust. The firm invests in the real estate markets of the United States. It primarily invests in premium-branded upscale extended-stay and select-service hotels to create its portfolio. Chatham Lodging Trust was founded on October 26, 2009 and is based in Palm Beach, Florida.
Below is a view of the 5-year FG (FAST graph), which runs into 2017. Price/Funds From Operations or the P/FFO is only 9.0 and dividend yield 6.3%. Normal P/FFO being 12.4. To me, this indicates it being underpriced.
It has a low-ish Debt/Cap of 45%. No S&P credit rating or M* rating. Most REIT stocks are not covered. Equity REITs will be given their own sector in August 2016, so I have hopes for more coverage for them then.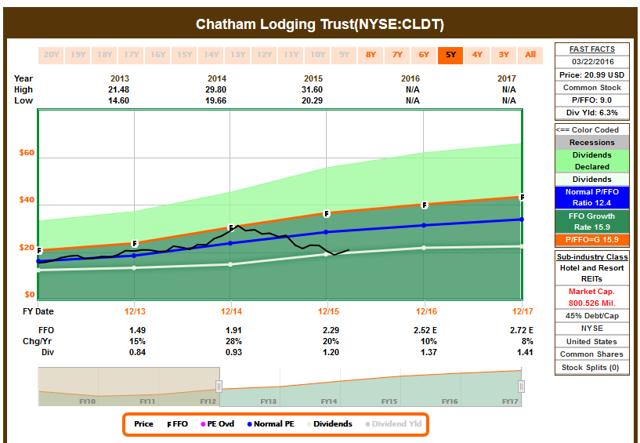 I sure like this chart and its upward slope.
Here are some articles from contributors I respect:
All of these noted impressive articles just kind of wears me down and I begin to "see the light" or "smell the roses". It got my attention. Gee, I can be slow. Now, that could have worked somewhat to my advantage as the price has fallen and is giving a nice margin of safety. It might not be at it's lowest price, but it is a nice price. I paid $21.26 yesterday, March 23rd.
It certainly doesn't hurt that CLDT just raised the dividend 10% to 11c per month or $1.32 if taken out per year. It also paid a special dividend /share in January of 8c that I missed as well. Yes, I did say it is a monthly payer — major bonus points there.
I don't need CCP and really never chose it myself, so it got the boot. I actually broke close to even on the selling price of $25.65, but received some excellent dividends in the time I held it. In that regard, I am sad to see it go. I think it could be a great holding, but I wanted to diversify out of holding mostly all healthcare eREITs. As Brad Thomas shows in his article with 10 holdings for Average Joe, variety is important to hold down risk.
In many respects, I just feel safer being more diversified. I have lost some yield, but still feel good about the change. As always, these are the things I do, and I am not suggesting you do the same.
I hope you enjoy learning with me and we shall see how it all progresses. I am hoping to keep this investment for a long time. I like the margin of safety in the price, as it certainly has fallen way below the normal P/FFO of 12.4. In a way, I am hoping it does go a bit lower again, and I will be there to add. I might even add more soon, as I do like the future for Chatham.
Happy investing.
Disclosure: I am/we are long CLDT.
I wrote this article myself, and it expresses my own opinions. I am not receiving compensation for it (other than from Seeking Alpha). I have no business relationship with any company whose stock is mentioned in this article.