Several months ago, I wrote a research article on Cambrex (NYSE:CBM). The company has been growing impressively and just had a record year while the stock is up about 90% since 2015. In this article, I review Cambrex's business prospect and what to expect from the stock for FY'16 and FY'17.
The Trends Are You Friends
As a young investor (early 20s), I want to buy and hold companies that I think could be around and still growing in the next 5 - 10 years. Hence, identifying secular trends supporting specific industry is a key part of my research.
In my last article on Cambrex, I cited several favorable trends supporting the growth of the CMO (Contract Manufacturing Organization) industry. As a CMO, Cambrex produce small API (active pharmaceutical ingredient) for the biopharma industry. This market is expected to grow at 14.3% CAGR (2013 - 2019). As a supplier to the biopharma industry, the macro factor is of course the aging of population around the world. Japan is a famous example, but recently South Korea has joined the group.
Needless to say, there will be more people that will need better healthcare, better drugs, and better therapies. Thus, we are seeing spending on drug R&D climbing higher each year. According to Statista, global drug R&D spending in 2015 was estimated to be $141B and will reach $160B in 2020. As a company that focuses on innovator drugs and already one of the biggest generic API manufacturer, this trend is very encouraging for Cambrex.
There are also several industry specific tailwinds which continue to support Cambrex's growth story. The explanation of how these factors affect Cambrex can be found in my previous article.
Flight to quality: Big pharmas are migrating back to western CMO after realizing that most of the low cost CMOs in Asia lack regulatory compliance. This causes frequent capacity shortage due to limited number of cGMP compliant CMO in North America and Europe

Increasing outsourcing of API manufacturing by big pharmas to save cost. Pfizer is a good example, see here.

Increasing approval rate for new drugs by FDA and other similar agencies. In 2015, the FDA approved 45 new drugs application, the highest level since 1996.

Increased usage and penetration of generics. I believe this doesn't need much explanation.
It is also worth mentioning that most of the blockbuster drugs are in the API category instead of biologics which have received quite a hype recently. But the fact is, small molecule drugs continue to dominate the market. The drugs that you might be familiar with such as Gilead's (NASDAQ:GILD) Harvoni, Celgene's (NASDAQ:CELG) Revlimid and Biogen's (NASDAQ:BIIB) Tecfidera are all small molecule drugs which require small molecule API as part of the manufacturing ingredients. Going forward, I believe these factors would continue to be the growth engine for Cambrex.
Updates on Product Portfolio
I gave detailed explanation on Cambrex's business segments and strategy in my last article, so I won't explain much here. As you could see in the table below, the innovator segment contribution to the revenue is increasing. This trend is expected to continue since this segment carries higher margin, therefore future capacity will be prioritized for the innovator drugs.
Market

Served Market/Market Size

% of Revenue

Expected Sales Growth

2014

2015

Innovator

$7-$10 / $13-$15B

60%

64%

12 - 15%

Generic

$5-$6 / $11B

25%

22%

0% - 5%

Controlled Substance

$300 million / $500-$600 million

15%

14%

4% - 6%
Source: Investor Presentation
The innovator market remains healthy with expected sales growth of 12% - 15%. Although Cambrex did not win any new late stage projects in Q3'15 and Q4'15, one of the drug moved to commercialization phase in Q4'15. As I explained in my previous article, one of Cambrex's strategy is to negotiate supply contract for the approved drug. This move will allow Cambrex to enjoy significant revenue increase due to higher manufacturing volume and longer duration contract from the approved innovator drugs.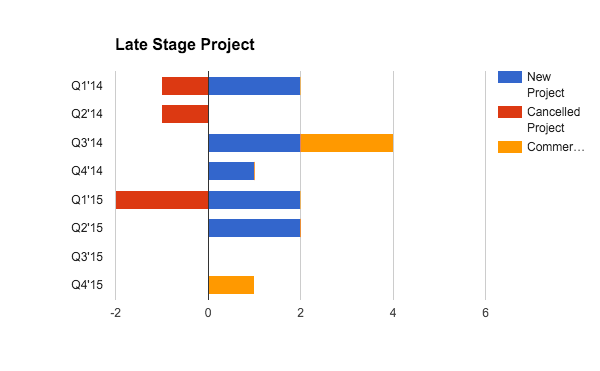 Source: Data compiled by author from conference call transcripts available on Seeking Alpha
At the end of FY'15, Cambrex has 16 late stage projects with 3 of the products are expected to bring more than $10 million in revenue at maturity. Three other products will bring less than $5 million and the rest are in between.
For generic API, Cambrex ended the year with 61 products that represent 62% of the generic API revenue. The rest of the generic API revenue came from 5 products that are in the niche category. These products carry higher price tag and margin as explained previously and this is the main path for Cambrex to obtain higher revenue from the generic segment. Other than that, the company has also completed development of 3 new generic APIs.
The controlled substance market is a moat for Cambrex since this market is tightly regulated. Therefore, we can expect that the revenue from this segment to be sustainable. While the market size is relatively small, the sales growth of this segment is looking good since the company has completed the development of two opiate drugs which will be sampled to customers in the 2H'16. The move into opiate based drugs would expand Cambrex's addressable market and hopefully provide higher sustainable income. Not only that, the company is also developing its third opiate drug which will be sampled in 2017.
Overall, Cambrex's product expansion shows quite a promise and it would be interesting to see how this portfolio will perform in 2016. The spotlight for this year would be whether there will be new acquisition of late stage projects in the innovator category. This is important with regard to expansion of Charles City plant (explained further below). There is also some improvement in the generic segment for Cambrex since by the end of Q2'15, there are only 4 niche products. The addition of three new generic APIs could hopefully increase shipment volume to offset other negatives such as stagnant price. As for controlled substance market, the venture into non-opiate arena seems like winning bet for me given the industry's tight regulation and stable demand.
Financial Performance
| | | | | | | | |
| --- | --- | --- | --- | --- | --- | --- | --- |
| | 2011 | 2012 | 2013 | 2014 | 2015 | 2016* | 5-yr. CAGR |
| Sales | $255.51 | $276.78 | $318.31 | $374.61 | $433.80 | 468 - 485 | 11% |
| EBITDA | $46.80 | $57.74 | $67.56 | $74.89 | $128.62 | 142 - 148 | 22% |
| Capital Expenditure | $15.00 | $29.40 | $41.60 | $29.90 | $57.40 | 70 - 75 | N/A |
| Operating Cash | $38.32 | $43.55 | $36.87 | $64.97 | $83.61 | N/A | N/A |
| Long-Term Debt | $98.00 | $64.00 | $79.25 | $60.00 | $0.00 | $0.00 | N/A |
| Diluted EPS | $0.37 | $2.06 | $0.84 | $1.81 | $1.76 | $2.46 - $2.58 | 36% |
Source: Marketwatch and Investor Presentation
* EPS estimate for 2016 is on adjusted basis provided by management in Q4'15 call
2015 was a record year for Cambrex as highlighted in the table above. Investors might question the slight decrease in reported EPS compared to 2015. The reason for the slight decrease can be explained by higher operating expense due to restructuring cost ($15.6 million) related to sale of Zenara (Cambrex's business unit in India). On adjusted basis, the EPS is actually $2.33, a 75% jump from previous year's adjusted EPS. So I'm not too worried about that and I'm satisfied with the healthy sales growth.
Other financial highlight that investors might be concerned with is the obvious increase in Capex. The increase in Capex is actually due to the expansion of manufacturing plant in Charles City. This is Cambrex's response to the increasing capacity demand in the industry. The expansion is capable of bringing revenue to the tune of $40 - $60 million at full capacity. I believe this is the right step for Cambrex and the management proves to be frugal with regard to the expansion. Included in the expansion is a shell, a complete manufacturing structure without the equipments. This shell can be upgraded at lower cost in the future if there is further need to increase capacity.
The expansion is expected to be completed around 1Q'16 and the sale of capacity will be conducted during the 2H'16. Again, this is one of the reason why 2016 will be such an eventful year for Cambrex.
Relationship With Gilead: How Will It Affect Cambrex?
One risk that deters some investors from taking position in Cambrex is customer concentration. Here's what the company disclosed from its recent 10K.
The Company's products and services are sold to a diverse group of several hundred customers, with one customer, Gilead Sciences, Inc., accounting for 34.5% of 2015 consolidated sales and 24.0% of 2014 consolidated sales. One API, an antiviral product, represented 32.1% and 22.9% of 2015 and 2014 consolidated sales, respectively.
It is true that contribution from Gilead has helped Cambrex significantly. The uncertainties surrounding Gilead's flagship product, Harvoni and Sovaldi might scare some investors from investing in Cambrex. But remember that as supplier, the thing that matters the most to Cambrex with regard to Gilead is shipment volume. As long as demand for Sovaldi and Harvoni remain stable, other matters related to Gilead such as drug pricing and legal issues should not affect Cambrex in an adverse manner.
For FY'16, Gilead guided for flat product sales, hence Cambrex is not in trouble for now. With 2 - 4 of its own current late stage projects expected to be commercialized in 2016, I think Cambrex can move beyond Gilead at some point in the future.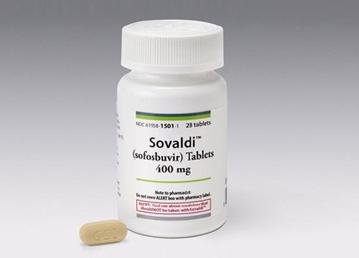 Conclusion
Currently, I am slightly bullish on Cambrex. It certainly has excellent fundamentals supported by secular trends in the CMO industry. However, at current valuation and also current market condition, I only took a small position in Cambrex, but will continue to monitor the development of its product, and also capacity utilization that should be more clear as Q1'16 result approaches. While I think the company could move beyond Gilead and will perform well in the long run, it doesn't hurt to be patient and slowly build position when the time is right. Good luck!
If you like my research, be sure to get notified on my latest articles by hitting the "Follow" button on the top of this page. If you want me to cover specific stocks, please let me know by sending me a message or leaving a comment below.
Disclosure: I am/we are long CBM.
I wrote this article myself, and it expresses my own opinions. I am not receiving compensation for it (other than from Seeking Alpha). I have no business relationship with any company whose stock is mentioned in this article.