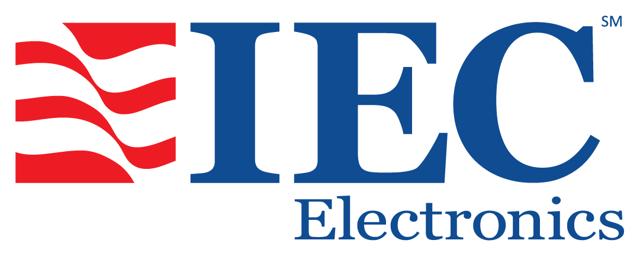 On February 12th, IEC Electronics (NYSEMKT:IEC) reported its fiscal first-quarter results. Once again the company showed solid improvement on both year-over-year and quarter-over-quarter basis. Excluding prior sales for the now divested Southern California Braiding operations, revenue grew 14.2% year-over-year to $32.9 million. The all-important gross margin jumped again, hitting 16.5% when adjusted for irregular production levels (versus 17.7% as reported), up from 15.3% in the prior quarter.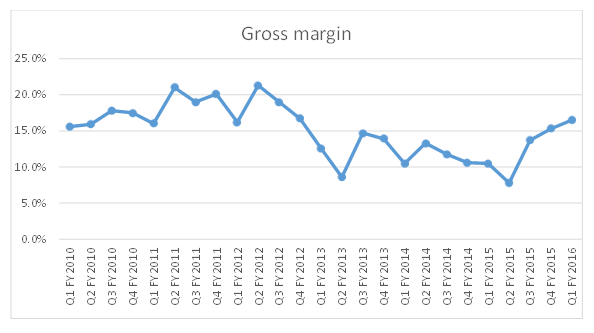 IEC's margins continue to be the envy of the electronic contract manufacturing industry. The combination of efficient management under new CEO Jeff Schlarbaum's leadership and IEC's low cost manufacturing base in Newark, New York, has allowed the company to return to profitable, positive free-cash-flow generating performance. This comes after two years of subpar performance under the tutelage of former CEO Barry Gilbert. IEC appears to be hitting its stride once again, thanks in no small part to Mr. Schlarbaum's leadership. It was an excellent decision to bring him back and Vintage Capital deserves all the credit for sponsoring the proxy battle last year.
One of the new CEO's stated priorities for the first few months in office was to visit with many of company's customers to solidify IEC's commitment to supporting their programs. A key component of IEC's turnaround strategy is driving organic growth through strengthened relationships with existing customers as they embark on new and expanded programs. The organic growth in revenues the last couple of quarters points to initial success with this initiative. IEC has significant capacity within its existing footprint to expand operations further. The Newark, New York, facility is 235,000 square feet and is significantly underutilized. IEC has also refreshed its brand. In January it debuted a new logo and website. These are all pieces of the puzzle that, when put together, will help drive IEC into its next phase of growth with sustainable, industry leading margins.
Legacy Legal Issues
Unfortunately IEC has some legacy issues that are holding back profitability in the near-term. However, the company is working swiftly to put them in the past. As I have written about previously, the company was the subject of a SEC probe in regards to a previous earnings restatement, which was principally the result of weak internal controls. The company has a proposed settlement with the SEC that should only cost the firm $200,000 in fines for its infraction. The settlement should be finalized in the next 12 months. In addition, former employees of IEC were issued a Wells Notice by the SEC during the company's fiscal first quarter. These two former employees of the company have subsequently reached a preliminary understanding with SEC staff regarding a potential settlement. This is also good news, though IEC should not be directly impacted by this investigation.
The big news for IEC's legal woes came last Friday, when the company announced a settlement with former Chairman and CEO Barry Gilbert in regards to his termination a year ago. Mr. Gilbert had been seeking $1.45 million plus attorney's fees, interest and arbitration costs for his "wrongful termination." IEC issued an 8-K last Friday announcing a settlement. The two parties reached an agreement, under which Mr. Gilbert will be paid a total of $1.05 million over the next four years in exchange for releasing all claims against the company. The two parties agree to not disclose the confidential aspects of the settlement and to never talk ill of each other. The payments to Mr. Gilbert break down as follows:
March 11, 2016 $500,000
May 11, 2016 $200,000
March 11, 2017 $100,000
March 11, 2018 $100,000
March 11, 2019 $75,000
March 11, 2020 $75,000
Total $1,050,000
I view this settlement as a win for IEC. Mr. Gilbert's employment contract did not provide for termination with cause without first giving him the ability to correct deficiencies in his performance. Obviously, the whole point of Vintage Capital's proxy fight was terminate Mr. Gilbert as CEO and Chairman. They were not going to give him any opportunity to turn around the company. So the fact that IEC will pay less than Mr. Gilbert was seeking and the payments will be spread over the next four years is a win for shareholders. We do not know exactly how much the company has already provisioned for this settlement, however we know that selling and administrative expenses increase by $800 thousand during the first quarter. IEC stated the increase was due primarily to higher bad debt expense, $200 thousand for additional severance due to the departure of one senior executive and additional provisions made for former employees as well as higher legal and audit expense, related to the debt financing and employment related matters. In FY2015, the company recorded $900 thousand in severance related costs. Hopefully the majority of that was for Mr. Gilbert. We will know more when Q2 results are released in May. Regardless, while severance costs will continue to impact near-term operating results, these distractions should now all be in the past and their impact on earnings will lessen over the next two quarters. Attention should now turn to IEC's ongoing earnings power, which will substantially be used to reduce debt and drive shareholder value.
Earnings Power
Here is IEC's first quarter income statement, as reported.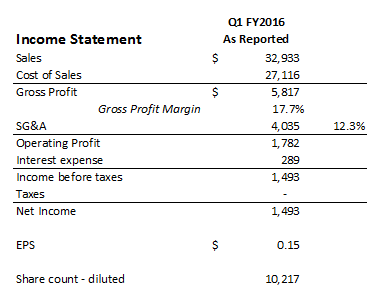 The company earned fifteen cents per share on sales of nearly $33 million. This includes an abnormal positive adjustment to gross margin and elevated SG&A expenses due in large part to the change of control last year. The company has historically had SG&A expenses in the 10.5%-11.5% of sales range. The company is showing no income tax expense because of past operating losses. The CFO does not believe the company will have to pay any material taxes for at least the next two years. Therefore, I will exclude them. Adjusting for the above items, normalized operating performance would look like the following: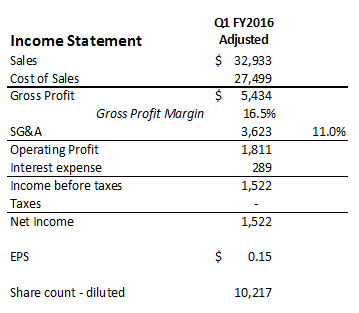 The adjustments to gross profit and SG&A largely cancel each other out. So this level of profitability is a pretty good run-rate for the company going forward. The following are my estimates for earnings power over the next two years.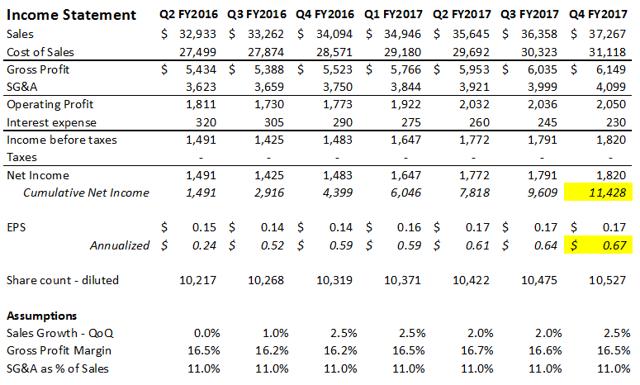 While the future is never certain and results are likely to be lumpier than presented here, I think overall these results are achievable. The legacy legal issues should be largely behind the company after the current quarter. All earnings will be used to reduce debt, so it is possible that outstanding debt could be less than $20 million by the end of FY2017, a 33 percent improvement from today. The forward EPS run-rate today is at least $0.60/share. If IEC can maintain double-digit top-line growth with stable margins in the 15%-16.5% range, the stock is quite undervalued at today's earnings multiple of 7.5x. As the company reduces debt, the risks to the equity subside and the multiple should expand, particularly if top-line growth continues in the 7-12% range. Any improvements in working capital, which I'm not including even though the company has stated this is a focus of the company, will only improve cash flow. I also assume that the non-cash depreciation expense of $3.5 million will largely be offset by capital expenditures as per company guidance of $3 million-$3.5 million in capex this year.
My price target for December 2016 is $5.80/share or 27% higher than today's stock price. That assumes $6 million in debt reduction by year-end, an earnings run-rate of at least $6 million and a 10x P/E. I believe these targets are achievable as one-time SG&A expenses subside, continued progress is made on organic sales growth and a continued strong gross margin drives cash flow.
In conclusion, I believe IEC is significantly undervalued today as the market takes a wait and see approach to the recovery. After seeing the performance of IEC while Jeff Schlarbaum was company president and now with him as CEO, I am confident in his ability to return IEC to industry leading performance. I still believe the ultimate goal is to sell the company at a nice premium after debt is reduced to a manageable level and operational performance improves and is maintained. 10% owner Vintage Capital (two board seats) continues to add to its position, as do other board members. Vintage also owns 40 percent of electronic component manufacture API Technologies (NASDAQ:ATNY) which just announced a sale of the company to a private equity firm for $2/share. Incidentally, Vintage likely had a cost basis greater than $6/share, so they took a bath on that stake. I don't expect that to be repeated with IEC. Buy IEC today for a 27% return in 2016.
Disclosure: I am/we are long IEC.
I wrote this article myself, and it expresses my own opinions. I am not receiving compensation for it (other than from Seeking Alpha). I have no business relationship with any company whose stock is mentioned in this article.
Editor's Note: This article covers one or more stocks trading at less than $1 per share and/or with less than a $100 million market cap. Please be aware of the risks associated with these stocks.