If you are reading this article, you probably are familiar with the NorthStar saga.
NorthStar Realty Finance (NYSE: NRF) spun-out its European assets (net of healthcare) into NorthStar Realty Europe (NYSE: NRE) on October 31, 2015.
NorthStar Europe and NRF are both externally managed by NorthStar Asset Management (NYSE: NSAM).
The first NorthStar Europe earnings conference call was hosted on March 22, 2016, by CEO Mahbod Nia and CFO Scott Berry. NSAM executives did not participate in the call.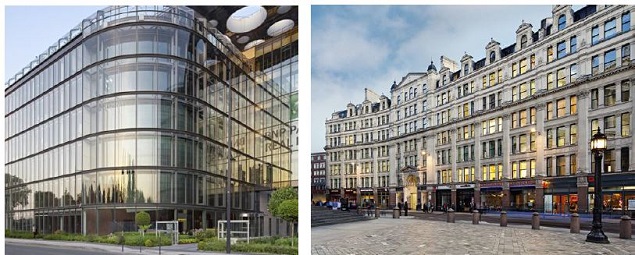 Source: NRE - March 2016 presentation
The stated goal of the NRE management team based in London and Luxemburg was to close the valuation gap between the recently completed Cushman and Wakefield portfolio appraisal.
NorthStar - Recent History
The share values of all of the publicly traded NorthStar entities have fallen significantly since the NRE REIT-spin.
This is exactly the opposite of what NSAM management had suggested would happen since high-quality European assets owned by European REITs typically trade at higher multiples than U.S. REITs.
The sell-off of the NorthStar REIT shares is in large part a reflection of Mr. Market's lack of confidence in current management. The egregious compensation awarded to NorthStar executives for engineering this debacle is certainly another sore point for shareholders.
Adding insult to injury, NSAM management silently stood by while the NRF and NRE share destruction was taking place.
Tale Of The Tape - Mr. Market Yawned
Since NRE began trading in November 2015, shares have lost over 25% of their value.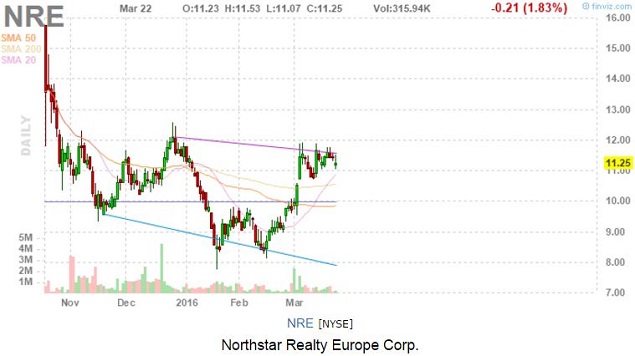 Since the NRE REIT spin, NorthStar Realty has traded in a range of $7.81-$15.78 per share.
Remarkably, management did not take advantage of the single-digit share prices earlier this year when making share repurchases.
The 3.7 million shares repurchased for $41.4 million (under the current $150 million per share authorization) averaged $11.19 per share. It is just amazing to me that management missed the opportunity to repurchase at ~20% lower pricing during much of January and February.
However, NorthStar shareholders are used to inaction and missed opportunity by external manager NSAM, so this should not come as a total surprise to investors.
NorthStar Realty Europe - Big Picture
The existing NRE portfolio of assets is scattered across the European landscape and does not have scale in many of its markets.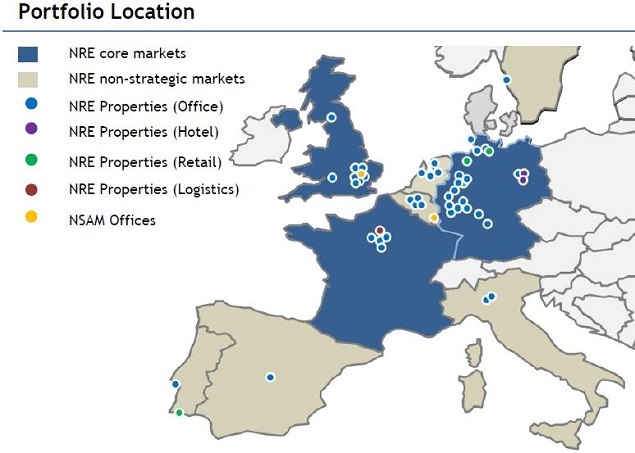 Source: NRE - Q4 2015 Supplemental (all slides)
Notably, there is a single logistics facility outside of Paris, which is 50% vacant and accounts for 4%-5% of the total portfolio occupancy by square meter (SM).
For readers on the U.S. side of the pond, 1 SM = 10.76 square feet (SF).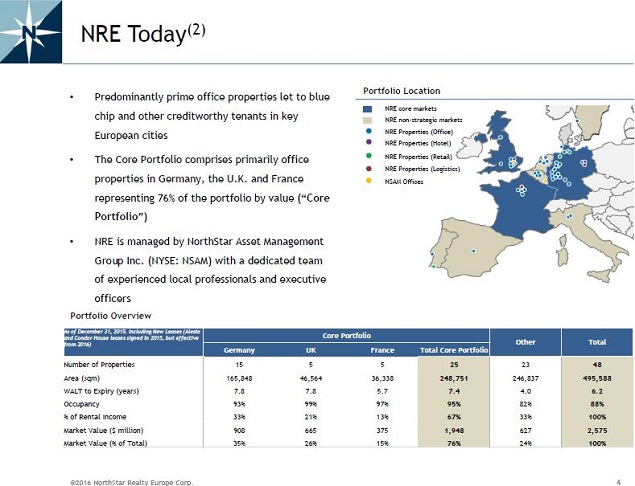 I think that many investors were surprised to learn that 24% of the NRE portfolio is now classified as being non-core.
Actually, this could turn out well if these assets were underwritten conservatively. By selling off the assets that aren't trophy office properties located in Germany, UK and French core markets, NRE will generate cash which can be used to repurchase shares.
During the earnings call Q&A, neither the CEO nor CFO was able to answer an analyst question regarding the cap rates for the three non-core properties sold in December.
Frankly, I'm not sure it could be possible not to know that information. So much for minding the store.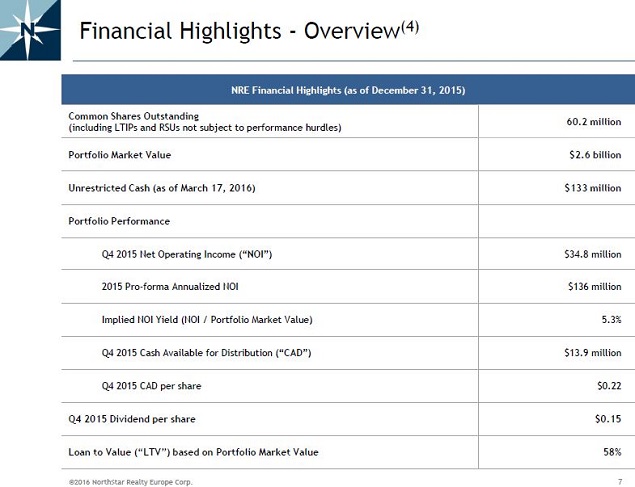 Based upon an $11.25 per share recent close for NRE shares, that is a 62.5% discount to the $18.00 implied NAV per share, based on the Cushman & Wakefield appraisal assignment.
I would love to see that appraisal in order to review the limiting conditions and methodology employed. That just isn't going to happen.
However, given the breadth of asset classes and pan-European scope of the assignment, it would be reasonable to expect there will be some deviation between the appraisal and the purchase offers.
There will certainly be transaction costs and fees associated with the sales. My sense is that investors can create a margin of safety by discounting the $18.00 NAV by 20% to account for the inevitable shrinkage in net proceeds when you are dealing with NSAM.
Notably, $14.40 per share still represents a 28% upside from the $11.25 recent close and a 33% potential 12-month total return, including the 5.2% annual yield.
There appears to be a margin of safety in holding on to NRE shares at current levels.
Recycling Non-Core Assets
Management reiterated on the Q4 2015 earnings call share repurchases represented the best use of capital from recycling initiatives of non-core assets. That is good news for shareholders.
"As of December 31, 2015, the portfolio had a combined lettable area of approximately 495,000 square meters, an average occupancy of 87%, and remaining weighted average lease term of approximately 6 years.

Our core portfolio has a value of approximately $2 billion and comprises 25 properties in key cities within our core markets of Germany, the United Kingdom and France represents 76% of the overall portfolio by value and generates approximately two-thirds of the total rental income. It has a combined lettable area of approximately 249,000 square meters, an average occupancy of 92%, and a remaining lease term of approximately 7.1 years as of December 31, 2015."
The $2 billion estimate for the remaining 2.68 million SF of office equates to an average price of $746 per square foot for the remaining Class-A office portfolio.
So, at this point in the cycle, is there more upside risk or downside risk in these assets? If there are any EU commercial real estate experts out there, please chime in on the comment thread.
Show Me The Money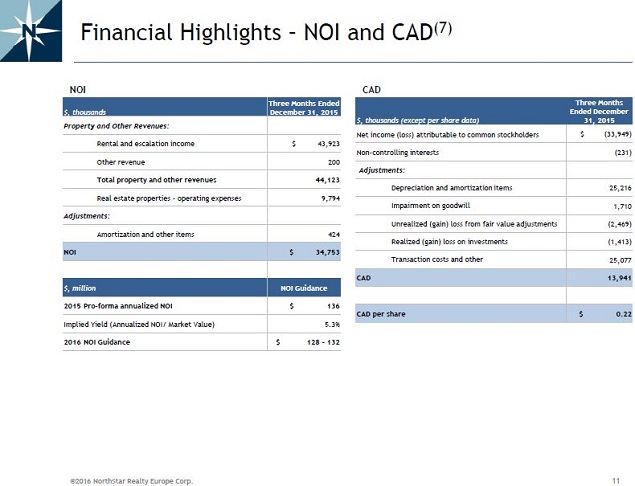 The mid-point for 2016 NOI guidance is about $9 million less than annualizing the Q4 2015 NOI figure.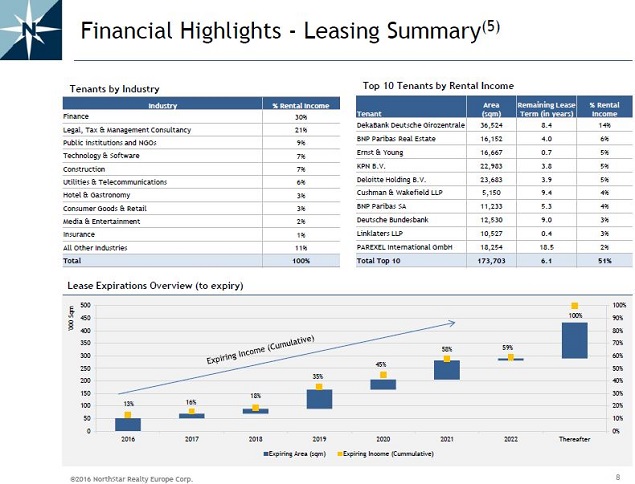 Leases are consistently rolling over in a relatively weak EU economy. If this is truly a value-add portfolio, the good news is that 13% of leases are expiring in 2016 alone.
Ernst & Young and one smaller tenant are vacating this year. Management said that this was underwritten in the purchase and would ultimately result in a higher rent roll.
There are very few long-duration leases so the vast majority of leases are rolling over during the next few years.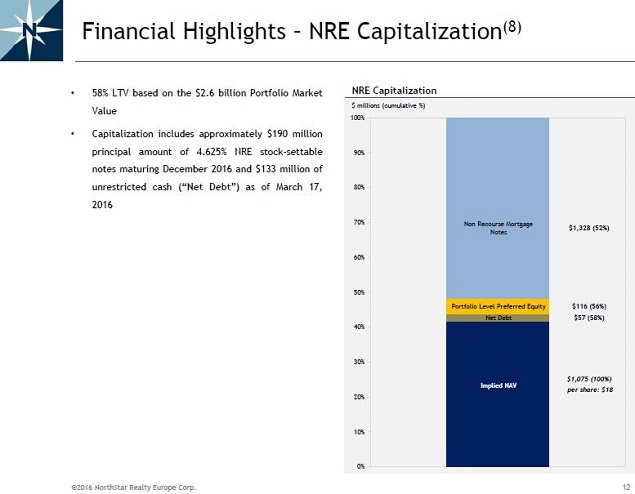 Management expects to operate with 40%-50% leverage moving forward after the non-core assets are sold.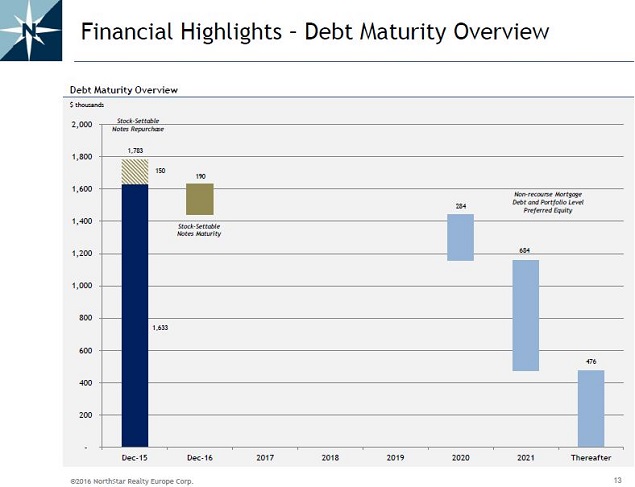 Management said on the call that they expected to buy out the remaining stock-settable debt for cash.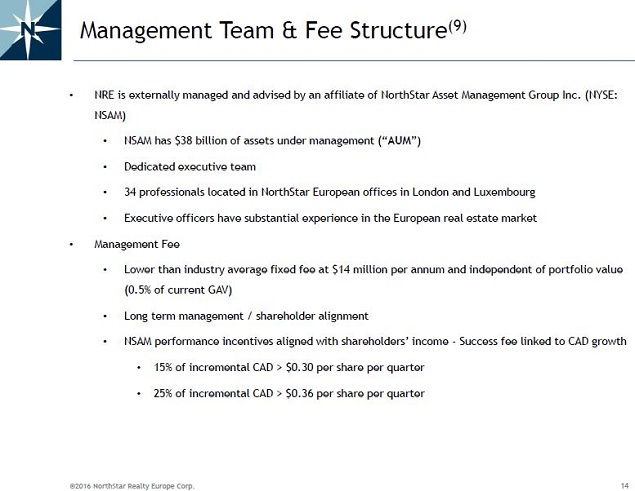 On a cash basis, the $14 million NSAM base management fee equates to 10.76% of $130 million NOI forecast for 2016. It is independent of portfolio value and the portfolio is shrinking. Just how aligned is that?
Not My Favorite Asset Class
In general, I'm not a huge fan of the multi-tenant office asset class. Office buildings can be capital intensive to own as tenants expect the landlord to foot the bill for tenant improvements. Leasing commissions are paid out to brokers.
One new office building of scale in any given market can siphon off top tenants, impacting occupancy and distorting the market rents for years. I used to develop office buildings - this is a lived experience.
The saving grace of NRE owning high-end properties in high-barrier to entry capital and gateway European cities simply makes the portfolio palatable, but certainly not exciting.
Keep in mind that job creation is the engine that fills office buildings.
Bottom Line
This was the first NRE conference call and management appeared to be focused on creating shareholder value by selling assets to buy back shares.
However, when you start adding up G&A expenses, along with the NSAM $14 million per year fee, it totals just over 13 percent. That is based upon the $34.8 million NOI for Q4 2015. It is a staggering number.
NRE management has guided to about 6.5% lower NOI for 2016 due to tenants vacating. This does not include any NOI reduction as non-core assets are sold.
NorthStar Realty Europe must either get much larger (which I view as unlikely), be merged into a larger entity or liquidate the entire portfolio.
Good luck with that when NRE is viewed as a cash cow by its NYC-based puppet-masters external management.
Investor Takeaway
I would not be a seller of NRE shares received in the NorthStar Realty Finance REIT spin at the current low levels.
However, I certainly would not be a buyer of NRE shares and volunteer myself to get between the dog and the fire hydrant.
I do not expect to see an $18.00 per share valuation any time soon. That is simply fool's gold. There are too many layers of management between NorthStar Asset Management and the 34 dedicated NRE employees in Europe.
My sense would be to sell out NRE shares as they approach $14.00 per share. In the meantime, you are being paid 5.2% to hold your nose while you wait.
NorthStar Realty Finance shares pay a higher yield and have more embedded upside potential. I have written several SA focus articles during the past few months which can be viewed under the NRF ticker symbol.
I relentlessly hunt for diamonds in the rough and rising stars, in addition to closely following data centers, covering REIT blue-chips, and breaking news. Please consider following me as a Seeking Alpha author if you would like to be notified when my future articles are published.
Disclosure: I/we have no positions in any stocks mentioned, but may initiate a long position in NRF over the next 72 hours.
I wrote this article myself, and it expresses my own opinions. I am not receiving compensation for it (other than from Seeking Alpha). I have no business relationship with any company whose stock is mentioned in this article.