Chipotle: Down, and you should get out.
Chipotle is a popular food chain in America, and with low stock prices many may consider them to be a good buy. With the recent E Coli reported from the beloved chain, a piece of the Chipotle stock may not be as appetizing at it seems. Chipotle Mexican Grill, Inc. (NYSE: CMG) was at its all time high from August 2015-October 2015, at prices between $722 and $750 a share. In late 2015, news broke that beloved Chipotle had multiple cases of an E Coli outbreak, and investors took notice. The stock dropped as low as $413.29 in January of 2016, and still has not made a full recovery. So if you are still holding onto that once beloved Chipotle stock, it may be time to let go.
Although Chipotle has made a cautious effort to restore their name, it may be too late. In February 2016, Chipotle reported that same-restaurant sales fell 26.1%, and 24.4% through the first two weeks of March. Chipotle has tried to rebuild customer loyalty, by sending out free burrito coupons, but it was not as successful as they believed.
With competitors like Qdoba Mexican Grill and Moe's Southwest Grill, some of Chipotles once loyal customers, including myself, may be gone for good. Qdoba and Moe's provide the same experiences and products as Chipotle, at the same reasonable price. In today's world of social media, recovery from food safety issues is unprecedented.
While Chipotle will most likely recover from this, in the stock market, you could be waiting until mid to late 2017 for it to steadily increase and potentially return to its old powerhouse self.
Many companies have dealt with food related health problems in the past. In 2006, Taco Bell also had an outbreak of E Coli, most relevant to Chipotle. In 1993, Jack In the Box was serving undercooked hamburgers, causing many customers to get sick. Yum China and McDonald's also had problems with mishandling of food in 2014. Below is a look at same-store sales with relation to the food related problems.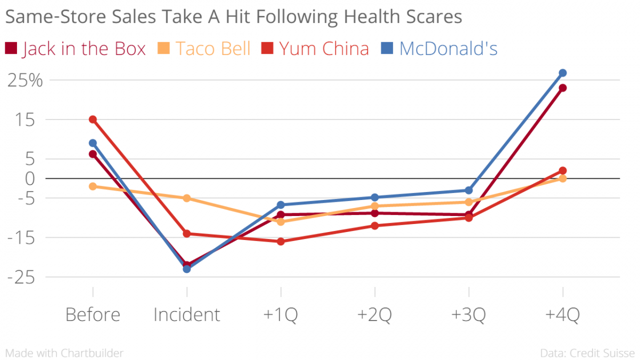 (Source: forbes.com)
It took until the 4th Quarter for these stores to get back the sales they had before the incident. With Chipotle having problems in stores across 9 states, however, we may be in for a longer wait, but only time will tell. Taco Bell, who had the closest related incident, suffered for months following its E Coli outbreak in 2006. 71 people were reported to have been affected, in 5 states, by the shredded lettuce. Chipotle, on the other hand, affected 52 people, in 9 states. Below is a look at the Taco Bell comps fall after their E Coli outbreak, and it can be used to forecast how long Chipotle will take to rebound: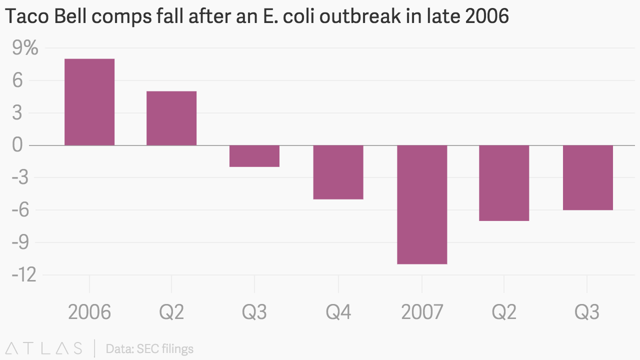 (source: qz.com)
In 1993, Jack in the Box was also affected by an E Coli outbreak. It was caused by undercooked hamburgers and affect around 700 people at the time. Before the outbreak, Jack in the Box was trading at around $5.06 per share. For roughly the next 3 years, their shares stayed below $5.00 per share until finally seeing an increase again in September of 1996.
Conclusion:
Once beloved Chipotle has seen a dramatic drop since it's E Coli outbreak in late 2015. While its stock will not permanently stay as low as it is, it will take a while for it to increase again. With alternative like Qdoba and Moe's, who have similar items and no food related issues, Chipotle may have a tough time bringing back their once loyal companies.
Disclosure: I/we have no positions in any stocks mentioned, and no plans to initiate any positions within the next 72 hours.
I wrote this article myself, and it expresses my own opinions. I am not receiving compensation for it (other than from Seeking Alpha). I have no business relationship with any company whose stock is mentioned in this article.