As Tesla Motors (NASDAQ:TSLA) gets closer to unveiling its most important vehicle yet, the Model 3, the company continues to undergo massive executive upheaval. This week, another key leader has left the company, following in the footsteps of another recent departure. If Tesla is such a transformative and wonderful company, why are so many executives leaving?
This week, it is Tesla's Executive VP of Finance and Worldwide Controller, Michael Zanoni, who is returning to Amazon (NASDAQ:AMZN). On his LinkedIn profile, the departing Zanoni had this description for his position with Tesla.
Responsible for the global accounting, financial reporting, SEC and technical accounting and finance operations teams based in China, the Netherlands and the US.
The revolving door in Tesla's finance department has continued after last year's CFO resignation. Additionally, we recently saw Tesla's VP of Global Communications depart, a key position given the company's limited marketing budget. TSLA gets a lot of its coverage through the media, so having the media head leave before the company's biggest product unveil was very curious.
While Zanoni is leaving to return to Amazon, I wonder if this had anything to do with Tesla's recent 10-K debacle. The supercharger network was vastly overvalued in the annual filing, which the company later corrected, but tried to brush off as nothing and buried the news late on a Friday. While we'll probably never find out, part of me wonders if Zanoni became the fall guy for the 10-K mistake. If someone needed to be held accountable, it would have looked very bad if the CFO was forced out after less than a year on the job.
As another key Tesla executive departs, again with regard to finance and accounting, analysts are getting more and more worried about this year's progress. In the chart below, you can see how non-GAAP EPS estimates continue to come down, now at the lowest point that I've seen. This follows a dismal 2015 where Tesla was supposed to show a significant improvement in non-GAAP profitability. In the end, quarterly losses increased sequentially, with the company losing $2.30 a share on a non-GAAP basis in the end. If everything is so great at Tesla, why is the executive exodus continuing?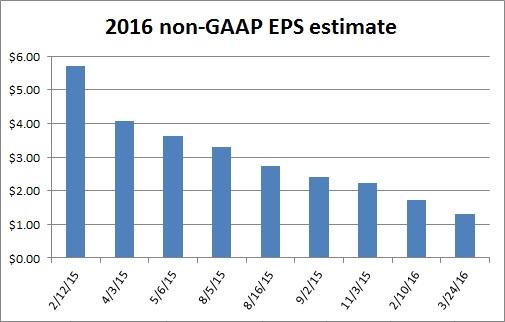 (Source: Yahoo Finance analyst estimates page)
Disclosure: I/we have no positions in any stocks mentioned, and no plans to initiate any positions within the next 72 hours.
I wrote this article myself, and it expresses my own opinions. I am not receiving compensation for it (other than from Seeking Alpha). I have no business relationship with any company whose stock is mentioned in this article.
Additional disclosure: Investors are always reminded that before making any investment, you should do your own proper due diligence on any name directly or indirectly mentioned in this article. Investors should also consider seeking advice from a broker or financial adviser before making any investment decisions. Any material in this article should be considered general information, and not relied on as a formal investment recommendation.