Concordia Healthcare (NASDAQ:CXRX) had its earnings conference call this morning. Results were mixed. EPS estimates for Q4 2015 were $1.30 and they came in at a miss of $1.24.
The quarter posted an expected revenue loss, due to expenses of the recent purchase of Amdipharm Mercury Company (AMCO) which should have been fully expected, as well as the financing charges of early repayment of debt related to the acquisition.
EPS estimates for 2015 year were $4.36 and came in at $4.38. YOY revenue growth was $289 million, an increase of 276% Adjusted EBITDA growth of $206 million, an increase of 347%.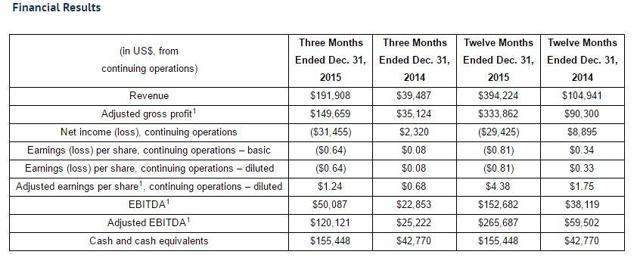 The initial market reaction on earnings release was that shares were up 1% in aftermarket trading, but it will be interesting to see how the market digests the news this morning. Will people see only the earnings miss or will they dig in and see the possibilities for this fast-growing company? Only time will tell.
Concordia is now divided into new segments reflecting the significant changes and acquisitions (Covis and AMCo) at the company during 2015. There are three operating segments: North America Division (formerly the Legacy Pharmaceuticals Division) which holds the primarily US focused brands, International Division, which is essentially AMCo, and the Orphan Drugs Division, which is primarily Photofrin.
2016 guidance was reaffirmed and has remained unchanged from its original announcement on October 26th, 2015. They expect revenue will be between $1B and $1.06 Billion. EBITDA from $610 to $640 Million and earnings per share from $6.29 and $6.77. It has been reaffirmed multiple times, including the next earnings announcement on November 12, 2015 as well as company presentations February 16th, 2013 at the CIBC Institutional Investor Conference and the RBC Capital Markets Global Healthcare Conference, February 24, 2016.
The very experienced leadership team is growing again, with Patrick Vink joining the Board of Directors. He has much experience working in the industry in senior positions with Mylan (NASDAQ:MYL), Biogen (NASDAQ:BIIB), EVP & COO of Cubist (NASDAQ:CBSTZ) and as well as currently on the board of Micreos, Acacia, and Spero.
Recently, on February 16, 2016, it was announced that Edward Borokowski, another with significant industry-experience joined the management team as Executive Vice President.
A large team was on hand including: Mark Thompson, Founder and CEO, Adrian de Saldanha; Chief Financial Officer, Wayne Kreppner
President & Chief Operating Officer; Edward Borkowski, Executive Vice President; John Beighton, President of AMCo as well as several others that I did not catch the full names (and would not want to insult by not getting fully correct along with position).
Mark Thompson began the call with a look back at the last year. "We began the year as a six product company in one main jurisdiction, the United States.... 2015 had incredible growth.... The goal was to diversify and build international platform. I am very pleased to say we have achieved both."
This is still a very young company. New acquisitions were significant last year and only this year has there been a full year of income from their lead product, Donnatal. This quarter was the first full quarter that included AMCo's earnings. It was said that plans are on track for integrating AMCo and that this has been very positive.
Edward Borkowski said he was very excited to be part of this high-growth company that has accomplished so much in just one year. Growth is expected to continue in high single digits for North America and high-teens for International.
Adrian de Saldanha discussed the supply channel difficulties with Plaquenil. These were one-time issues with the manufacturer that have been fully resolved. They affected Q3, going into Q4, but are now fully supplied and earnings will back on track for Q2.
The question section of the call was more interesting and illuminating than usual. The replay of the call can be accessed soon. Alan Ridgeway from Scotiabank, said AMCo had stronger and higher than expected margins and asked if that was expected to continue. Adrian expect that the blended margins would be 79%. EBITDA margins are 50% and are expected to be 60% so some growth is available there.
A representative from RBC asked about Forex. The average exchange rate wash: 1.475, but it was also mentioned that Fx is usual a wash. Most costs for AMCo are in Euros and sales are in a wide variety of currencies that fluctuate.
Martin Landry asked about the pipeline of product launches, which is a challenge for the management team to give information about without giving secrets away to competitors. Constantly launching products on a monthly basis and expect 60 launches over the next few years. Products are often developments of the existing portfolio, changes in strengths and formulations. Growth is expected to be a 50/50 mix of price changes and new products.
David Martens asked about the seasonality of products in AMCo as Q4 was ahead of expectations. John Beighton said that there is no seasonality and that they have a loyal group of patients that need the products, so levels of scripts stays fairly flat. They do not change with seasons such as the flu season.
Of course, the pricing issue came up, but this time only briefly with the second question from David Martens. Concordia has had no push back on pricing. Mark Thompson addressed this saying, "I had dinner on Monday night with a couple of long-time US pharma veterans. We talk about pricing at length. Quite honestly this whole debate is a political issue not an industry issue. Politicians will continue to talk about this unfortunately for the rest of the election cycle. Quite honestly I don't think anything will come of it. We have never been price leaders and we do not hold anyone hostage for products so we are very comfortable with our position."
Prakash Gowd from CIBC asked about the revenue from the AMCo acquisition. The response was that, "The business performed very well in Q4. We are very comfortable with its growth rate and all the things that are happening. We did this deal to purchase AMCo very specifically to buy this kind of asset - a strong growing asset that gives us international reach. We are very, very pleased with how it is performing." They are impressed with John and his team and said they have done a fantastic job.
Mark Thompson's conclusion: "We have never been better positioned...the dislocation in the pharma market is fantastic. We have a platform that stands alone... I'm not looking at this business as a quarter over quarter business. I'm looking at this business over years to come.... We are uniquely positioned in that time to pick up on that dislocation. I have never been more excited about our business, there are more opportunities than we have ever had. Looking around the table we have a fantastic team here and a fantastic team around the world..I think we stand alone and really our future has never been brighter."
He thanked employees and shareholders, " who have stood by us in the face of the storm we have going through in the last almost seven months now. I believe the end is in "sight and those of you who have hanging in there will be rewarded."
Concordia is currently my largest holding though the majority of that holding is planned to be temporary, especially in comparison to most of my holdings. I thought that if the earnings showed weakness I would sell part of the holding for a small loss, and considered selling one-quarter of my holding when it was down 5%, (at point of sending in the article it is now 10%), but after being on the call, I have decided to just hold tight for a while. It is guaranteed to be a bumpy ride, but I look forward to seeing what happens with Concordia as they work through the current industry issues and get the opportunity to realize their strategy of using AMCo as an international product platform.
Disclosure: I am/we are long CXRX.
I wrote this article myself, and it expresses my own opinions. I am not receiving compensation for it (other than from Seeking Alpha). I have no business relationship with any company whose stock is mentioned in this article.