Almost a month ago, I published an article on Memorial Production Partners (NASDAQ:MEMP) that looks at the company under what was then the current energy environment. In that piece, I showed that, with oil at $31.21 per barrel and natural gas at $1.699 per Mcf, the business should still be cash flow positive through 2018 (even if it pays out distributions at current rates) but that 2019 would result in negative cash flow if prices don't rise materially. Now, however, oil prices are 27.9% higher and natural gas prices are 7.5% higher so I wanted to see what the picture looks like with drastically-improved pricing. In what follows, I will dig into the data and tell you why I believe Memorial offers investors attractive prospects moving forward.
Cash flow is strong... for now
In this piece, I've decided to keep pretty much everything the same compared to my last analysis on Memorial. The reason behind this is that no better guidance has been given by management than what I've published previously (which also used management's latest expectations). The only change to my work on that front relates to energy prices. Today, I'm using the assumption that oil prices moving forward will average what they are as of the time of this writing; oil at $39.91 per barrel and natural gas at $1.826 per Mcf.
Although prices are certain to fluctuate materially in the months and years to come, using the current environment gives a realistic expectation that conforms with projection bias, the notion that people tend to think that the future will look very similar to how it looks today. Hopefully (and likely in my opinion) oil prices will be far higher in the years to come than they are right now but forecasting this is wishing for something with little basis beyond speculating while expecting prices to be materially lower than they are right now is probably shortselling the changing dynamics of the market.
In the table below, you can see what my projections show for Memorial between now and the end of 2019 under current prices, production levels, and cost-structure. In it, you can see that, before factoring in distributions estimated to be $33.20 million per year, Memorial should generate cash flow this year of $163.39 million. This is a great deal of cash flow for a company whose market cap stands at just $186.8 million. After distributions, this is brought down to a still-hefty $130.19 million. Interestingly, these numbers are actually lower than what Memorial should generate with the previous lower prices due to the nature of strong hedging and the effects of taxation. Under my previous article, these numbers should be $163.96 million and $130.76 million, respectively.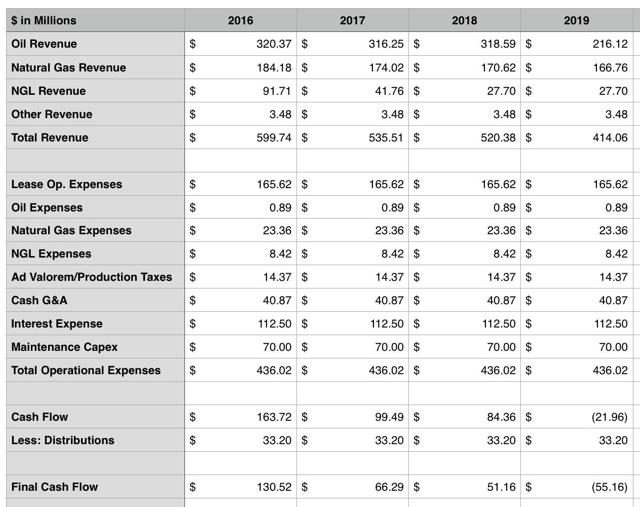 After 2016, though, the picture begins to change drastically. As a result of higher prices and the fact that hedging will roll off a bit each year, Memorial's cash flow should be $105.88 million in 2017 with distributions bringing that down to $72.68 million. This compares favorably to the $99.74 million and $66.54 million, respectively, that was estimated previously. 2018's numbers should fall further still but the company should still have positive cash flow of between $58.48 million and $91.68 million that year. It's only in 2019 when things start to look really bad. That year, without paying out distributions, Memorial should see positive cash flow of just $1.54 million, while distributions will bring that down to -$31.66 million.
What Memorial really needs to be focusing on right now
Overall, the picture for Memorial looks really positive if you look solely at cash flow data. In my last piece on the topic, I did highlight my concerns regarding the company's credit facilities and how lenders could add significant risk into the equation. My goal here is not to rehash that since I believe my overall thoughts still hold, especially when it comes to the value of hedges Memorial has in place, which should placate its lenders for a while. There is, though, one other thing I believe Memorial should be focused on; its poor differential for oil.
At this moment, Memorial actually has a lower cost structure, for the most part, than many of its peers, as you can see in the table below, which looks at Linn Energy (NASDAQ:LINE) / LinnCo (NASDAQ:LNCO), Breitburn Energy Partners (NASDAQ:BBEP), and Mid-Con Energy Partners (NASDAQ:MCEP) compared to Memorial when it comes to lease operating expenses, cash general and administrative costs, and interest expense on a per boe (barrel of oil equivalent) basis. You should know that not all of these metrics may be perfectly comparable due to the nature of classification (for instance, I included processing and transportation costs into lease operating expenses for Memorial and Linn since neither Breitburn or Mid-Con had separate categories for those items). Overall, the cost structure looks quite positive but what isn't good is the fact that Memorial doesn't get paid well for its products.

You see, according to management, the amount Memorial gets paid for its crude is generally around $5.50 to $6.25 per barrel less than the current market price. In general, it's common to see some price differential but it's not always this high. In my analysis, I'm using the mid-point of $5.875 per barrel for Memorial but for a company like Breitburn it's about $4.40. What this suggests is that, for ever 1 million barrels of oil produced, Memorial makes around $1.48 million less than a barrel being extracted from Breitburn's properties. In a call with investor relations, they've mentioned that the lift of the export ban has resulted in some of this narrowing but one key move might be for management to consider allocating its resources toward developing properties in other regions (perhaps using asset swaps) in order to achieve lower differentials.
In addition to focusing on other cost categories, like lease operating expenses and interest expense (the latter of which can be reduced easily by allocating excess cash flow toward debt reduction), Memorial should be searching for ways to narrow this differential down to some extent. The reason behind this is that, among other costs, this is one item that's going to make it hard to come back unless we see much, much higher energy prices than we have today. For instance, if natural gas prices don't change from where they are today, the business would need to have oil prices at $81.80 per barrel in order to break even without paying out distributions in the event that it had no hedges in place. This is likely too high to be realistic over the next few years.
Takeaway
At this moment, I really like Memorial because of the company's strong hedges and stability. Certainly, there are some issues that need to be addressed, such as concerns over its credit facility and its cost-structure, but these aren't issues that are so problematic that I believe they will cause a material amount of risk right now. Having said this, though, management does need to tackle these concerns in an attempt to improve operations and decrease risk or, at some point, that level of risk will rise materially.
Disclosure: I am/we are long MEMP, BBEP.
I wrote this article myself, and it expresses my own opinions. I am not receiving compensation for it (other than from Seeking Alpha). I have no business relationship with any company whose stock is mentioned in this article.