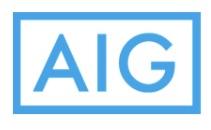 American International Group (NYSE:AIG) currently makes up ~7% of the R.I.P. portfolio, and I firmly believe that the global insurer's stock is still attractively valued. The company has made some very shareholder-friendly decisions over the last year, and the strong 2015 stock performance (up ~10%) was largely result of management returning a significant amount of capital to shareholders.
AIG shares are down ~12% on a YTD basis, which compares poorly to the company's peers --MetLife (NYSE:MET), Prudential (NYSE:PRU), and Hartford Financial (NYSE:HIG).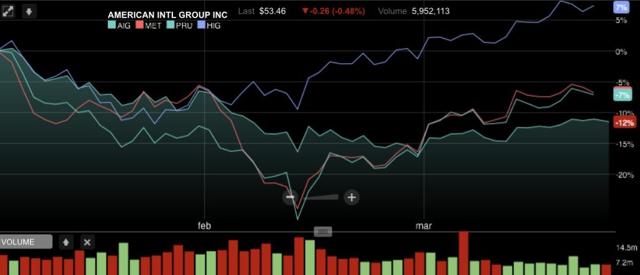 (Source: Nadaq.com)
AIG's stock performance is slightly different if you widen the lens, as shares are outperforming all peers, with the exception of HIG, over the last year.

(Source: Nasdaq.com)
So, where does the stock go from here? In my opinion, it will largely depend on the company producing improving operating metrics. Management will now need to adjust the focus from returning capital to shareholders to improving operations if we want to see the stock price back into the $60's.
Being A Shareholder-Friendly Company Is Nice, But It Will Only Get You So Far
As I mentioned above, AIG has made some shareholder-friendly decisions over the past year. In late 2015, the company increased the quarterly dividend by 124% (from $0.125 to $0.28) and then recently increased it again by another 14% (from $0.28 to $0.32).
In addition, the company has been buying back shares hand over fist over this same time frame. For example, the company repurchased $10.7b worth of shares in 2015 and another $2.5b through early February 2016. Furthermore, the company also announced a commitment to return $25b of capital to shareholders over the next two years. Remember, AIG only has a market cap of ~$61b.
This is all great news, right? Yes, great news except for the fact that operations have been deteriorating over the same period of time.
Q4 and Full-Year 2015 Results
AIG reported poor results for the last quarter of 2015, as the company saw YoY declines in both its top-line and bottom-line. For Q4 2015, AIG reported operating revenues of $14.1b (compared to $15.0b at Q4 2014) and an after-tax operating loss of $1.3b (compared to after-tax operating income of $1.3b at Q4 2014).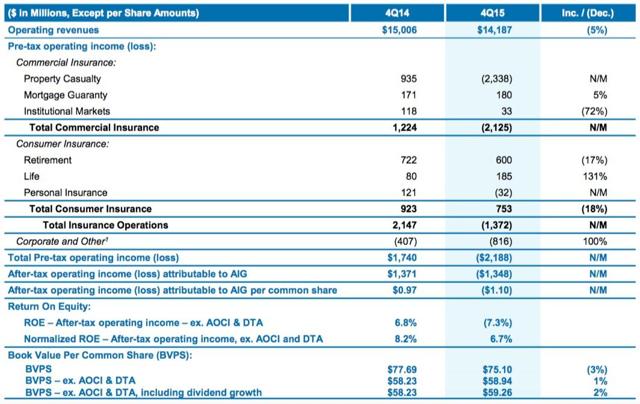 (Source: Q4 2015 Earnings Presentation)
It should be noted that the significant swing to a Q4 2015 after-tax loss was largely a result of a negative one-time charge --see further detail on this item below.
For full-year 2015, AIG reported after-tax operating income of $2.9b on total revenues of $58.3b. This compares to the after-tax operating income of $6.6b on total revenues of $64.4b for full-year 2014.
AIG "Strengthens" Loss Reserves
In late January 2016, AIG announced that the Q4 2015 Non-Life loss reserve analysis had been completed and that the company would be strengthening the reserves by the tune of $3.6b (pre-tax). I highlighted the same type of issue in a previous article when it was disclosed that the IBNR, or incurred but not reported, reserve was adjusted due to the company being under reserved.
These type of adjustments to reserves are not out of the norm for insurance companies. However, the $3.6b pre-tax charge for Q4 2015 is concerning due to the high adjustment amount and the frequency of the large reserve adjustments that have been made in the recent past. Investors must ask themselves at what point does a one-time charge that occurs on a normal basis become part of the operational figures?
In my opinion, management wanted to flush out any possible adjustments in order to begin the new fiscal year, or new era (i.e. activist on-board), with a fresh start. The pre-tax charge is not enough to make me want to sell my shares (for the time being) but it is something that I will pay close attention to going forward.
Bottom Line
Shares of AIG are underperforming the market and the company's peers so far in 2016, but I have no plans to further reduce my position due to several factors. First, the company is attractively valued as shares are trading at .9x adjusted book value (book value excluding AOCI & DTA). Additionally, the activist added to the board will provide the needed pressure on management to either improve operations or make alternative strategic decisions (i.e. sell or spin-off non-core assets).
The increased dividend and the commitment to buying back shares have been nice, and necessary, but it is now time for the company to improve the operating results. Until then, shares will float around the $50-$55 range.
If you found this article to be informative and would like to hear more about this company or any other company that I analyze, please consider hitting the "Follow" button above.
Disclaimer: This article is not a recommendation to buy or sell any stock mentioned. These are only my personal opinions. Every investor must do his/her own due diligence before making any investment decision.
Disclosure: I am/we are long AIG.
I wrote this article myself, and it expresses my own opinions. I am not receiving compensation for it (other than from Seeking Alpha). I have no business relationship with any company whose stock is mentioned in this article.