Introduction
Thomson Reuters (NYSE:TRI) is one of the largest information providers in the world, and as this is quite a capex-light business model, this company is destined to generate a substantial amount of free cash flow. That indeed seems to have been the case in 2015 as well, but I mainly wanted to find out if Thomson was still 'overspending' on share buybacks. I absolutely don't mind when a company deploys cash to buy back its own stock, but I think a) a company should only do so when it's undervalued and b) it should do so within the limits of its own cash generating capacity.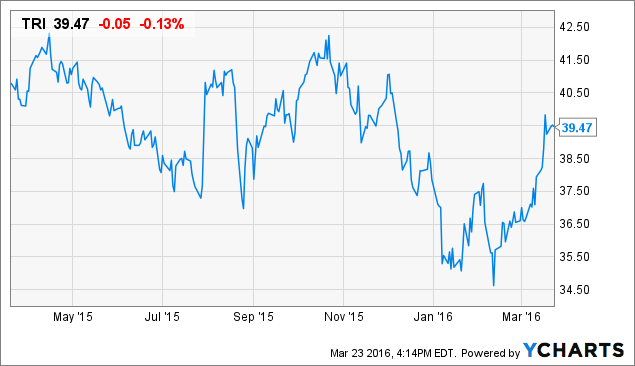 TRI data by YCharts
The full-year results are in
I have been keeping an eye on Thomson Reuters in 2015, and I always dove deep into the company's statements as I wanted to check up on two facts. First of all, I wanted to find out how the company was coping with the differences on the foreign exchange market, and secondly, I wanted to see how much free cash flow the company was generating.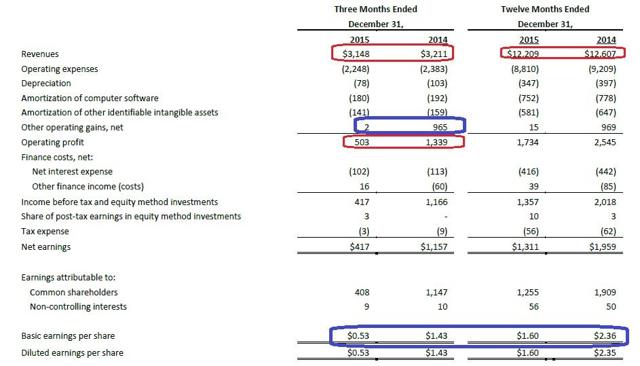 Source: Financial statements
In the fourth quarter of 2015, Thomson's top line saw a 2% reduction in revenue, but if you'd neutralize the impact of the strong US dollar, the revenue would have increased by approximately 2%, on an organic basis! The Q4 revenue fell to $3.15B, but the operating profit was hit much harder as it fell from $1.34B to $503M. There's no reason to be alarmed, as last year's (exceptionally high!) operating profit was caused by a $963M higher 'other operating gain'. This was non-recurring and if you'd look at the adjusted operating income, Thomson Reuters actually performed better this year as the operating profit increased by more than 30%. The net income in the final quarter was $408M (attributable to TRI's shareholders), resulting in an EPS of $0.53 per share.
That's pretty nice considering the full-year EPS was 'just' $1.6 per share, which basically means Thomson Reuters generated 1/3rd of its net profit in just 1/4th of the financial year. For the entire financial year, the revenue fell by approximately 3% (indicating the company's ability to limit the damage was working pretty well). The operating margin was 14.2% and that's quite nice!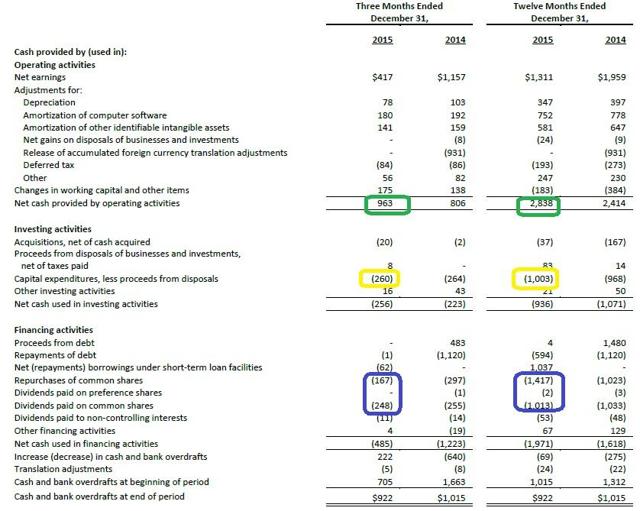 Source: Financial statements
I was however extremely interested in the Q4 and FY 2015 cash flow statements, and I really appreciate that the company has provided a separate Q4 cash flow statement (instead of just a full-year statement like so many other companies do). In the entire financial year, Thomson generated $2.84B in operating cash flow, but after adjusting this result for changes in Thomson's working capital position, the adjusted operating cash flow increases to $3.02B. The capex also increased by 3.5%, but even after deducting the capital expenditures, the net free cash flow (on an adjusted basis) was $2.02B, or $2.64/share (based on the 765M outstanding shares as of at the end of last year).
And the company continues to buy back a lot of shares to reduce its share count as fast as possible
After combing through the company's financial results after the third quarter of 2015, I said the company wasn't expensive but that I'd prefer a slower buyback rate and Thomson spending some cash on reducing its net debt rather than issuing more debt to fund the share buybacks.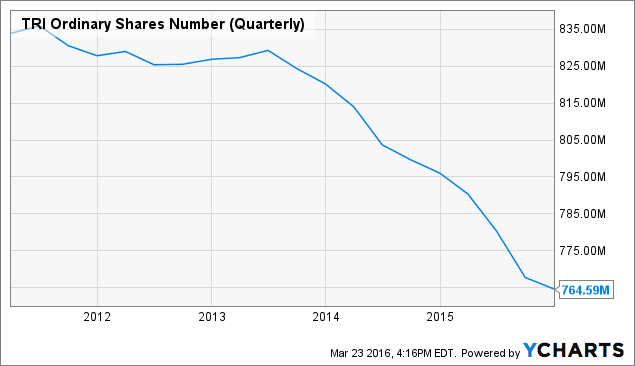 TRI Ordinary Shares Number (Quarterly) data by YCharts
It now indeed does look like Thomson reduced its repurchase program in the fourth quarter of last year, as the company spent just $167M on share repurchases. If you'd isolate the Q4 cash flows from the full-year results, Thomson generated an adjusted operating cash flow of $790M in Q4 and a free cash flow of $530M. Of this $530M, Thomson spent just $248M on dividends as well as $167M on buybacks which means the total cash outflow to reward its shareholders was just 78% of the incoming free cash flow. An additional 12% was used to reduce the company's net debt, and this actually is a ratio I prefer much more than a company overspending on share buybacks.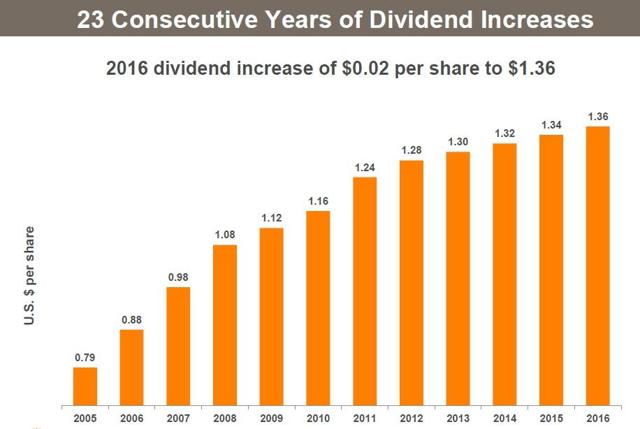 Source: Company presentation
Indeed, the Q4 repurchase rate was much lower than the full-year average. Whereas Thomson spent just $167M on buybacks in Q4, it spent a total of $1.42B on buybacks in the entire financial year, which results in an average repurchase rate of almost $420M per quarter! This meant the company spent a total of $2.4B on dividends and share repurchases despite having generated just $2.02B in adjusted free cash flow.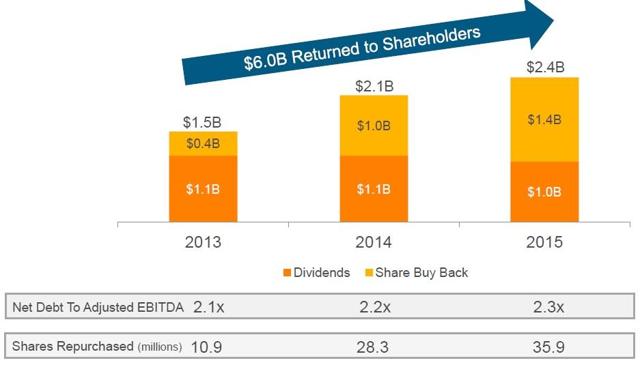 Source: Company presentation
For 2016, the company continues to plan to spend $1.5B on share repurchases, and this could enable Thomson to repurchase approximately 35 million shares (on a net basis), reducing the share count to 730 million. As the US dollar has been weakening a bit lately, its Q1 financial results might actually contain a positive surprise as the lower USD might increase the USD-based revenue. I also think Thomson should have no problem to keep its free cash flow stable at $2.02B, which would mean the FCF/share will increase to $2.76.
Investment thesis
I still don't feel very comfortable to see Thomson Reuters borrowing cash to fund its buyback addiction, but its aggressive buyback program is definitely proving its value as the company will reduce its share count to less than 700M by the end of next year. I also expect the buyback rate to be reduced when the company reaches its targeted net debt/EBITDA ratio of 2.5.
Based on a FCF/share of $2.76 for this year, the free cash flow yield is approximately 6.95%, which is quite appealing. And the high net debt position? Well, if the company would suspend its buybacks for one year, the net debt could be reduced by $1B (or 15%).
Disclosure: I/we have no positions in any stocks mentioned, but may initiate a long position in TRI over the next 72 hours.
I wrote this article myself, and it expresses my own opinions. I am not receiving compensation for it (other than from Seeking Alpha). I have no business relationship with any company whose stock is mentioned in this article.