Goldman Sachs (NYSE:GS) doesn't report until mid-April, but the stock has gotten shelled on the Q1 '16 drubbing in the Financial sector.
Down from a $52 week of $215, GS is trading at a 30% discount from its mid-summer, 2015 high ticks near $215, and roughly a 25% discount to what I would consider a moderate "fair-value" estimate in the mid $180's.
The recent announcement of Goldman's potential involvement in a bid-rigging scandal being investigated by the Treasury Department is an issue, since we have seen this movie before in the early 1990's with Salomon Brothers, which led to the ultimate demise of one of the great trading firms on Wall Street and John Guttfreund - the Salomon CEO at the time - as well.
I havent seen any specific Street research on the scandal so presumably it hasn't yet worried too many sell-side analysts but the above-linked article discusses the investigation.
Don't get me wrong, if there is a criminal investigation, ala Salomon, particularly given the political climate and the rise of politicians like Bernie Sanders and Elizabeth Warren, Goldman could get neutered faster than a spring-time bull, but I also wonder how much of that is in the stock at current levels.
Part of Goldman's recent drop could be due to some confusion over 2016 growth estimates and the horrid first two months of 2016 in terms of capital market action, just as analysts were formulating their full-year 2016 guidance: prior to the January '16 conference call and Q4 '15 earnings release, GS sell-side analysts were looking for 22% EPS growth for Goldman in 2016.
However, GS had an outsized earnings upside beat in Q4 '15 ($4.68 operating versus $3.62 estimated or a 29% upside surprise) so 2015's actual EPS growth went from a -9% expected drop as of Oct. '15 to a +7% actual growth as of Jan '16.
2016's Street consensus EPS estimate for GS then fell from $19.00 per share as of Oct '15 to $17.66 as of Jan '16.
The point is 2015's actual EPS was far higher than expected given Q4 '15 and then 2016's full-year EPS was lowered, thus expected 2016 EPS growth fell from +22% as of Oct '15 to -4% as of Jan '16.
Valuation: trading at 9(x) earnings today for what will probably be high-single-digits, low double-digit growth in 2016, (and that assumes that the worst of the correction is behind us, and the Fed does the 2 rate hikes), over the next three years (2016 - 2018), the Street has modeled an average 6% EPS growth and 1% - 2% revenue growth in the estimates.
The point being expectations are subdued (to say the least).
And to be frank, Goldman's business model with trading revenues is very tough to estimate quarter-in and quarter-out. Back in "the day" when there were 6 trading firms, the standard deviation of earnings estimates was almost highest for the proprietary trading firms. Analysts really are taking a guess.
Again, though, the point being, the stock price drop incorporates a lot of this (in my opinion).
Book value and tangible book value are $171 and $161 respectively, so you can do the math on the current price relative to liquidation value.
Technical analysis: readers can risk the $139 - $140 early February '16 low for your stop-loss or stop-limit, which is where I will be selling on a higher-volume trade through that level particularly if the bid-rigging issue starts to gain traction.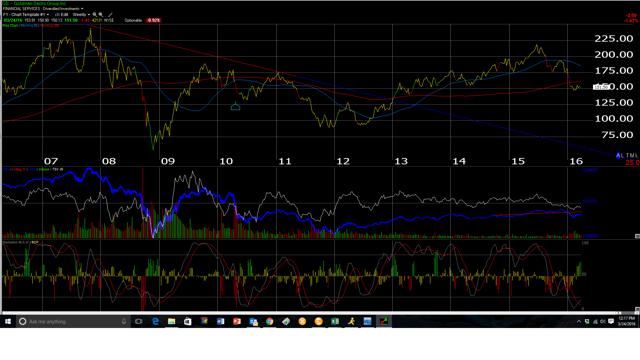 However, GS at $150 - $155 is oversold on the weekly chart, and for those with some patience and a time horizon longer than a few weeks, deeply oversold weekly charts can provide some nice returns over time.
A trade back above $160 - $161 or the 200-week moving average would be the first sign the stock is healing itself, and that further upside lies ahead.
Analysis / conclusion: Technically the stock is bracketed by resistance near $161 and support near $140, but fundamentally and assuming that the capital markets have seen some of their highest volatility of the year, and since GS is still considered (arguably) the greatest trading firm in the world, the discount to tangible book value and the subdued growth expectations offer compelling risk-reward at $155 - $156 per share.
Maybe another plus for readers is that on my internal GS spreadsheet, I track the average price at which GS buys back their stock every quarter, and - as you would expect given Goldman - their average price paid is usually approximate to the low price range for the quarter, except for late 2015, when they got caught and paid $186 - $196 for Treasury shares in Q3 and Q4 '15, likely not expecting the downdraft in Q1 '16. Hopefully, management loves the shares here at $155. (Readers can see how GS bought back much less shares with the stock near $200 between April - June '15, than they did in the first and fourth quarters of 2015.
GS's share repurchase

Avg

repo price

shares

repo'ed

Low price

for qtr

3/31/16
?
?
$139.05
12/31/15
$186
8.9
$169.87
9/30/15
$196
5.4
$167.49
6/30/15
$208
1.2
$186.96
3/31/15
$185
6.8
$172.41
* Source: repo activity and avg price from GS earnings reports
The big change for Goldman and such after 2008 is that ROE (return on equity) is much lower today, given brokerage capital is much higher given the same levels of risk, and Dodd-Frank and CCAR (Comprehensive Capital Analysis and Review) have placed clamps on aggressive trading. The big banks and brokers generated ROE's of 20% - 30% in the late 1990's (Goldman, Lehman, Morgan Stanley, etc.) but those were exceptional markets, and today the regulators are much more uncomfortable with that risk.
If Goldman can earn an ROE mid to high-teen's today, they'd be doing a great job relative to the higher capital and less risk being taken with the balance sheet.
Goldman is still the best at what they do, and in my opinion the stock discounts a lot of negative headlines and earnings revisions, trading in the $140 - $155 area.
A stock trading at $155 slated to earn $17.50 this year and $19 in EPS in 2017, with a less volatile earnings stream, looks far better than when it was trading at $190 - $200.
Finally, the reference to Bank of America in the bullet points is regarding risk / reward for the Financial sector. With this article here, BAC was trading well below tangible book value during the January, February '15 swoon. I've swapped out of BAC for GS in client accounts, given the volatility around BAC. It makes no sense to hold a large-bank stock that fell 33% from its '15 highs, on what could have been energy loan worries. For that kind of share price volatility I'll buy Goldman Sachs and get more upside in a favorable market.
As a big fan of Brian Moynihan and BAC, it was a tough sell, but BAC still trades heavily with a lower dividend than JP Morgan and Wells Fargo.
Disclosure: I am/we are long GS, JPM, WFC.
I wrote this article myself, and it expresses my own opinions. I am not receiving compensation for it (other than from Seeking Alpha). I have no business relationship with any company whose stock is mentioned in this article.
Additional disclosure: submissions has new chart