1. Despite illusions regarding RNAi technology, Alnylam (NASDAQ:ALNY) is a fast-growing company whose value has more than tripled since 2012.
From 2002 to 2012, Alnylam's stock price was lower than $15 (and market cap lower than $1.5bn). From 2013 to 2016, this increased significantly ($135 per share in 2015 and $10.9bn market cap).
In 2014, after overreacting, the markets priced the ALN-TTRx drugs, Alnylam-Genzyme partnership and the perspectives of the RNAi market at around a $4bn market cap.
Alnylam benefited from two objective achievements:
The success of ALN-TTR02's phase 2 and ALN-TTRsc's phase 1 trials.
And from various more or less objective perspectives:
The biotech bubble.
The perspective of new partnerships.
The perspective of a platform for new RNAi drugs (see pages 11-12).
Since then, little advancement has been made on the question of RNAi, but the stock has increased to $135, and then crashed to $60. The biotech bubble has burst, and the hypothesis of new partnerships has vanished, but it seems that investors still believe in the potential of a platform for new RNAi drugs: today's market cap ($5bn) may look weak, but it is not. It is in fact higher than that priced in 2014 ($4bn) despite various bad news. So how do we understand this $5bn market cap despite the setbacks and the absence of good news regarding RNAi?
1.2. ALNY's secret: Instead of selling drugs to patients, it sells pipelines to investors
How did Alnylam convince investors of its high valuation? ALNY is a particular kind of biotech company: an eternal pipeline company.
An illustration of this phenomenon is shown below: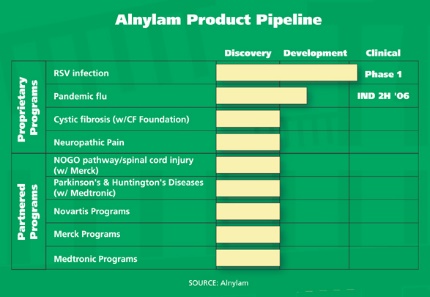 Alnylam's pipeline (2005)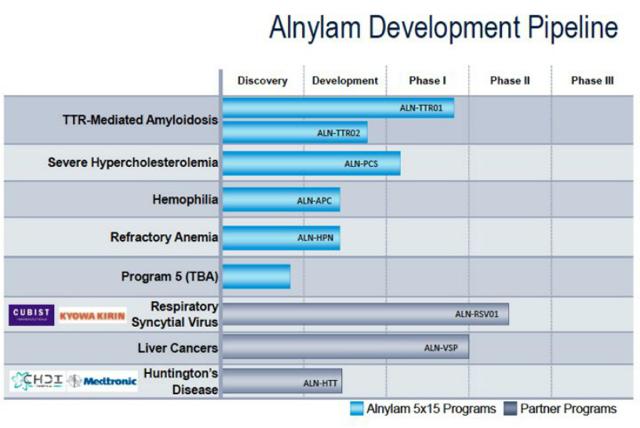 Alnylam's pipeline (2011)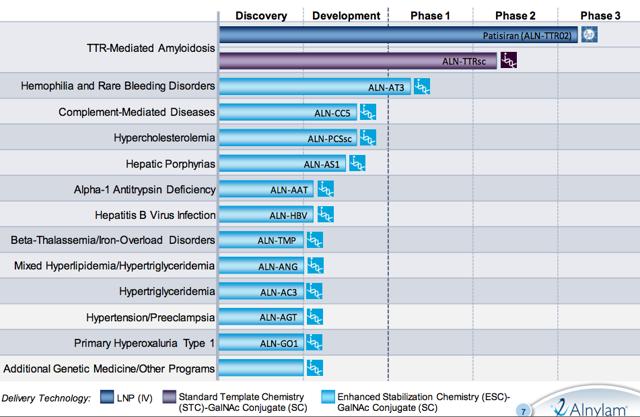 Alnylam's pipeline (2015)
The following is a useful experiment to evaluate the potential of Alnylam's current pipeline: go back 10 years and five years and compare the value of Alnylam's pipelines at the time.
From 2005 to today, pandemic flu, cystic fibrosis, neuropathic pain, spinal cord injury, Parkinson's and Huntington's diseases, Novartis (NYSE:NVS), Merck (NYSE:MRK) and Medtronic (NYSE:MDT) program and the RSV infection program are all worth nothing. From 2011 to today, liver cancers, refractory anaemia and TBA programs are worth nothing.
From 2014 to 2016, in line with its "Alnylam 2020" plan and its RNAi drug "platform," ALNY has filled its pipeline with numerous new drugs in the discovery or development phases. Alnylam has also developed a "platform" for multiple drug development. The idea behind this is that once RNAi technology is mastered, the company will be able to cure everything just by modifying some parameters in the platform.
At least, this is what bullish investors want to believe.
The reality is quite different (see this piece of analysis): Each drug is a singular product, it is hard to develop, and its efficiency depends on unpredictable factors. There is no RNAi "platform" and no new revolutionary medicine method, just a huge number of discovery and development programs based on the same idea of RNA interference, most of which will fail.
A careful investor should keep in mind that Alnylam's pipeline strategy can be considered as part of an "investor relations" strategy. Consider the drugs that underwent phase 1: ALN-TTR02 and ALN-TTRsc. Drugs for orphan diseases that affect no more than 50,000 people ("familial amyloidotic polyneuropathy (FAP) affects approximately 10,000 people worldwide and familial amyloidotic cardiomyopathy (FAC) affects at least 40,000 people worldwide", see Alnylam's press report) and are also being addressed by a competitor (Ionis (NASDAQ:IONS), see IONIS-TTRrx); drugs with limited commercial potential.
Now, consider the drugs in the discovery and development phase from 2005 to today: cancer, Parkinson's and Huntington's, hypercholesterolemia, hypertension, hepatitis B virus, pandemic flu, refractory anaemia, spinal cord injury. These are huge pathologies that affect millions of people throughout the world.
Alnylam fills its pipeline with R&D on this kind of pathologies - and all the investors understand the usefulness and the (economic) interest of more efficient cures for such pathologies. However, the truth is that at the moment, phase 1 has only developed cures related to very rare orphan diseases.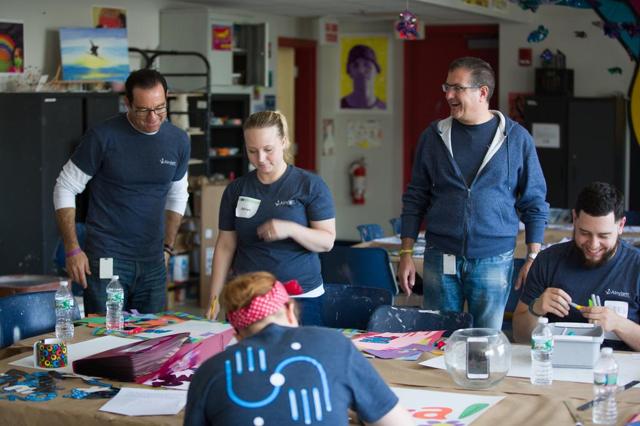 CEO John Maraganore (right) and COO Barry Greene (left) volunteering (I guess they were crafting Alnylam's 2017 pipeline)
So, even if Alnylam is able to accumulate (thanks to its easy access to cash) new programs in its pipeline, how should an investor valuate the 11 new programs that are currently involved in phase 1? From an optimistic perspective, an investor might consider that these 11 programs could end up with a maximum of one phase 2 program.
So how do we evaluate the three remaining programs (ALN-TTR2, ALN-TTRsc and ALN-AT3)? At the moment, ALN-AT3 is still a very speculative program. For the two remaining programs, the phase 2 and 3 programs face a high risk of failure (remember ALN-RSV01 failure in phase 2) and high costs associated with this process.
So the question is: how will Alnylam's valuation evolve when nine or 10 of the current 11 development programs are abandoned? When people will stop seeing Alnylam as a promising biotech company with a "huge pipeline" and consider it a standard mature pharmaceutical company with no commercial track record and only two drugs (competing with Ionis's similar medicines) aiming to cure a rare disease that affects no more than 50,000 people in the world, how will the stock price change?
RNAi is (potentially) groundbreaking idea that could be used to develop technologies to counter numerous diseases, however, currently it is just an idea and you can't patent ideas, just technologies. Drugs under development by Alnylam, although potentially efficient for some, seem commercially overrated by the markets when valued $5bn.
Therefore, ALNY is currently no more than an external R&D centre and should not be valued as a commercial company.
3. ALNY's current valuation is supported by outstanding ratings from some investment banks - that are paid at the same time by Alnylam to issue new bonds and shares
So, how do we explain Alnylam's current $5bn valuation? The company benefits from a strong support from numerous analysts. In fact, the support regarding ALNY looks quite unanimous.
| | |
| --- | --- |
| Bank | Price target |
| Piper Jaffray | $184 |
| FBR Capital Markets | $180 |
| Deutsche Bank | $155 |
| Crédit Suisse | $154 |
| Needham & Company | $152 |
| Leerink Swan | $151 |
| Barclays | $125 |
| JPMorgan | $115 |
| Jefferies & Co. | $107 |
With such price targets, Alnylam should be valued at more than $12bn. Amazing, isn't it?
Now, let's look at some SEC filings by Alnylam. In January 2015, Alnylam paid a consortium of investment banks to issue 4,737,000 new shares; this consortium was paid $3.8 per share or $18,000,000 for the whole stock issuance.

That's not the only one. If we go back to 2013 for instance, we can find the same dream team of investment banks:

So, to sum up, most of the investment banks' bullish ratings are made by banks that are paid (highly) to issue Alnylam's stock. Is there a need to say any more regarding these price targets?
Yes, there is.
There are still two strange details that don't fit the "conflict of interest" theory: Crédit Suisse and FBR ratings. First, who is the Crédit Suisse analyst that set the $150 price target recently? She is Alethia Young; she's a brilliant woman who graduated from Harvard, and has since had a brilliant career in finance (see this article). Until 2015 she worked for the Deutsche Bank (NYSE:DB) - the same bank that set the $150 price target. So when she was working at DB, she set a $150 PT while the bank was issuing new stock for ALNY. Then she left Deutsche Bank in August 2015 and went to work at Crédit Suisse.
In January 2016, Crédit Suisse set a $150 price target for Alnylam.
And who's the FBR Capital analyst that set this extravagant $180 price target? He is Christopher James. He is an intelligent man who graduated from the University of Chicago. He has worked in numerous companies, namely pharmaceutical companies (having worked in the industry you're rating: it helps).
He also worked at MLV Co. in 2012-2013. At that time, Alnylam undertook a few stock issuances (e.g. here) - and MLV Co. was involved. James also worked at MLV just before the Regulus (NASDAQ:RGLS) IPO. For those who don't remember, Regulus Therapeutics was a joint venture company between Alnylam and Ionis (ex-Isis) that went public. And he always strongly supported the company.
Let's make a guess: FBR Capital and Crédit Suisse will probably be involved in Alnylam's next stock/bond issuance.
So let's sum up all this information:
| | | |
| --- | --- | --- |
| Bank | Price target | Conflict of interest? |
| Piper Jaffray | $184 | Yes |
| FBR Capital Markets | $180 | Yes |
| Deutsche Bank | $155 | Yes |
| Crédit Suisse | $154 | Yes |
| Needham & Company | $152 | Yes |
| Leerink Swan | $151 | Yes |
| Barclays | $125 | Yes |
| JPMorgan | $115 | Yes |
| Jefferies & Co. | $107 | No - independent |
4. Business partners and insiders do not believe in ALNY anymore
So, who should you believe regarding the valuation of Alnylam? Those who really risk their money investing in the company and its technologies, that is to say: business partners and insiders.
First, look at the business partners. Once involved in talks with all the Big Pharma companies to develop its RNAi technology, Alnylam now looks quite alone. Except for the Genzyme-Sanofi (NYSE:SNY) galaxy, all the Big Pharma actors have left the RNAi sector:
Merck has decided to go out of RNAi (see this 2014 report).
Roche (OTCQX:RHHBY) and Pfizer (NYSE:PFE) have exited the field (worrying even RNAi academic supporters, see this Nature report).
Novartis has accepted that it will lose a huge amount of money in exiting RNAi and its partnership with Alnylam (see this 2015 report).
Only Sanofi remains to give Alnylam cash through its Genzyme partnership (and this may be explained by the fact that SNY is still hugely involved in Alnylam's stock).
And now, look at the insiders.
In the last few months, Alnylam's CEO John Maraganore has sold $700k of its shares. He now owns no more than $1.6m shares in the company. Interestingly, he sold the shares at the height of the bubble, but also more recently at a $70 price. Thus, even in his CEO position, he considers that a $70 stock price is overrated regarding Alnylam's long-term price.
In 2015, another insider got out of Alnylam: Kevin P. Starr from Third Rock Ventures, "partner" and member of the board, sold the shares for $3m (yes, $3,000,000).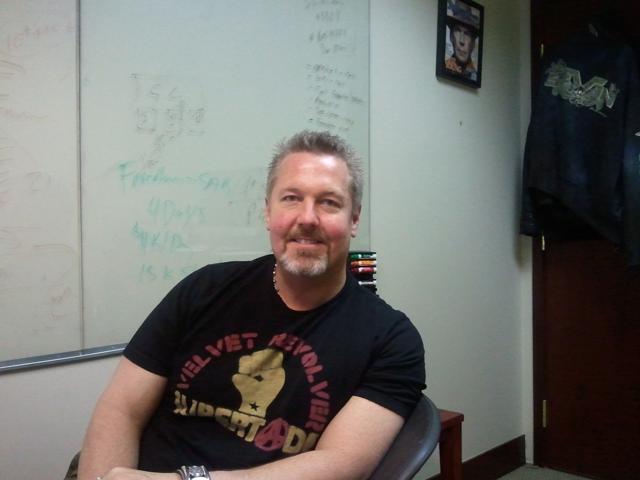 Alnylam's partner Kevin Starr enjoys his "¡LIBERTAD!" at a 2012 entrepreneurship event
Business partners and insiders know better than analysts what Alnylam is really worth: why are we not imitating them?
5. Even with an optimistic analysis, ALNY is worth no more than $4bn - or $45 per share
Let's sum up all of the above and try to estimate Alnylam's real value then.
Positive things:
Alnylam could develop its ALN-TTR02 and ALN-TTRsc by 2020 and operate it or sell it to Sanofi.
It will continue to benefit from the Genzyme-Alnylam partnership.
It has benefited from good conditions and currently has $1.3bn in cash.
Negative things:
ALN-TTR02 and ALN-TTRsc drugs will address a 50,000-patient market and will have to compete with Ionis's drugs (see part 2 for references).
Alnylam loses approximately $200m each year and will run out of cash in 2021 (see Alnylam's 2014 annual report: $300m GAAP net loss, $135m non-GAAP net loss; see its 2015 report: $290m non-GAAP net loss, $90m GAAP net loss).
The value of its pipeline is very speculative.
Now, let's try to price Alnylam's current assets:
Cash reserves: $1bn (discounted).
ALN-TTR02 and ALN-TTRsc: $500m each (optimistic forecast for a speculative drug that will not generate cash flows before 2020).
Genzyme partnership: $1bn (optimistic evaluation taken from "Alnylam 2020" plan, see page 10).
Alnylam pipeline and RNAi-related patents: $1bn (optimistic - it could be worth $0).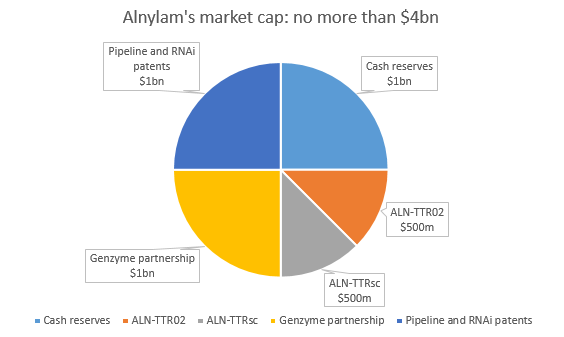 The $4bn evaluation remains optimistic, but if Alnylam were a $4bn company, its stock would be worth $45. There is still a 15% downside to expect then.
Disclosure: I am/we are short ALNY.
I wrote this article myself, and it expresses my own opinions. I am not receiving compensation for it. I have no business relationship with any company whose stock is mentioned in this article.