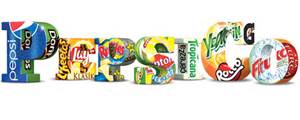 PepsiCo (NYSE:PEP) has been a tremendous stock to own over the past few years as it not only has seen strong appreciation, but the company also returns an enormous amount of capital to shareholders. Buybacks are a big piece of the puzzle but the headliner - the dividend - is robust as well. In this article I'll take a look at PEP's ability to finance its capital returns and any implications it may have for the stock going forward.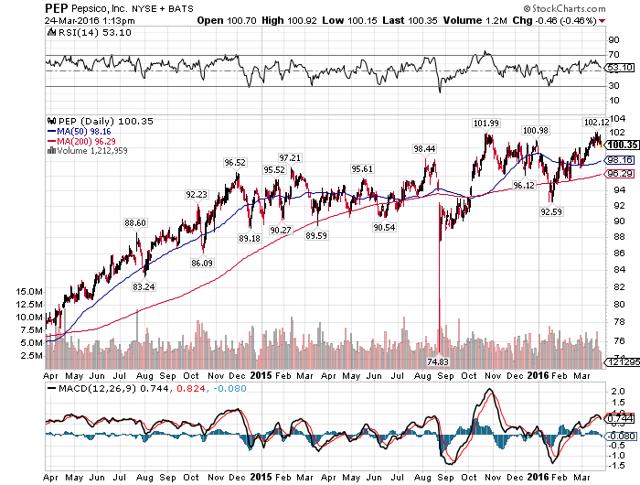 All data points for this article were obtained from Morningstar and the charts are my creation.
To begin, we'll take a quick look at PEP's dividend for the past decade to give us an idea of how big the payout is and how much it has grown in that time frame.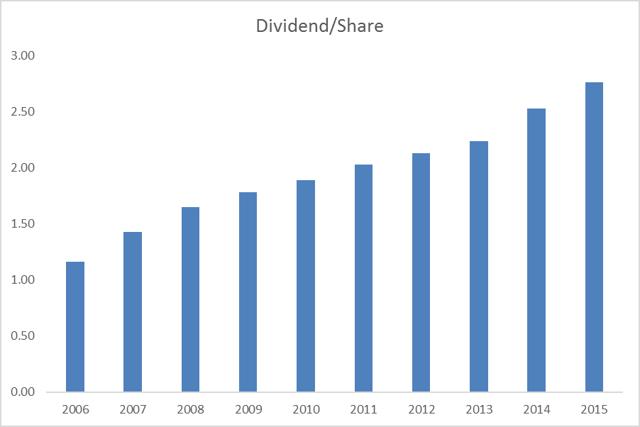 Pepsi's dividend increases have been something to behold, moving from just over a dollar in 2006 to almost three dollars today in the space of one decade. That level of growth is perhaps the single biggest reason why the company's shares have been such a great investment over time.
Seen another way, this chart shows us the size of the company's dividend increases over the same time frame.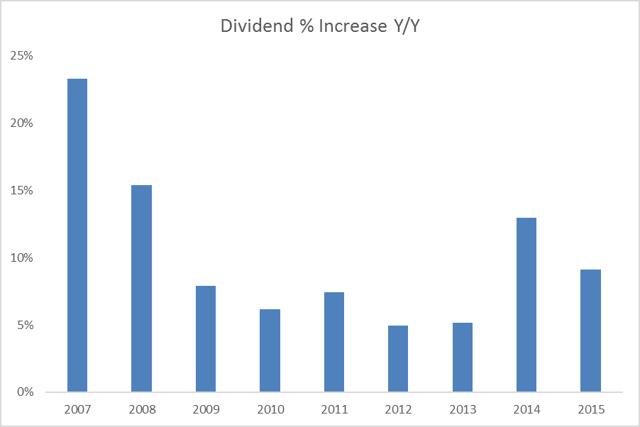 In particular, in the last two years, PEP has given investors reason to cheer as its dividend has soared higher. But can Pepsi keep up this impressive streak? Let's take a look at how it is financing these payments.
When examining a dividend's sustainability, I always look at FCF. Dividend payments are cash outlays that must be funded over time and earnings are not cash. Thus, comparing a company's earnings to its dividend to assess safety makes no sense as the only source of recurring cash a company can have is FCF.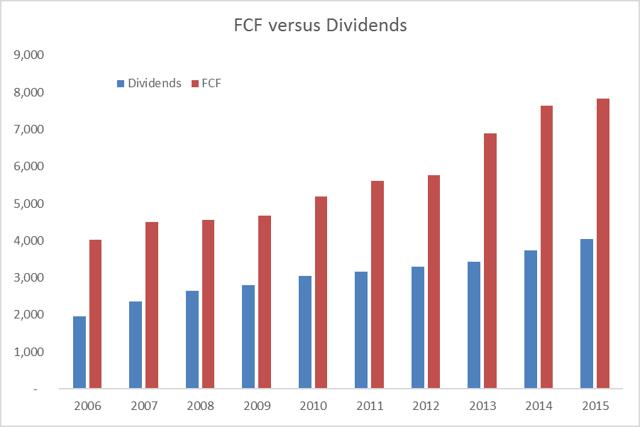 We can see that Pepsi's FCF is not only moving up and to the right on a consistent basis, but it is also well in excess of the company's dividend obligation. Given the yield on the stock and the sheer size of the company's dividend obligation, the fact that its FCF dwarfs it in such a way is impressive to say the least. Pepsi is a FCF generation machine and that has allowed it to return an enormous amount of cash to shareholders.
Indeed, if we look at Pepsi's FCF coverage - the amount of FCF that is consumed by dividend payments - the picture is clear that Pepsi's business is more than enough to finance the dividend.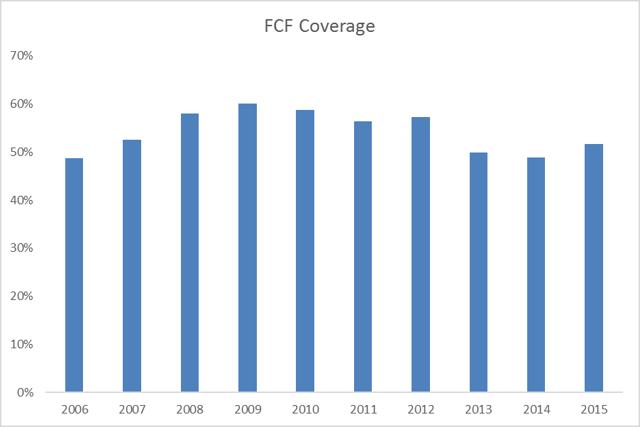 Having FCF coverage numbers consistently in the 50s is stunning considering the growth in the payout Pepsi has experienced in the past decade. This is a testament to the business' ability to generate FCF growth and management's willingness to spend it on dividends.
But as anyone who follows Pepsi knows, the dividend is only part of the story with the company's capital returns. It also buys back a huge amount of stock each year and for reference, I've charted the company's net buyback activity below.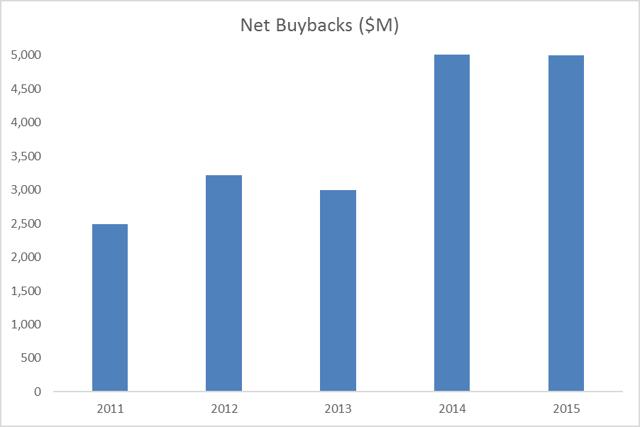 Each of the last two years has seen $5 billion in share repurchases, an extraordinary amount by any measure. I love buybacks for companies with excess FCF because it reduces the float over time and boosts EPS growth. Pepsi has certainly done that as it retires ~4% of the float each year, something many companies would envy. But given that Pepsi is largely valued upon its dividend and the growth that it provides, are buybacks the best use of cash for Pepsi?
The argument requires that you believe Pepsi is principally valued upon its dividend and not earnings, a fate that countless dividend stocks embrace. I believe it to be the case with Pepsi as well as the company's forward PE's in the 20+ area are unbecoming of a stock that is growing earnings in the single digits. Certainly, if Pepsi were being valued upon its earnings it would be trading for $60 or $70, not $100. And since the main value of a buyback is to boost a company's EPS - and thus, its share price - why does a company that has its stock valued upon its dividend try to boost EPS?
In light of that, is it best for Pepsi to continue to buy shares or spend that money on the dividend? Pepsi's current 2.8% is nice but hardly in the top echelon of dividend stocks. But given that it is spending more on buybacks than the dividend, it follows that if Pepsi decided to cut back its buybacks over time, it could produce dividend raises of 20% or more for the medium term. Could you imagine the reaction by the market if Pepsi were suddenly paying $3.35 instead of $2.81? And close to $4 in 2017?
Given that Pepsi's earnings growth is underwhelming and that shares are overvalued based upon them anyway, I think the only way Pepsi can produce an upside move is to shift its capital allocation around and more heavily weight it towards dividends. Buybacks are great but not for shares that are grossly overvalued like Pepsi's; that money would be better spent on allowing the yield to float up over time and having the stock revalued based upon a much higher payout.
Indeed, if Pepsi were to increase its dividend allocation at the expense of buybacks, I suspect shares would still trade for roughly 3% but that 3% yield would require a much higher price than where the stock is today. Pepsi will take years to move appreciably higher based solely upon its earnings because it is already overvalued; but a higher spend on the dividend could do the work very quickly and not only stop management from buying back so much expensive stock, but create much more value for shareholders via a higher price.
Obviously, Pepsi's tremendous FCF generation will allow it to do pretty much whatever it wants to do. However, its recent strategy of buying back lots of shares isn't creating value as evidenced by the price chart above; shares have barely budged since the end of 2014. Pepsi's earnings growth will not cause the price to rise because shares are already very expensive based upon earnings; Pepsi needs to try something new. I think three years of 15% or 20% dividend raises would not only be very easy for Pepsi to afford but it would create a lot of value for shareholders. The stock would be revalued based upon its new payout and that move would create a higher price that buybacks have failed to produce. Unless Pepsi does that its share price will be stagnant for a long while to come because the company's EPS growth simply isn't strong enough. However, a rapidly growing payout would entice people to buy and we'd likely see Pepsi at $120 or more in fairly short order. The Board's current strategy of heavy buybacks isn't working to create value; they should try something new.
Disclosure: I/we have no positions in any stocks mentioned, and no plans to initiate any positions within the next 72 hours.
I wrote this article myself, and it expresses my own opinions. I am not receiving compensation for it (other than from Seeking Alpha). I have no business relationship with any company whose stock is mentioned in this article.