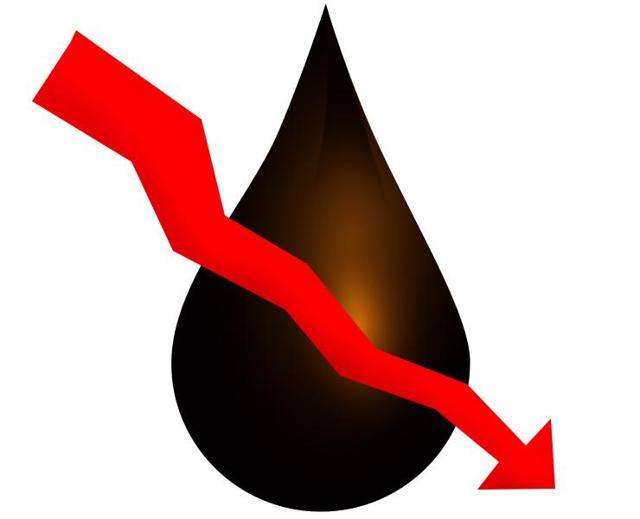 source: Stock Photo
The latest data from the U.S. Energy Information Administration confirms oil supply continues to far outstrip demand, as U.S. inventory levels soared to a record level of 532.5 million barrels, adding another 9.4 million barrels to the total last week.
Some have believed there would be a major drop in U.S. shale production, which we have yet to see validated. There is some drop, but we'll have to wait until earnings reports in April to see how much DUC wells brought into production have offset the expected decline. Since the oil rally started mid-quarter, a clearer and fuller picture won't be seen until 2nd quarter reports are released.
That said, the inventory added last week came as a result of large imports - primarily from Saudi Arabia. It looks like the Saudis are undercutting U.S. prices, which has added to the glut.
Also increasingly apparent is the proposed production freeze is being exposed for the anemic event it will be, as the locking in of January output levels would continue to add to global and U.S. inventory. Demand will continue to consistently lag behind supply. There is also the fact Iran, and now Libya, won't be entering into any freeze agreement.
If other countries follow through on their promises of not participating in a freeze if other competitors aren't part of the agreement, it would be surprising to see any freeze agreement came to fruition. And even if it does, it's already seen as a very weak one that will do nothing to sustainably put a floor on the price of oil.
Not only that, but it will reiterate what I and others have been saying for some time: there will never be any production cuts emerging from a freeze agreement.
This has positioned the oil market for a potentially drastic correction after the price of oil soared about 50 percent over the last couple of months, with little in the way of fundamentals driving it.
U.S. shale production decline assumptions
The general outlook for shale production in the U.S. for 2016 is it'll drop in a range of 300,000 to 600,000 barrels per day. I'm far from convinced this will happen because of so many drilled but completed wells waiting on the sidelines. As of April 2014, there were an estimated 4,000 DUC wells in the U.S.
EOG Resources (NYSE:EOG) has said it has plans to bring 270 of its DUC wells into production this year, with all of them identified as "premium" wells. EOG defines a premium well as one that can generate 30 percent at $40 per barrel. Some of its stronger U.S. competitors are thinking of bringing them into production at the $45 per barrel mark.
I would be surprised to see a major increase in new well supply the first quarter. Hopefully they saw the freeze production spin for what it was, and didn't take the bait under the assumption it would continue to drive the price of oil further up.
There are a couple of things to take into account with U.S. shale production in 2016. How much will new supply from low-cost producers offset declines from higher-cost producers, and whether it will make a difference in inventory levels with so much oil being imported and adding to inventory build.
Oversupply will worsen
Unless there were to be an agreement to cut production, which will not happen, global oversupply in the oil market will continue to increase through the remainder of 2016, and into 2017 at least.
The reason a cut in production isn't in the cards is because of the U.S. shale industry, which would bring enormous supply to the market when cuts would boost the price of oil to levels everyone could make money. Anyone thinking OPEC or Russia would agree to and take action on that doesn't understand the disruption shale has brought to the market.
As mentioned earlier, there are an estimated 4,000 DUC wells in the U.S. waiting to be brought into production when the price of oil climbs to sustainably profitable levels. Its competitors aren't going to give up market share by cutting production in order to temporarily support the price of oil.
Once the cuts were made shale producers would easily offset that with an increase in supply. That's why financial media outlets suggesting a production freeze could lead to a production cut are literally clueless in regard to the new market conditions. It's also why Saudi Arabia has said numerous times it's best to let the market dictate the rebalancing of supply and demand, rather than attempt to take steps to alleviate the ongoing price pressure.
Saudi Arabia and OPEC no longer control the mid and upper price range of oil, and can only continue to bring supply to the market in order to keep prices subdued. I do believe they want to see oil prices rise some, but they have no interest in it happening too soon or too steeply, otherwise it would frustrate the rebalancing process. I'm referring to those producers who can still generate positive returns at these prices.
Others like Venezuela are in serious trouble, and the world isn't going to capitulate to its need for higher oil prices because it runs its business so poorly. Oil accounts for approximately 45 percent of its budget revenues.
For these reason we'll continue to see supply exceed demand until the global conditions change it organically. That will probably take a couple of years.
Irrelevancy of production freeze
I've been attacking the supposed relevancy of a production freeze based upon January output levels for some time, as there is nothing a freeze will do to alter the supply/demand outcome. That's true even if all parties were to agree to the freeze.
Since Iran and Libya have already made it clear they won't be part of it, the addition of that supply to the market over the next year or two makes a freeze laughable. How can you call something a freeze and include the caveat of those not participating in it? Either there's a production freeze or there isn't. Whether some countries sign a piece of paper or not doesn't matter. There isn't a freeze either way.
We already know Iran wants to add about 1 million barrels per day to supply by the end of 2016 or at longest, early 2017. Libya, because of its civil war, has only been producing about 400,000 barrels per day against the 1.6 million barrels per day it did before the war. That should quickly increase as better security measures are put in place.
Iran is at this time the most important producer in regard to supply, and it's going to continue to ramp it up until it reaches pre-sanction levels before it even considers the idea of freezing production. By that time it could be irrelevant to the market, depending on how quickly global demand grows. Projections have been downwardly revised several times based upon weakening growth in demand from China and the U.S.
Conclusion
Even at a time when slowing U.S. shale production was expected to offset ongoing global oil supply, it isn't happening. Also, the slowing pace of demand growth will take at least a couple of years to bring balance to the market. To me that's under the best case scenario. It will take that long even if a production freeze is agreed to among a shrinking number of participants.
Since gasoline inventory at Cushing has been dropping, that at least removes much of the low-price outlook, which if it had reached capacity, could have driven the price of oil below $20 per barrel. We're not totally clear of that possibility, but it's looking better than it did just a couple of weeks ago. That doesn't mean it couldn't drop into the $20s again, but it isn't likely to go into the low $20s if gasoline continues to increase in demand.
The oil rally was based far too much on momentum and verbal intervention than fundamentals, which means it has nothing to support it. For that reason, now that inventories continue to climb, we're going to see another significant drop in prices in the not-too-distant future.
Some in the industry will continue to push the production freeze narrative, but that is losing its legs. While it will probably give oil another boost if a meeting does occur in April, if inventory continues to rise during that time, it won't be the catalyst the market was hoping for; it will only be a temporary short-term boost where some money could be made very quickly. It can't and won't last.
With U.S. oil inventory adding over 3 times what the market was looking for last week, I see the price of oil going downhill once again. If futures traders get spooked, it could drop off the cliff very rapidly. Either way, it's going to drop.
Disclosure: I/we have no positions in any stocks mentioned, and no plans to initiate any positions within the next 72 hours.
I wrote this article myself, and it expresses my own opinions. I am not receiving compensation for it (other than from Seeking Alpha). I have no business relationship with any company whose stock is mentioned in this article.