Note: Brookfield Infrastructure reports in USD. Unless otherwise indicated all prices are in that currency.
An Overview
The Bermuda-based Brookfield Infrastructure Partners L.P. (NYSE:BIP) is an infrastructure holding company, part of the Brookfield Asset Management (NYSE:BAM) family. The company itself describes 'infrastructure' broadly as "networks over which energy, water, goods, people and data flow." In terms of the categories of its various assets, transportation would account for 42%, utilities for 41%, energy infrastructure (transmission lines, pipelines, storage etc.; not energy itself) for 9%, and a more recent segment of communications infrastructure at 8%.
BIP, now eight years old in its present form, is clearly global in its footprint. Its March corporate presentation shows that only 10% of its holdings are North American. Europe and Australia each constitute 32% of its assets, and South America 26%. Brookfield also holds a relatively small roads acquisition in India.
Brookfield has made it clear that it is hopeful of acquiring, in conjunction with various partners, part or all of Asciano Ltd.'s (OTC:AANOF) Australian infrastructure holdings, indicating that it is "highly committed" to the transaction. It currently owns almost 20% of Asciano shares. Brookfield has now made two bids for Asciano, but these differ markedly in their structure. The first was made in August and accepted, then rejected, by Asciano's board, securing for the Brookfield group an A$88 million ($64 million) break fee. The new bid, now made together with Brookfield's former competitor, Qube Holdings, was formally accepted by Asciano on March 14.
Some indication of the attractiveness of the Asciano holdings to an infrastructure enterprise like Brookfield are highlighted in this Asciano company video:
The Former Offer
The original Brookfield consortium consisted of BIP, GIC Private Ltd. (the Singapore sovereign wealth fund) and BPIMC (the British Columbia Investment Management Corp.) The consortium's earlier offer would have provided Asciano shareholders with a total value of about A$9.54, which would have come from A$6.94 in cash, 0.0387 BIP units, and a special dividend. Brookfield Infrastructure would have invested US$2.8 billion for a total 55% stake. BIP's share would be funded in part by a private placement of 5.8 million of its units with its BAM parent for $250 million.
The deal would have purchased the whole of Asciano's assets, including Pacific National Railway, Patrick Terminals & Logistics, and BAPS (Bulk & Automotive Port Services). In addition to BIP's 55% share, other Brookfield entities would have held 23%, and GIC and BCIMC 11% each.
The consortium's original bid for Asciano was made in June, and revised and accepted on August 15, 2015. It soon ran into the barrier of regulatory problems. In October, the chair of the ACCC (Australian Competition and Consumer Commission) announced "red light concerns" about the potential merger of Brookfield Rail with Pacific National, and in November the ACCC indicated its disapproval of the proposal.
Brookfield attempted to negotiate with Asciano an arrangement that addressed the ACCC concerns. Nonetheless, in the meantime Qube Holdings, an Australian ports and rail company, acquired 20% of Asciano stock, sufficient to thwart the Brookfield bid. It also submitted its own bid, which Brookfield failed to match, and in February, Asciano, anxious to conclude a deal, formerly accepted the Qube bid instead.
The matter was not yet finished, since Qube might encounter some of the same regulatory problems that Brookfield had faced. One of the Qube partners was the CPPIB (Canadian Pension Plan Investment Board), with which Brookfield had previous joint dealings. The CPPIC suggested combining for a joint bid, to which both Qube and Brookfield eventually agreed, and which was formally accepted by Asciano Ltd. on March 14.

Photo: Asciano Ltd.
The Current Joint Bid
The new offer for Asciano is both simpler and more complex than the former bid. The Brookfield consortium added as a partner the Qatar Investment Authority. More importantly, the new bid became a joint offer from both the Brookfield consortium and the Qube consortium. The offer is now an all-cash one at A$9.28 per share, which offset some Asciano shareholder complaints and avoided further dilution of BIP shares.
Under the arrangement, Brookfield and its partners would now have an interest in two of Asciano's three divisions. It would own a 50% interest in Patrick Container Terminals; Qube would own the other 50%. Qube would name the CEO, BIP the CFO. Brookfield would have a 100% ownership of the BAPS business, including a 50% stake in AAT (Australian Automated Terminals) that Qube will have an option to purchase at a later date. The ports arrangement avoids a potentially costly battle with Qube; the BAPS agreement avoids potential regulatory problems for Qube, which has other stevedoring services operations.
Brookfield will have no interest in Asciano's Pacific National rail business. That avoids potential regulatory problems for Brookfield, which has its own rail business in Western Australia and for Qube, which owns rail operations in Victoria, New South Wales and South Australia. Pacific National (under the shell of Asciano Ltd.) would be acquired by both Brookfield's and Qube's partners, but not by either lead company. Interestingly, Moodys put the revised Asciano holdings on review immediately after the announcement, as being too concentrated on rail and coal. It seems to consider the ports business more attractive.
The cost of the remaining assets to the Brookfield consortium would be half the A$2.915 billion purchase price for the ports and A$925 for the BAPS ownership, a total of A$2.383 billion (US$1.811 billion). BIP itself would get about US$70 million from the sale of its current Asciano shares and the break fee proceeds.
The current arrangement has been accepted by Asciano's board, but is subject to shareholder approval without either Brookfield or Qube voting its shares. It is also subject to regulatory approval, including approval from the ACCC. Asciano plans a special meeting for early June, and the deal has been carefully structured to avoid previously expressed regulatory concerns about reduced competition.
Obviously, the present deal is structured for better prospects of success, and it is less costly ($1.8 billion vs. $2.8 billion) and less dilutive for Brookfield. One of the negatives is that BIP would lose the synergies from integrating its own rail business with Pacific National. On the other hand, it can still integrate its Brookfield Rail with the Patrick container terminal in Fremantle. The other seeming negative is that it must now share ownership of the Patrick terminals with Qube. Still, that is almost certain to become a positive, since Qube is a cost-conscious operator with excellent technology, and the new deal clearly offers possibilities to connect with Qube's own extensive rail and port services.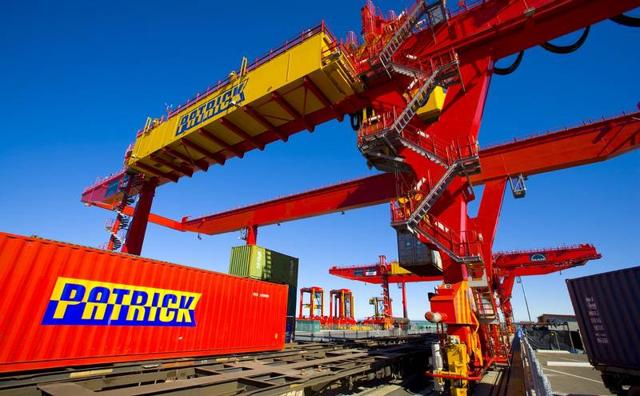 Photo: Asciano Ltd.
What Are the Assets?
The new Patrick Container Terminals business would be anchored by the four largest container ports in Australia: East Swanson Dock in Melbourne, Port Botany in Sydney, Fisherman Islands in Brisbane, and Fremantle in Western Australia. It would be supported by a major integrated logistical services operation that provides an interface between the port operations, freight forwarders and the freight owners. In an October Investor Day presentation, Brookfield noted that Asciano had recently completed a five-year $3.3 billion capex program to upgrade its terminal facilities and that Asciano has been a leader in implementing technological changes to automate its operations. It also noted that the ports had considerable surplus capacity for high-margin expansion.
The most recent Asciano investor presentation indicates that Patrick is currently one of two major competitors in the Australian ports market, although other entrants are in the wings. Patrick's customers are the large shipping lines, and its contracts are on a per lift basis for usual 3 to 5 year terms. Patrick holds 70% of the Australian intermodal business. Its volumes and revenues have been increasing, and its ROE is currently in the 7.8% range. It can expect near term improvements from the upgrading of its Port Botany operations, although it must deal in the future with the question of port rental fees in Melbourne and the renewal of a lease in Fremantle that would expire in 2017. To deal with these matters and to continue to upgrade port operations, both BIP and Qube can be expected to make significant investments over the next few years.
The BAPS division would be fully owned by the Brookfield consortium. The current Bulk and Automotive Port Services is effectively a service provider to freight owners at more than 40 ports in Australia and New Zealand. These services include port management, stevedoring and cargo handling (including Autocare), transportation, containers and storage. Revenues are currently flattish, but that has much to do with the state of the Australian and global economies.
Obviously, with the Asciano offer, Brookfield is taking a global outlook, hoping eventually integrate its Australian port operations with its other ports elsewhere, with a view to building a "truly global container terminal platform." More particularly, in acquiring the Australian ports assets, Brookfield Infrastructure is anticipating an eventual Australian economic recovery from its current lethargic state attributable to its large exposure to the materials sector. At the same time, Brookfield is obviously looking forward to a long-term expanding Chinese economy, even at a slower pace, since China is Australia's largest trading partner and Australia is the supplier of much of China's resource needs.
The 2016 Outlook
In the last BIP conference call, CEO Sam Pollock foresaw that the market outlook for 2016 would be "choppy". In Brookfield's particular case, he was reflecting both the uncertainties of the global economic picture and the continued strength of the US dollar relative to other currencies (which exposure is partly hedged), which reduced the effect of BIP's income from international sources. The CEO said that the primary focus for the year would be to complete the transactions already announced, the Asciano transaction, presumably, being primary among them.
After that, the company is recognizing a number of value based opportunities in Brazil and in the US midstream on which it hopes to capitalize. Pollock emphasized the current disconnect between the amount institutions and private equity seems willing to pay for infrastructure with steady incomes and, by contrast, the valuations the market seems to place on publicly-traded entities. This gives Brookfield an opportunity, on one hand, to sell some of its mature assets, and on the other hand to buy others at discounted rates. Pollock put the current infrastructure disconnect in general terms at 30-40%.
Although BIP is a constant acquirer, and for larger projects it can attract partnership capital through its parent company, it basically seeks to grow organically. Its policy, however, is not "buy and hold". It seeks to sell mature assets at profitable returns, and to use the proceeds to buy assets that will generate even higher returns. Obviously, it looks for high-quality assets with stable income flows. In the infrastructure sector, this also reflects a scarcity factor.
BIP's Yield
Brookfield has the goal of achieving total returns in the range of 12-15% per annum, and of growing its distribution annually by between 5 to 9%. Brookfield recently raised its 2016 distribution to $0.57 per unit, an increase of about 7.5% over the previous year. Pollock saw no difficulty in maintaining this distribution, which represents an approximate 68% payout ratio, which is within the company target range. Brookfield has current liquidity of about $3 billion, and its current plans are to fund any growth from existing sources.
The company's cash flow for the most part is predictable. Currently, some 46% comes from (usually long-term) contracts, 44% is regulated (which normally includes inflationary increases), and just 10% is categorized as other. The company estimates that about 85% of EBITDA has no volume-related risk.
Some Considerations
As the Asciano offer would indicate, Brookfield Infrastructure sees itself as being involved for the long haul. Investors who would think of buying into it should probably have the same timeline. At the same time, it looks to purchase assets that already generate a stable return. The completion of its Asciano offer should have both near-term and long-term benefits, especially if BIP and Qube are able to develop mutual synergies.
At the moment, BIP presents opportunity to those who would like to participate in an eventual global recovery from present economic conditions, given its anchor in infrastructure and stable returns and the diversity of its global exposure. Yet, it is not an "emerging markets" scenario. It has suffered somewhat currently from its perceived exposure to Brazil, but Brookfield sees that as an opportunity. Given market uncertainties, its current share price is still significantly below its 52-week high. BIP's track record has been good, both in terms of its ability to generate return on equity and distribution growth.
For tax information, one should consult the company website.
Disclaimer: The information provided above is not a recommendation to buy or sell a stock. It intends to increase investor awareness and to assist investors in making smarter decisions. Prospective investors should always do their own further research, and take into account their own current financial holdings, their risk levels and their shorter- or longer-term outlooks.
Disclosure: I am/we are long BIP.
I wrote this article myself, and it expresses my own opinions. I am not receiving compensation for it (other than from Seeking Alpha). I have no business relationship with any company whose stock is mentioned in this article.
Editor's Note: This article discusses one or more securities that do not trade on a major U.S. exchange. Please be aware of the risks associated with these stocks.