The recent completed merger between Avago Tech and Broadcom sets up the new Broadcom Limited (NASDAQ:AVGO) for success. The combination makes the new entity into a gigantic semiconductor supplier in the enterprise storage and wireless connectivity markets, with a market cap of $60 billion and revenues in excess of $14 billion this year.

Despite the general weakness in the sector over the holidays, Broadcom has actually surged to new highs. The benefits of the synergies are already filtering into the stock price, though some valuation opportunities exist even with the stock price at highs over $150.
The size and scale of the new entity was even large enough to command a three-year supply deal with Apple (NASDAQ:AAPL) for RF components and modules. According to RBC's Amit Daryanani (via Barron's), the deal is an unprecedented move by Apple.
According to Amit, the good news is that the deal provides a roadmap for production and commitments to manufacturing capacity for FBAR filters. The bad news is that Apple always wants pricing concessions, and apparently, the deal includes a pricing schedule that isn't volume-centric. In essence, Broadcom loses on volume and price if Apple iPhone sales slump.
With the merger completed at the start of February, the market can now focus on its benefits. The company now forecasts deal savings of $800 million on an annual basis by FQ317.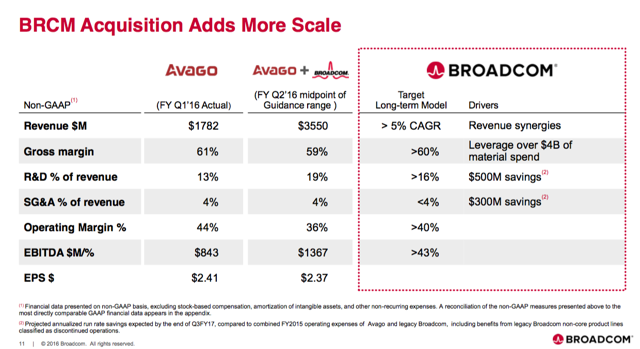 Source: Broadcom Susquehanna Conference presentation
With 454 million shares outstanding, the deal provides an EPS boost of up to $1.75 from operating expense cost savings alone. Other synergies on revenues and lower cost of materials will further boost results.
The only hiccup is that Broadcom doesn't offer any value in comparison to other large-cap semiconductor stocks that aren't trading at highs. Intel (NASDAQ:INTC), Qualcomm (NASDAQ:QCOM) and NXP Semiconductors (NASDAQ:NXPI) all trade at similar forward P/E ratios.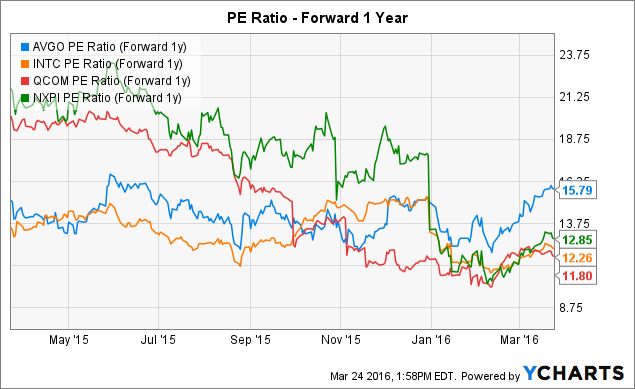 AVGO P/E Ratio (Forward 1-year) data by YCharts
As the synergies are fully absorbed into the Broadcom EPS estimates, the stock only trades for roughly 12x FY17 estimates of $12.59. As a comparison, considering NXP Semiconductors is going through a similar integration with the recent purchase of Freescale Semiconductor, that stock trades at only 11x FY17 EPS estimates.
The key takeaway is that the new Broadcom Limited trades in line with the other large semiconductor stocks. The sector in general provides a lot of upside from a valuation standpoint, and the consolidation provides some revenue upside and the ability for this new entity to generate a market-leading multiple.
The only recommendation is to not use the Apple deal as a reason to own the stock, as the pricing concessions typically offset the benefits.
Disclosure: I am/we are long AAPL.
I wrote this article myself, and it expresses my own opinions. I am not receiving compensation for it (other than from Seeking Alpha). I have no business relationship with any company whose stock is mentioned in this article.
Additional disclosure: The information contained herein is for informational purposes only. Nothing in this article should be taken as a solicitation to purchase or sell securities. Before buying or selling any stock you should do your own research and reach your own conclusion or consult a financial advisor. Investing includes risks, including loss of principal.