Apollo Education Group (NASDAQ:APOL) announced on February 8th that it had entered into a definitive agreement to be acquired for $1.1 billion. Apollo is the owner of University of Phoenix and Western Digital University, which are for profit universities. After a series of bad quarters, likely caused by increased scrutiny into the for profit college industry, Apollo decided to put itself up for sale. Apollo Global Management (NYSE:APO) came to the rescue with an all cash offer of $9.50 per share. With a share price of $8.24, there is a substantial arbitrage opportunity for investors. While Apollo's board of directors have signed off on the merger, they need their Class B shareholders to vote on the potential merger and need a majority in order to pass. Shareholders would be smart to accept the merger, which is expected to close in August.
For Profit Industry Under Fire
The for profit college industry has been very controversial and has come under fire for deceptive advertising practices and the infamous fall of Corinthian Colleges. In fraud complaints, that are becoming common across the for profit industry, students are arguing that they were lured in with false promises of career prospects and loaded up with federally backed student loan debt in order to take classes, and then were unable to find a job upon graduation. These allegations have to be very concerning for any investor in the for profit college industry, as they tarnish the industry as a whole regardless of Apollo's individual accountability. Recent gainful employment regulations have the potential to further harm the industry.
Lower Student Enrollment and Declining Revenue
With a business model that is looking like it will be the subject of continued legislative scrutiny for a long time, it would be wise for investors to get out of the industry. The very foundation of Apollo's business appears to be under attack by various legislatures, and the company has seen a drop off in student enrollments. According to its most recent quarterly filing, Apollo's revenue dropped from $714.5 million in the first quarter of 2015 to $586 million in the first quarter of 2016. The company also saw a substantial decline in enrollment, which was the main driver of the decreased revenue.
One quarter of lower revenue is fine, but this has become a trend for Apollo and it is unclear that the company will be able to turn its business model around to reach the heights that it once was. Over the last five years, Apollo's revenues have dropped substantially. This trend is only projected to continue.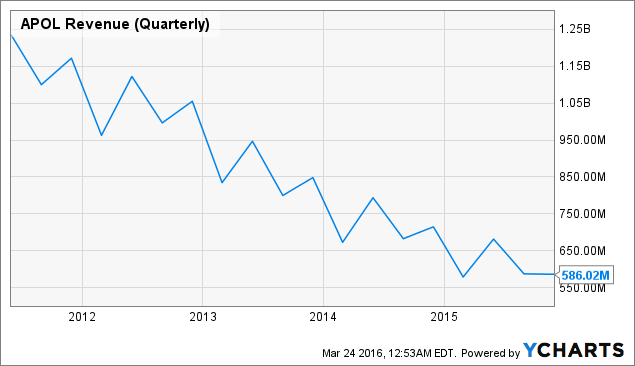 APOL Revenue (Quarterly) data by YCharts
With a declining revenue base and lower student enrollment, shareholders should seriously look at the plans of management to turn the company around. Management seems to be unable to effectively implement a plan to combat student enrollment problems.
What Happens if Apollo Rejects the Merger?
It is unlikely that another suitor will come along for Apollo. The for profit college industry has been under much scrutiny, and many investors would rather take a wait and see attitude when it comes to Apollo. They will wait to see if there are any signs of management being able to solve its student enrollment problem and are also likely to wait and make sure that there are not going to be any additional government regulations. Should Apollo reject the buyout offer, I would expect the share price to fall back to the mid six dollar level where it was before the buyout was proposed. There has not been a meaningful shift in Apollo's business model that would warrant staying at the eight dollar level.
Conclusion
With the very basis of its business model under fire, Apollo investors should run for cover by accepting this buyout opportunity. Increased regulation is a real possibility and revenue has been on a downward trend for years. Management does not seem to have an effective plan in place in order to be able to combat the decline in student enrollment or to meaningfully alter Apollo's business model. It appears as though the buyout proposal would be in the best interest of Apollo shareholders.
Disclosure: I/we have no positions in any stocks mentioned, and no plans to initiate any positions within the next 72 hours.
I wrote this article myself, and it expresses my own opinions. I am not receiving compensation for it (other than from Seeking Alpha). I have no business relationship with any company whose stock is mentioned in this article.