Chipotle Mexican Grill (NYSE:CMG) has gone through challenging times in the last 2 quarters with the stock declining by 37% from all-time highs of $758. I don't need to elaborate on the point that the downside has been driven by E-Coli illness related to the company's restaurants. This article discusses the company from a valuation perspective to conclude if the stock is worth buying after the deep correction.
Before discussing the valuation, I must mention here that the management has done exceedingly well in challenging times for the company. It will take time and effort to rebuild the restaurant reputation and customer confidence, but the management has taken swift steps the overcome the challenge. Starting from review of the entire supply chain to DNA-based testing of fresh produce and meats to identify harmful bacteria in these ingredients, Chipotle Mexican Grill is doing all it can to live up to the reputation of serving healthy food.
However, the market participants will be looking at the growth numbers and if Chipotle disappoints on that front, the stock is likely to decline even if the management continues to work towards rebuilding the brand reputation. Therefore, this analysis focuses entirely on the valuation perspective.
To put things into perspective, Chipotle Mexican Grill has warned that the company is likely to post $1 per share loss in the first quarter of 2016. However, a good optimistic case scenario would be that Chipotle witnesses comparable restaurant sales recovery in the later part of 2016 and reports EPS of $15 per share, which is the reported EPS for FY15.
Considering current stock price of $475, Chipotle is therefore trading at a forward PE of 32 under this optimistic case scenario. While 2016 itself is an optimistic forecast, if another 10% earnings growth is assumed for FY17, Chipotle is trading at 29 times FY17 earnings. In my view, this is the best case scenario for FY16 and FY17. However, valuations are expensive on a standalone basis and also on a relative basis.
On a standalone basis, no earnings growth and PE of 32 does imply rich valuations. Further, earnings growth of 10% and PE of 29 would still imply PEG of 2.9. Therefore, I believe that Chipotle still has downside based on forward valuations and when the company reports 1Q16 results, the stock is likely to trend lower.
Even on a relative basis, Chipotle seems expensive with McDonald's (NYSE:MCD) trading at FY16 and FY17 PE valuations of 23.1 and 20.6 respectively. I remain bullish on McDonald's with the company likely to expand its all-day-breakfast menu nationwide and with strong reversal already evident in comparable restaurant sales. On the other hand, comparable restaurant sale for Chipotle have declined steeply and is likely to remain depressed.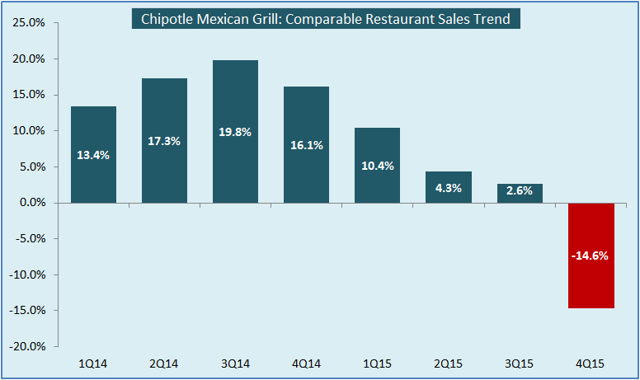 Therefore, on a standalone basis and on a relative basis, Chipotle Mexican Grill appears expensive and I believe that investors can remain in the sidelines. When the company reports 1Q16 results, I believe that there will be further clarity likely EPS for the year and once that factor is discounted in the stock, exposure can be considered.
Disclosure: I/we have no positions in any stocks mentioned, and no plans to initiate any positions within the next 72 hours.
I wrote this article myself, and it expresses my own opinions. I am not receiving compensation for it (other than from Seeking Alpha). I have no business relationship with any company whose stock is mentioned in this article.