Over the past month, Freeport-McMoRan (NYSE:FCX) has been in fine form on the stock market as it has gained over 28%. However, on March 23, Freeport shares dropped in excess of 11% despite the lack of any news. It is quite likely that a drop of almost 2% in oil prices to just under $40 per barrel created a negative impact on Freeport's stock price, which also led to a decline in copper prices. But apart from this news, there was nothing major to indicate why Freeport's stock declined.
As such, I think that this presents a smart opportunity for investors to build upon their long position in Freeport shares. Let's see why.
Resurgent copper pricing will affect fundamentals positively
The resurgence of copper prices this year has been a key reason why Freeport has rallied this year. In fact, earlier this week, copper prices scaled 20-week highs on the back of news that China is continuing to import a lot of copper. In fact, during the month of February, China's copper imports almost doubled from the year-ago period to 1.46 million tons, representing a sequential increase of almost 25%. What's more, in the first two months of the year, China's copper imports are up 55%.
The increase in copper demand from China has been a key driver for copper pricing as the country accounts for 45% of global copper consumption. Now, for the entire year, it is expected that copper consumption in China will rise more than 4%, which will continue to drive the country's imports. On the other hand, due to the increasing demand for copper, the inventory of the metal is coming down. As shown in the chart given below, warehouse levels of copper have declined in the past few months: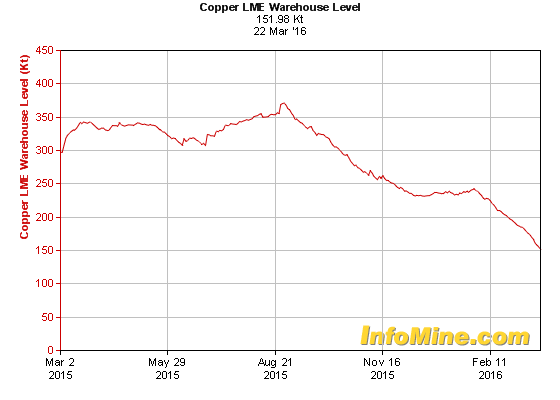 Looking ahead, the copper inventory levels will continue to decline as producers are taking production off the table to support prices and cut down on high-cost production. For instance, on the back of strategic cost-control measures at higher cost mines, production declined by 730,000 tons last year, as shown in the chart below: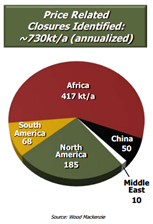 Source: Freeport-McMoRan
Going forward, it is expected that there will be additional cost cuts as gauged from the forecasts for lower capital expenditures and other cash costs. In addition, weak and depleting grade ores will also play a role in reducing output, which will lead to a lower inventory count and thereby improve prices. Thus, it is quite evident that the fundamentals of the copper market are improving, thereby creating a tailwind for Freeport-McMoRan as discussed below.
Better copper prices will lead to strong EBITDA growth
A steady improvement in copper prices will deliver notable bottom line growth for Freeport going forward as for every increase of 10 cents in copper price, there will be a projected improvement of $550 million on total EBITDA this year. This is because Freeport is minimizing overall capital expenditure and is postponing certain capital intensive projects so that it can do well in a low price environment by improving efficiency. The following chart indicates the same: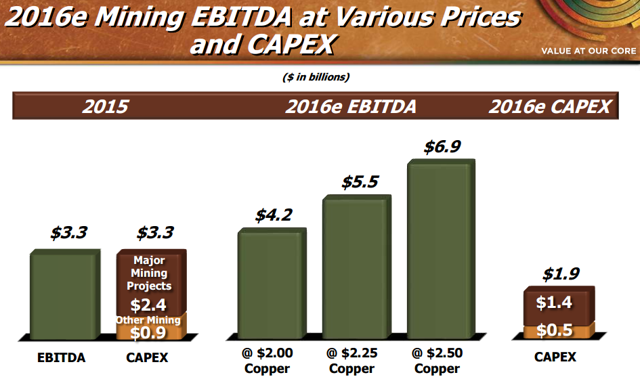 Source: Freeport-McMoRan
Hence, as the chart above shows us, Freeport is already on track to generate almost $5.5 billion in EBITDA this year as the current copper price is around $2.25/pound. Looking ahead, as further improvements in copper prices cannot be ruled out in light of the points discussed in the article, it won't be surprising if Freeport's EBITDA goes up further.
Conclusion
Freeport-McMoRan has delivered impressive gains on the stock market in the past few months. In fact, so far this year, Freeport shares are already up close to 45%. This rally has been driven by an increase in copper prices, and as we saw above, the rally in copper will continue going forward as the fundamentals of the market improve. Now, higher copper prices will lead to growth in Freeport's EBITDA and lead to a better bottom line performance, which will eventually allow it to deliver more upside.
Hence, I think that it will be a good idea to buy the drop in Freeport-McMoRan shares as the stock will deliver more gains in the future.
Disclosure: I/we have no positions in any stocks mentioned, and no plans to initiate any positions within the next 72 hours.
I wrote this article myself, and it expresses my own opinions. I am not receiving compensation for it (other than from Seeking Alpha). I have no business relationship with any company whose stock is mentioned in this article.