Shares of Linn Energy (NASDAQ:LINE) plummeted 16.3% down to $0.50 apiece on March 23rd while shares of LinnCo (NASDAQ:LNCO) dropped a hefty 14.1% after both companies announced a one-for-one exchange of shares that it is making available to shareholders. While this news came about unexpectedly (I never thought this particular action to be likely even though I should have), it has left a bad taste in investors' mouths that is making them think that the business is on the verge of declaring bankruptcy. In what follows, I will dig into this announcement and discuss that, while this is certainly a possibility within the next month, it's definitely not a guarantee.
Times are tough for Linn
There's no denying that the picture isn't looking all that good for Linn these days. Despite strong cash flow this year, thanks to its hedge portfolio, the fact of the matter is that Linn is currently in default on its credit facilities, its Second Lien notes, and its Senior Notes. In a prior piece on the topic, I discussed that, if something isn't done in 30 days or less, the business could be pushed into bankruptcy proceedings as a result of its decision to stop paying interest on certain notes for the time being.
Accompanying this, management decided, in early February, to draw down the rest of its credit facility and to allocate that capital ($919 million) toward an unencumbered bank account that's not affiliated with current lenders in an attempt to give it some sway over lenders should bankrutpcy transpire. It should be mentioned that it's not my goal in this article to rehash these ideas since it wouldn't be productive so I recommend that those interested read my last article on Linn, which can be found here.
What's management's plan?
In its latest press release, Linn announced that it is giving current shareholders of the company the right to exchange each share of Linn for one share of LinnCo, an effort to allow investors to maintain their ownership of the former but potentially protecting against tax liabilities in the process. Since Linn is set up as a partnership for tax purposes, all income and losses that would be classified as ordinary income would normally be distributed (at least on paper) to investors every year to claim on their taxes.
In years when dividends (distributions technically) are being paid out, this is generally not a problem since more is typically paid out than the amount in taxes that are owed. However, in years where distributions are small or non-existent, or in other situations, this could leave investors with a large tax bill but not cash flow to show for it. One other situation that is noteworthy would be in the event that debt is restructured in way that would be classified as a cancellation or if it is repurchased on the open market (or in private transactions) at a discount to par value.
These complex tax situations don't occur, however, with companies like LinnCo, a C-Corp. In the event that debt is restructured or repurchased or if income is earned but no distributions are paid to shareholders, a C-Corp doesn't pass any of that along. For this very reason, management has decided to give investors an opportunity to exchange their Linn shares for LinnCo shares so that they can be spared many of the painful tax consequences of what's to come.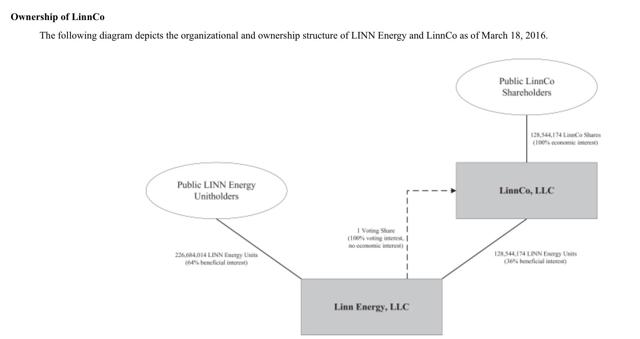 But is Linn really going under?
In its prospectus, published on the SEC's EDGAR Database, Linn mentioned that there's a chance of the firm eventually going into Chapter 11, which would almost certainly mean that all shareholders get wiped out while Senior Note holders would be lucky to get pennies on the dollar. Given all that has been happening, this seems more probable now than it has been in the past and by allowing investors to switch from Linn to LinnCo, management is trying to shield investors from the income that would be realized should a great deal of debt be restructured. In the image below, you can see what the picture would look like for investors if $1 billion, $3 billion, and $5 billion in debt is cancelled or otherwise eliminated.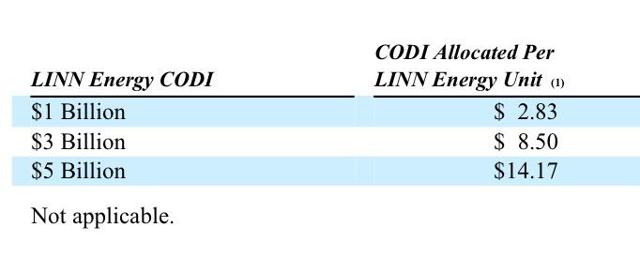 Based on this, the effects could be very harmful; having a company whose shares are valued at only $0.50 apiece post a paper gain of $2.83 per share (or as high as $14.17 per share if $5 billion is the actual number) doesn't make sense, especially if you get wiped out or mostly wiped out as a result. Instead of having investors take the hit directly, LinnCo itself would realize that gain, shielding those who do exchange their shares.
Overall, this news makes it look quite clear what the endgame is for Linn in the eyes of many investors. However, there's also another way to interpret it. In its prospectus, the firm mentions that this move could also be useful to protect investors against other strategic initiatives from a tax liability standpoint. For instance, if Linn were to buy back a great deal of debt at a discount, whether that's Senior Notes, Second Lien debt, or even negotiating with its credit facility lenders for a discount (this one is very unlikely in my opinion but they could refinance that debt with other notes if they buy back other maturities), they would still incur the same taxable income that would hit shareholders but would be unlikely to dilute shareholders in the process.
What this suggests is that Linn has become a very binary-type payoff. On the one hand, it makes perfect sense for investors to suspect bankruptcy since even management is acknowledging that could be the end result depending on how things go near-term. On the other, though, this move also serves to protect shareholders in the same way in the event that debt is repurchased or negotiated lower. In the first scenario, investors in both companies will almost certainly be wiped out entirely, while investors in the latter would be slammed by a high tax bill (assuming they don't exchange by the April 18th deadline) but could get a leaner company with far less debt and, in turn, strong cash flow for the next few years (depending how much debt disappears).
Takeaway
At this moment, I don't know what to think of Linn. Without any doubt, this has morphed into a very risky situation and, despite strong cash flow numbers, there's a real chance that the firm could declare bankruptcy by management's own admission. However, with other options on the table that could turn the company healthy again and leave Linn shareholders with a massive tax bill while forcing LinnCo to figure out how to handle its own tax issue then, there's also the possibility that things aren't over.
As I've stated in the past, I'm a value investor at heart and I do not like uncertainty. It was because of the increased uncertainty surrounding all of this early last month that forced me to sell my shares and, for now, I'm still sitting by the sidelines. As we have seen over the past couple of weeks, shares of the company are very volatile and sitting by and waiting for good news may mean that I miss out on a surge higher. On the other hand, though, I can't condone the uncertainty involved for now that would create for me and my firm any sort of material risk. It is because of this that I'm not planning on changing my stance until new information comes out that gives a better idea of where things are headed.
Disclosure: I/we have no positions in any stocks mentioned, and no plans to initiate any positions within the next 72 hours.
I wrote this article myself, and it expresses my own opinions. I am not receiving compensation for it (other than from Seeking Alpha). I have no business relationship with any company whose stock is mentioned in this article.
Editor's Note: This article covers one or more stocks trading at less than $1 per share and/or with less than a $100 million market cap. Please be aware of the risks associated with these stocks.