Oil prices took a tumble on March 23rd after the EIA (Energy Information Administration) announced that oil inventories rose yet again over the past week. While in prior weeks, the gain has been mostly muted by falling inventory levels in other categories, the same cannot be wholly said this time around, leaving about it a sense of disappointment. However, once you look at the overall picture, you'll see that, although some pessimism is warranted, there are plenty of aspects to be upbeat about. In what follows, I will look at the data in question and provide my own reason for why this is bullish for investors in the United States Oil ETF (NYSEARCA:USO) as well as for investors in companies like Breitburn Energy Partners (NASDAQ:BBEP), Memorial Production Partners (NASDAQ:MEMP), and Approach Resources (NASDAQ:AREX) to name a few.
Inventories rose higher
For the week, oil inventories came in at 532.5 million barrels. This represents the highest we've seen in decades and is actually 9.3 million barrels greater than the 523.2 million barrels seen just one week earlier. This also happens to be a larger build than the 8.8 million barrels the API (American Petroleum Institute) expected. In this environment, when supply is still outpacing demand, any sort of build is a negative, especially one of this magnitude. In the graph below, you can see what the trend has looked like for crude over the past 52 weeks.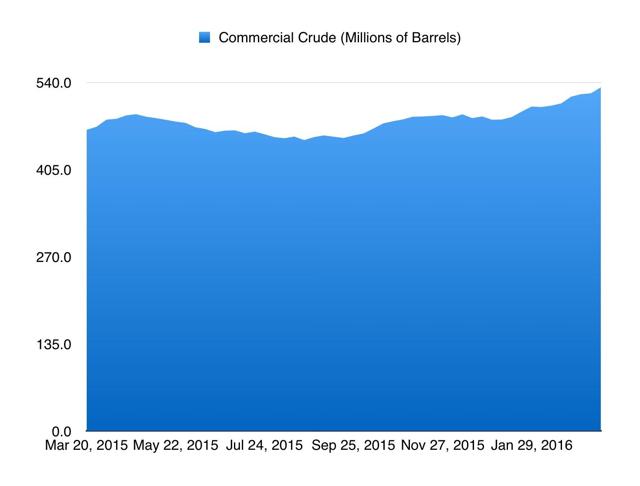 Crude oil wasn't the other category to post a build over the past week. If the EIA's data is accurate (it's far from perfect but it's the best we have), then distillate fuel stocks grew by 1 million barrels from 161.3 million to 162.3 million while residual fuel oil grew by 0.7 million barrels from 45.3 million to 46 million. Meanwhile, the "other" category of petroleum products, which consist of everything not covered in the EIA's main categories, saw a build of 1.6 million barrels for the week, rising from 238.2 million barrels to 239.8 million.
Fortunately, though, not everything was terrible on the inventory side. Most notably, we saw motor gasoline stocks drop by another 4.6 million barrels, falling from 249.7 million barrels to 245.1 million. Fuel ethanol managed to drop by 0.4 million barrels for the week to 22.5 million barrels, while kerosene-type jet fuel dipped 0.5 million barrels to 43.9 million. Propane/propylene fell by a very modest 0.3 million barrels for the week from 62.5 million barrels to 62.2 million. Despite all of these declines, the fact that crude rose so much while only motor gasoline posted a meaningful drop led to total crude plus petroleum product inventories jumping by 6.9 million barrels from 1.3474 billion barrels to 1.3543 billion barrels, a number approaching our all-time high.
Production and demand data is very favorable
While the crude picture especially looked terrible in the EIA's release, there were some really positive bright spots in the report. According to the EIA, domestic oil production for the week recorded came out to 9.038 million barrels per day. Although this is higher than it needs to be, it's the lowest output we've seen in well over a year and is 30 thousand barrels per day (or 210 thousand barrels for the week) lower than the prior week's 9.068 million barrels per day. Anything can change but, at this pace that declines have taken place, we could be beneath 9 million barrels per day within the next week or two. In the graph below, you can see the trend this has taken over the past year.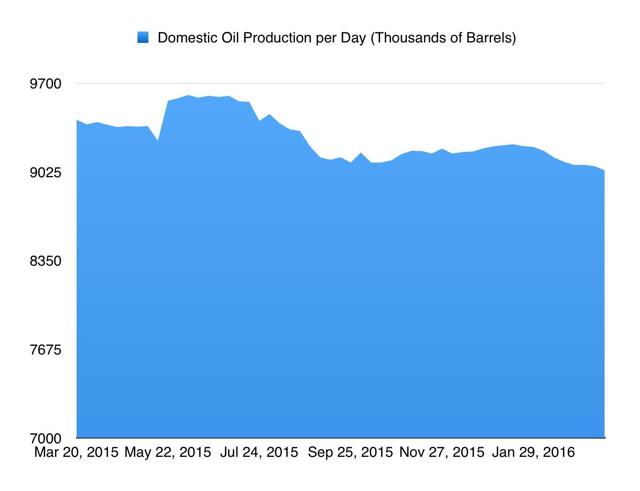 On top of seeing domestic output fall yet again, the U.S. also saw a nice amount of demand for its motor gasoline. Based on the data provided, motor gasoline demand for the week came out to 9.503 million barrels per day, a slight uptick for last week's release of 9.458 million barrels per day and a whopping 10.3% above the 8.619 million barrels perday seen the same week last year. If you look at the more reliable four-week average data, you'll see that motor gasoline demand during this period has averaged 9.373 million barrels per day, 7% greater than the same period a year earlier.
Rig counts resumed their decline
One positive thing that helped to narrow oil prices losses significantly on March 24th was news from Baker Hughes (NYSE:BHI) that the rig count declined, countering fears from a week earlier (when rig counts ticked up by 1 unit) that higher prices would result in more drilling. For the week, the rig count in the U.S. fell by 15 units to just 372. This represents a decline of 54.2% compared to the 813 rigs seen in operation a year ago, with the Permian and Eagle Ford seeing declines (oil and natural gas combined) of 5 and 4 units, respectively. Meanwhile, the rig count in Canada fell by 1 unit to just 11 rigs, down 38.9% year-over-year.
Takeaway
At this moment, Mr. Market is feeling more pessimistic than I believe is warranted. Certainly, the move toward greater inventory levels is disheartening but not every category there is doing poorly. Furthermore, production in the country is falling at a reasonable clip while demand is extremely high for motor gasoline and the rig count is still falling at a nice clip. Add to all of this the fact that high imports were mostly to blame, something that added an extra 4.84 million barrels to the picture alone for the week, and it seems as though this uptick in inventories is likely more of a temporary thing than a permanent one, which should leave investors feeling a bit more optimistic about.
Disclosure: I am/we are long AREX, BBEP, MEMP.
I wrote this article myself, and it expresses my own opinions. I am not receiving compensation for it (other than from Seeking Alpha). I have no business relationship with any company whose stock is mentioned in this article.
Editor's Note: This article covers one or more stocks trading at less than $1 per share and/or with less than a $100 million market cap. Please be aware of the risks associated with these stocks.