This week I pulled the trigger and shorted the S&P 500 (SPDR S&P 500 Trust SPY) and the Dow Jones Industrial (SPDR Dow Jones Average DIA).
The main reason for this move is the end of the short squeeze and the beginning of a short term RISK-OFF period. In other words, I like the risk/reward that the market offers short sellers.
Furthermore, we saw some economic data this week that could support the next dip.
The two most important data releases were new home sales and durable goods.
Durable goods orders were expected to decline 3% versus the previous month but beat estimates by 20 basis points and declined 'just' 2.8%.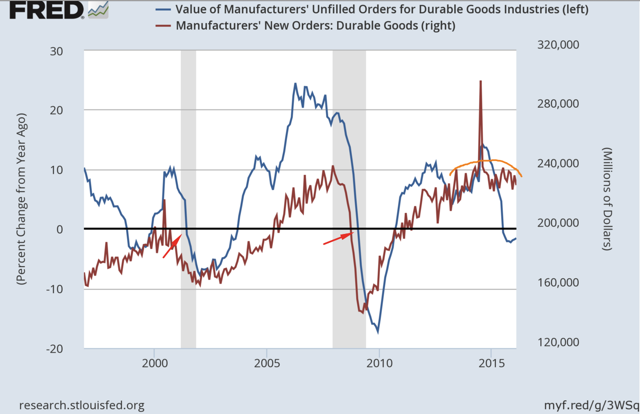 Durables haven't accelerated since 2014, exactly where growth slowing started according to ISM data. Unfilled orders are contracting. Since the 90s we have seen only one period of contracting unfilled orders without entering a recession.
New home sales rose 2% versus the previous month (expected +3.2%). New home sales officially entered the contraction zone. The chart below provided by Hedgeye gives a clear picture.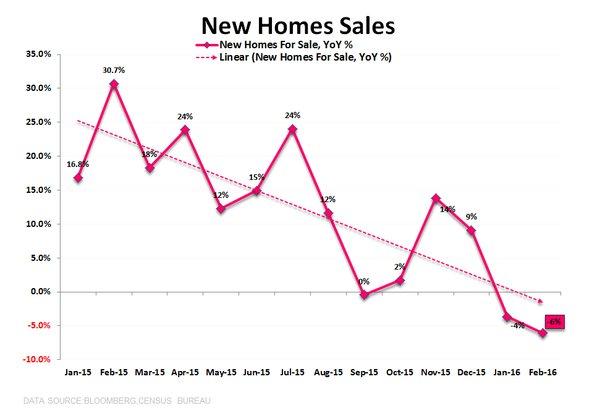 Source: Hedgeye
SPY rallied almost 12% from the February lows after oil rallied and ISM came in better than expected (49.5). The market rose supported by a strong RISK-ON sentiment in almost every industry. In my opinion, this rally was mainly due, because of a weaker USD and therefore a massive tailwind for commodities.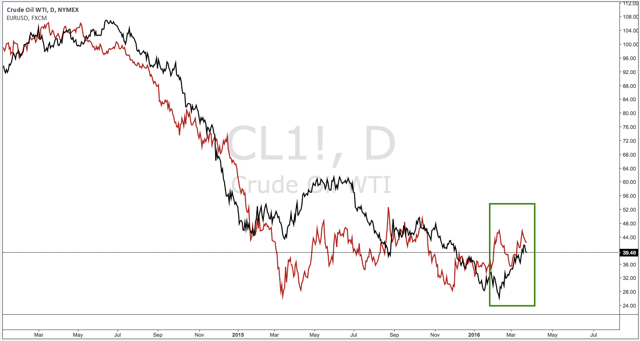 Source: TradingView
Now, it starts to look like we are ready for a decline. Risk indicators are showing RISK-OFF again. A stronger USD is putting more pressure on commodities and almost all shorts have left the building.
Below I show you a few of my favorite risk indicators.
1. Transportation stocks versus utilities.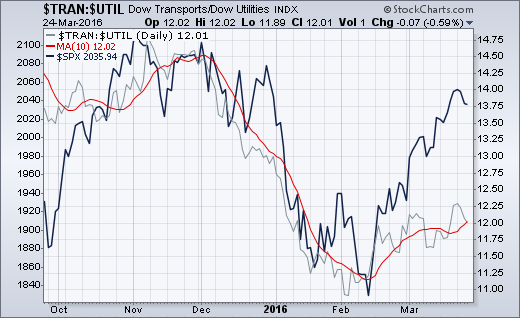 SPDR Barclays High Yield Bonds JNK versus 20+ year government bonds from iShares TLT.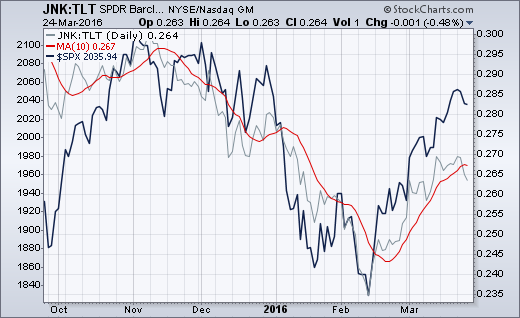 iShares emerging market bonds EMB versus iShares 20+ year government bonds TLT.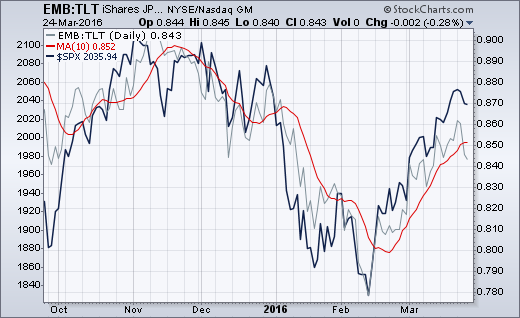 Sectors like energy, basic materials and financials are showing the same pattern. The graph below shows the Financial Select Sector ETF XLF and Blackstone BX. I used Blackstone because it gives a better picture of liquidity risk. I've written about it in a few articles pointing out that low liquidity is quite dangerous for mega funds like Blackstone. According to the newest data, liquidity is at 2008 levels and could therefore make small stock declines much worse without terrible economic data. This Business Insider article gives you some more info about this topic.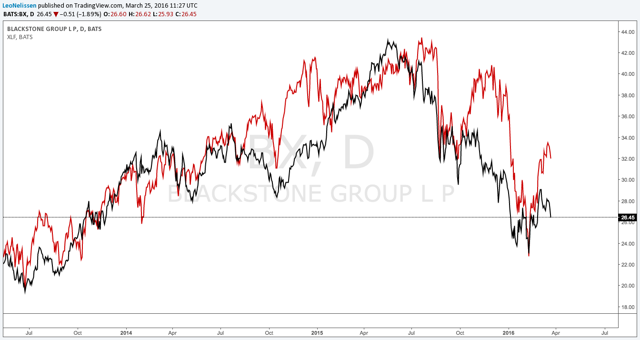 In my opinion we are due to a small correction until we get March's ISM data which will tell us whether we are about to go even higher of down again. I expect a new rally if ISM comes in above 50 and a new decline if ISM declines below February's 49.5 print. For now, be aware of downside risk and technicals that are looking bearish.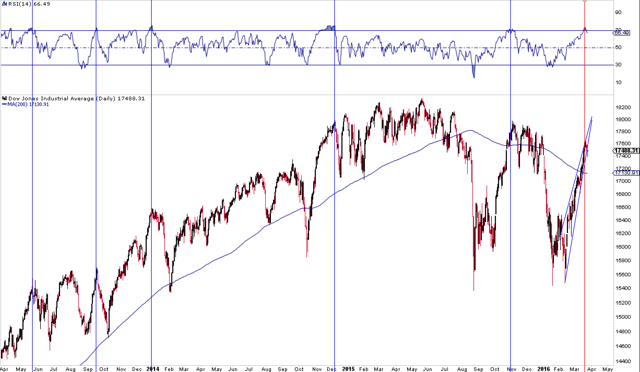 Source: NorthmanTrader
I placed my DIA and SPY and will cover if ISM comes in strong and expand if ISM is lower. Most of it will be depending on commodity prices in my opinion
Thank you for reading and have a successful trading week.
Disclosure: I/we have no positions in any stocks mentioned, but may initiate a short position in SPY, DIA over the next 72 hours.
I wrote this article myself, and it expresses my own opinions. I am not receiving compensation for it (other than from Seeking Alpha). I have no business relationship with any company whose stock is mentioned in this article.