In this article, I will discuss why I think there are better investments than GM (NYSE:GM) in the marketplace.
We will analyze:
Rising delinquencies and defaults in the auto-sector
Domestic and Global auto sales trends
Increasing Leverage, cost of equity, dividend yield and financial engineering, and NCAVPS
For context, the auto industry has been booming in the US since the great recession ended in 2009: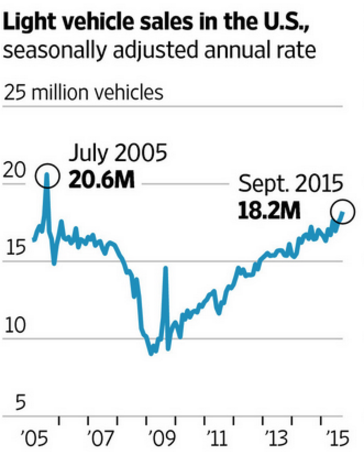 Source: Commerce Dept; Center for Automotive Research, WSJ
Much of this has been due to an improving economy, but has also been helped by record long lease terms, From Experian (June 1, 2015):
"Experian Automotive today announced that longer-term loans for both new and used vehicles are on the rise. According to the latest State of the Automotive Finance Market report, the average loan term for new and used vehicles increased by one month, reaching new all-time highs of 67 and 62 months, respectively.

Findings from the report also showed that longer loans, those with terms lasting 73 to 84 months, accounted for a record-setting 29.5 percent of all new vehicles financed, an 18.6 percent rise over Q1 2014 and the highest percentage on record since Experian began publicly tracking this data in 2006. Long-term used-vehicle loans also broke records, with loan terms of 73 to 84 months, reaching 16 percent in Q1 2015, and rising from 12.94 percent the previous year - also the highest on record."
Now it's good that manufacturers and dealers were anticipating this, building up inventories to the highest MVI:Sales ratio since the heart of the great recession: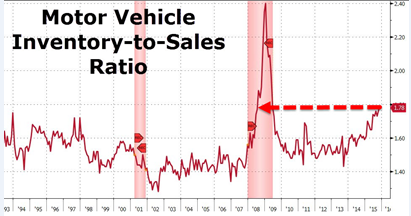 High inventories allow prices to stay stable should demand increase at a greater rate than anticipated.
Critically, should demand not increase as anticipated dealers may need to offer discounts on new or used cars to prevent inventory from growing unsustainably. Conversely, they might do what mortgage bankers did in the last decade, increasing lending to sub-prime borrowers to keep sales rising.
Taking a look at recent sub-prime data we notice a few things: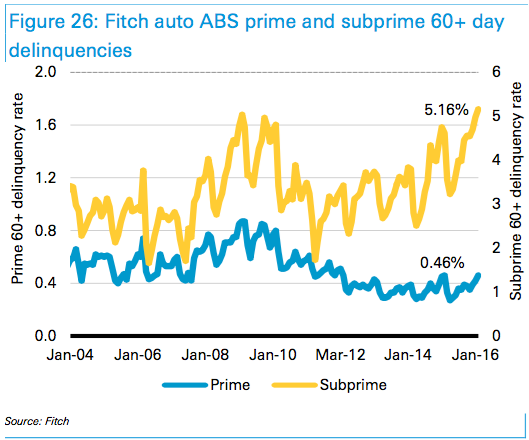 Sub-prime delinquencies are quickly reaching 2008/9 levels and look to supersede that period in an increasingly worrisome trend.
Taking a more in-depth look we notice that borrowers are increasingly having trouble staying current within the first year!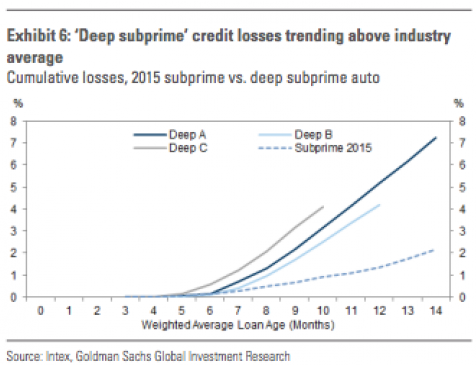 This data is furthermore confirmed by General Motors own financial statements, source: SEC-GM

There's an interesting lesson we learned in our analysis of Santander Consumer (NYSE:SC), one of the largest sub-prime auto lenders in the United States. We published a sell/short recommendation on them in July 2015 when the stock was about $25, now it's below $10, and they have yet to file their recent financial statements because they are having "trouble" accounting for their sub-prime losses. When they do the stock probably goes sub-$5, stay tuned.
Taking a look at auto sales around the globe, we see more cautious signals. Firstly, China sales have started to decline rapidly after 10 straight years of consistent growth: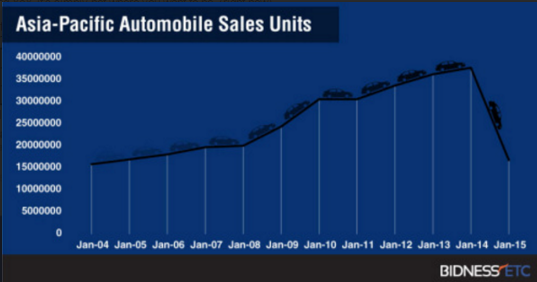 More specifically, the recent trend is increasingly indicative of at least a cyclical decline: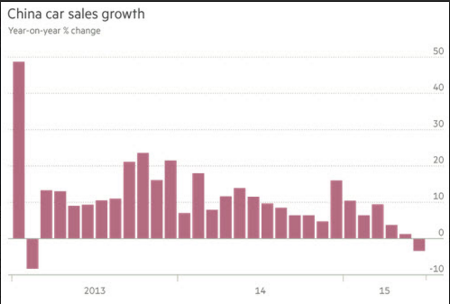 Again this can be confirmed by General Motors' financial statements, source: SEC-GM

Now, with auto inventories at record highs, global car sales slowing, and increasing delinquencies, let's take a look at what happened last time these factors converged: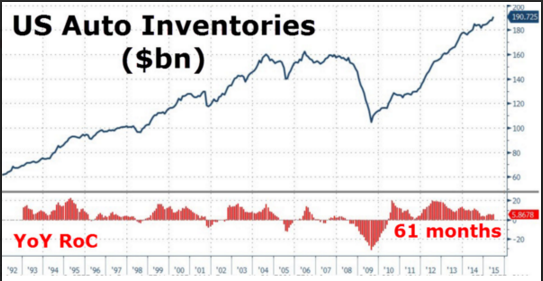 *Much of the decline in 2008-2009 was due to massive inventory write-downs*
While I am not anticipating a major recession like we had in 2008, primarily because of unpredictably accommodative central banks, I don't see how the risk-reward favors the long-term investor at this point.
Let's take a more in-depth look at General Motors and why investors may want to consider selling shares or selling deep in-the-money LEAP calls to protect their capital.
Analyzing sales and profitability trends over the past five years:

From 2011-2015, sales only increased 1%, or .28% annualized, similarly, profitability rose -5.78% in five years or -1.18% annualized. With interest rates in the US poised to rise over the next few years after seven years of ZIRP, and sales in China finally slowing after 10 consistently positive years, do we think the next 5 years will be better?
Taking a look at General Motors' provisions we see a worrisome trend, but definitely what one would expect in the context of the above data on subprime lending and auto delinquencies.

Furthermore, analyzing their debt/equity ratio we also notice something that may not bode well in the long-term should the Global economy not pick up steam, and cars sales continue to slow.
A few years after the restructuring, hedge funds tried to do what they do best, unlock shareholder value.
GM was the perfect candidate, principally due to its low leverage. Seven hedge funds now have at least $100MM in holdings, with three owning over $400MM shares. That's roughly 9% of the entire company. (Source)
Successful they were, GM has increased total debt from $13B to over $60B in just 5 years! That's 356.24% or 35.47% CAGR!
Note: equity value is roughly flat over the same period. But, 'hey, you can't fault them for trying'.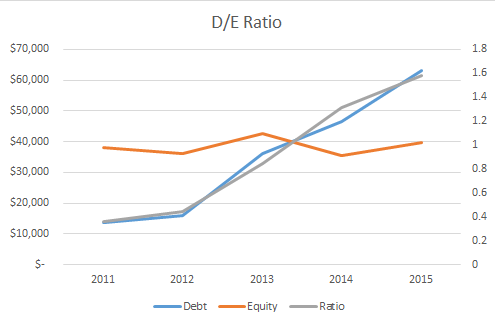 More importantly, this has not gone unnoticed by the marketplace, not only has leverage not increased shareholder equity value, interest cost per share has also gone up in tandem.

Taking a deeper look, in just the past five quarters, we see it's getting worse:

Let's take a quick look at how leverage has increased, cost of equity beta dividend yield: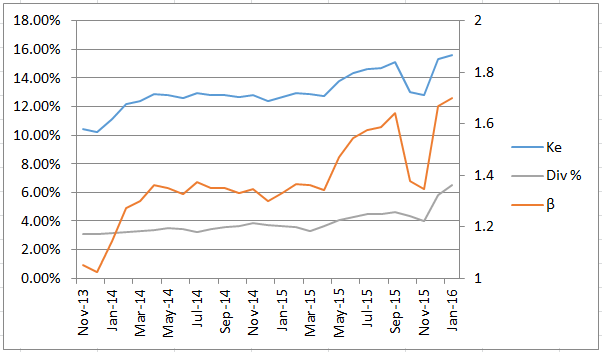 While the above risk metrics were rising, let's see what the stock was doing:

Now if we expect Ke, Div %, and B to at least not go lower, how do you think shares will react?
One of my favorite valuation metrics is NCAVPS (Net Current Asset Value Per Share), it is computed as follows:
"A value created by Professor Benjamin Graham in the mid-twentieth century to determine if a company was trading at a fair market price. NCAVPS is calculated by taking a company's current assets and subtracting the total liabilities, and then dividing the result by the total number of shares outstanding." Source: Investopedia
Let's take a look at the calculations for GM: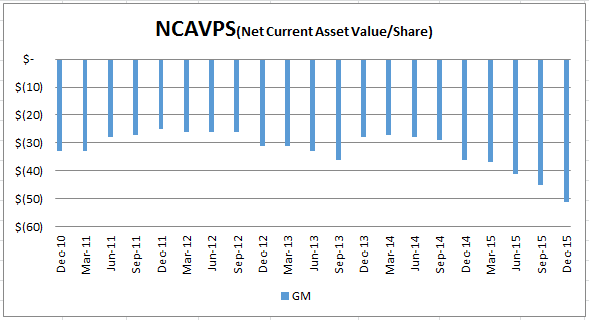 Management at General Motors does not look to be increasing shareholder value. I am not going to delve too deeply into it, but I surmise some of this is directly related to GM going through an "Obama Bailout" and not effectively reducing their pension obligations to allow the company to operate more efficiently and thus more shareholder friendly in the future.
In summary:
· The global economy is not as robust as it was just five years ago.
· Auto dealers increased sub-prime loans to increase sales, they underpriced the risk and now the risks are starting to manifest.
· GM has not been the most profitable business in the past five years, and there is little reason that the next five will be any different.
I do not wish to develop a target price in this case; I am simply attempting to state the risks for GM shareholders that way I perceive them.
The govt lost $11.2B on its first TARP "investment" in GM, how much will the 2nd cost?!
Disclosure: I am/we are short GM, SC.
I wrote this article myself, and it expresses my own opinions. I am not receiving compensation for it (other than from Seeking Alpha). I have no business relationship with any company whose stock is mentioned in this article.